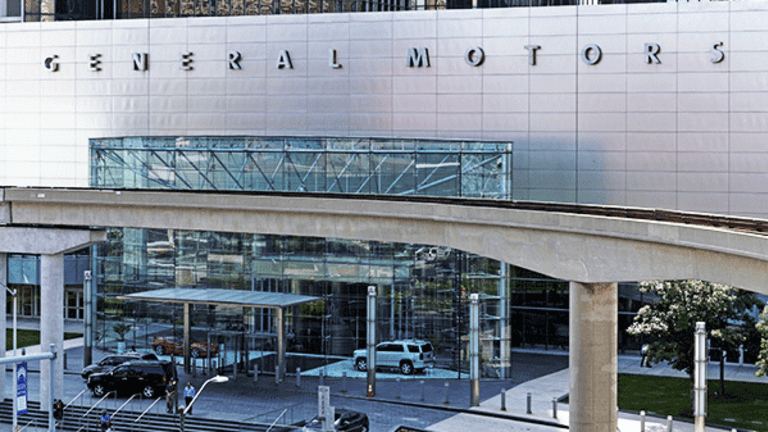 With Its 4.2% Dividend Yield, General Motors Is an Excellent Income Opportunity
The U.S. automaker offers great income at a bargain.
The U.S. automaker offers great income at a bargain.
General Motors (GM) - Get Report recently sealed a monster deal to offload Opel to PSA Group, which could help the company drive profits. In order to achieve that profit growth, GM must streamline operations and remove excess baggage, no matter the robust potential demonstrated by its commercial vehicles segment.
First up, the Opel selloff was a smart idea as it simplifies overall structural challenges.
Stock prices will, however, only see a bump when earnings go up -- and there's only been a 3% gain in the past three years. That isn't particularly dismal given that Ford (F) - Get Report saw its stock take a plunge of more than 20% in that same period.
The real problem lies elsewhere. GM is no Tesla (TSLA) - Get Report , which has envisioned a spectacular array of cars with a jaw-dropping renewable energy ecosystem. Despite having failed to deliver a single dollar in profit over the past 10 years, Tesla has positioned itself for hyperactive growth.
GM recognizes that connectivity, alternative propulsion, autonomous driving and ride-sharing are increasingly important cogs in the emerging automobile landscape, with sizeable investments directed at building capacity to drive sales.
A key area for change is South America where's GM has been bleeding money due to a steep recession that has damaged car sales.
Another major factor for consideration is China, where passenger car sales in February were up by nearly 9%. China's developing middle class is understood to be a profitable market for GM, but there is significant competition in the region with several players vying for that all-important slice.
SUVs are in great demand in China, and GM competes with the likes of Ford, BMW , Honda and Volkswagen at multiple price points. GM is in China with mostly self-funded joint ventures, and so it enjoys a sliver of an edge.
GM has also set in motion a set of nice profit pools, which while nascent, could become key sales drivers in the future. Autonomous vehicles and transportation as a service via GM's Maven unit and investments in Lyft are great ideas that could germinate over the long term.
At this point, GM's pickup trucks, SUVs and crossovers must manage the heavy lifting of ramping sales and profit.
Analysts project earnings per share to drop by 4.7% over the next five years, driven by the recent restructuring and asset sales. Again, rivals like Ford are also finding it tough,  slated to show a less than 3% EPS uptick annually for the next five years.
However, with its 4.2% dividend yield , General Motors is an excellent income opportunity. And there's a good chance that the company will continue to grow this yield as GM only dishes out 25% of profit as dividends.
The earnings momentum will take time to come to fruition so share price appreciation isn't expected in the short-term.
---
As we've explained, General Motors is still an excellent income opportunity. If you're looking for other income opportunities we know another way you can add a steady stream of dividend income every month... and it's practically guaranteed by the IRS. The company signing the checks might not be one that you've heard of. However, Silicon Valley's top CEOs - think Mark Zuckerberg and Larry Page - know that its product is invaluable.Click here for the full story.
The author is an independent contributor who at the time of publication owned none of the stocks mentioned.