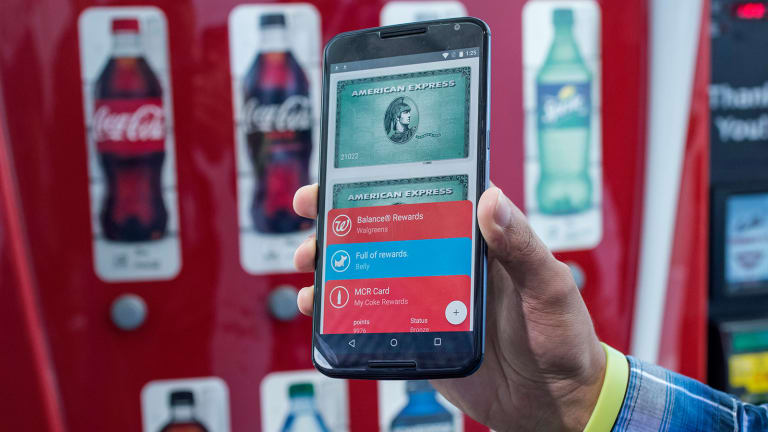 With Android Pay Debut, Google Shows How Important Mobile Payments Will Be
Google's introduction of Android Pay is another sign of how rapidly the mobile payments business can grow, suggests MasterCard's chief emerging payments officer.
NEW YORK (TheStreet) -- Google's (GOOGL) - Get Report introduction this week of Android Pay is another sign of how rapidly the mobile payments business can grow, according to an executive at MasterCard (MA) - Get Report. 
"We think  it enables a lot of choice, it expands the reach of payments that are out there, so we think it's going to drive a lot of growth," said Ed McLaughlin, chief emerging payments officer at MasterCard said of the new service, which will take the place of Google Wallet, and compete against Apple's (AAPL) - Get Report service, known as Apple Pay.
McLaughlin said it's hard to quantify the growth rate of mobile payments at this stage. "We've seen a couple things that are important, though," he notes, especially regarding MasterCard's contactless transaction system. "What we've seen is, when people tap two or three times, they don't go back to their prior behavior. And that's how you know it's better, that's how you know it's faster."
McLaughlin says in terms of those types of transactions, the U.S. is just starting to catch up to the rest of world. In Canada and Australia, for example, more than 20% of MasterCard transactions are already contactless. MasterCard contactless is accepted at more than 3 million merchants globally.
McLaughlin believes that, just as people have been gravitating to contactless transactions, they will shift to the rising mobile payment systems, which are safer than credit cards because of the ability to add another security layer, such as biometric authentication.
Android Pay, which will be available this summer,  was introduced by Google at this week's I/O developer conference. According to Google, seven out of 10 Android devices are ready for Pay, and that 700,000 merchants are equipped to accept it in their stores today. Google said Android Pay's design is focused on simplicity, security and choice. You don't even have to open an app to use it.