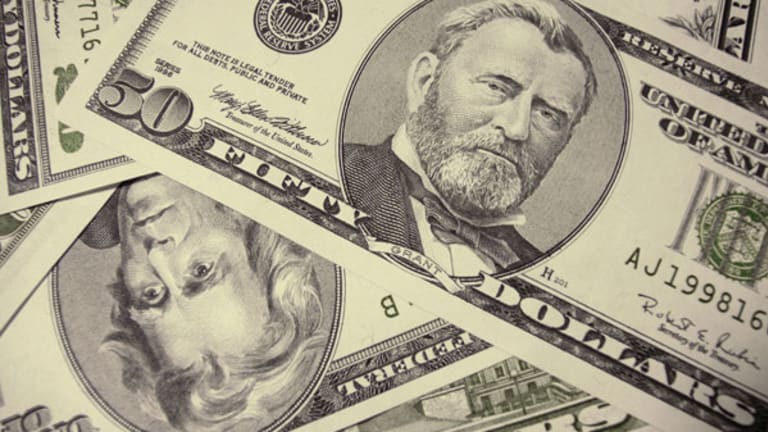 Winners & Losers: Downey Financial
Shares of the company are down as investors worry about a possible takeover.
Financial stocks were falling Wednesday morning, along with the broader markets, as investors continued to worry about whether the proposal to purchase up to $700 billion worth of banks' troubled assets would pass through Congress.
A report that manufacturing activity had contracted far further than expected, indicating that economic activity is rapidly slowing down, helped to push equities down as well. The NYSE Financial Sector Index was up 1.8% at 6,126.25, while the broader
Dow Jones Industrial Average
was off its low of more than 200 points, now down 0.1%, at 10,837.04.
Downey Financial
(DSL) - Get Free Report
fell sharply as investors continued to worry that its toxic loans may cause the bank to crumble or be bought on the cheap.
In the past few weeks, similar speculation about several banks led to stock declines and eventual collapses, government bailouts or fire-sale acquisitions.
Lehman Brothers
filed for bankruptcy in mid-September, and
Bank of America
(BAC) - Get Free Report
agreed to buy
Merrill Lynch
on the same day. Soon after, the government saved
American International Group
(AIG) - Get Free Report
from collapse with a $85 billion loan. The Federal Deposit Insurance Corp. then took over the troubled thrift
Washington Mutual
(WM) - Get Free Report
, selling its branches and deposits to
JPMorgan Chase
(JPM) - Get Free Report
for a mere $1.9 billion.
This week,
Citigroup
(C) - Get Free Report
struck a similar deal to acquire
Wachovia's
(WB) - Get Free Report
banking assets.
But despite the sector's broad decline on Wednesday, some of the companies involved in those deals were rallying. AIG surged 16.8% to $3.89, BofA was up 7.7% at $37.72 recently, as JPMorgan gained 4% to $48.77 and Citi added 9% at $22.40.
Federal Agricultural Mortgage
surged 60% to $6.55 after the company, also known as Farmer Mac, named a new chief executive and said it would raise $65 million through a preferred stock offering. Buyers of the new shares include firms that lend to the agricultural sector, like
AgFirst
AgriBank
CoBank
,
Farm Credit Bank of Texas
and
U.S. AgBank
.
Zions Bancorp.
(ZION) - Get Free Report
is buying a $5 million stake.
Despite a credit-ratings cut from Moody's,
Sovereign Bancorp
( SOV) was also up 17% at $4.64. But student-loan giant
SLM
(SLM) - Get Free Report
, also known as Sallie Mae, was dropping 24% at $9.38, on worries that the credit crisis will hurt its lending operations. On Monday, the company named new chief credit and lending officers.