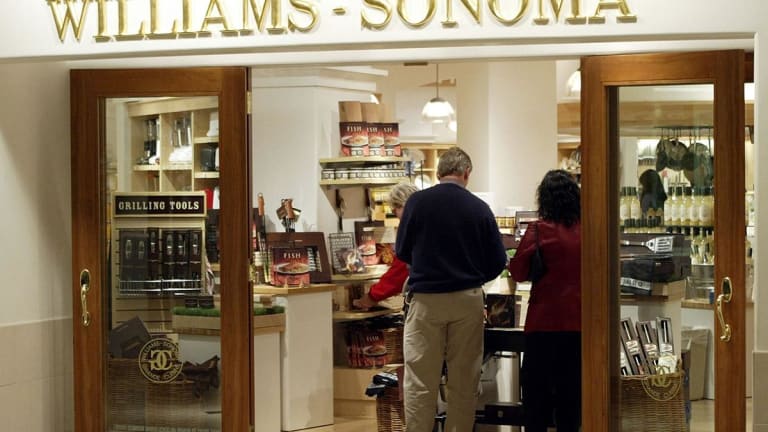 Williams-Sonoma Climbs on Earnings Win, Guidance Upgrade
Williams-Sonoma soars after beating earnings expectations and boosting guidance.
Shares of Williams-Sonoma (WSM) soared 14.2% to $58.90 a share Friday after the specialty retailer beat Wall Street's first-quarter earnings expectations and raised its full-year guidance.
The San Francisco-based company reported net income of $52.7 million, or 66 cents a share, compared with $45.2 million, or 54 cents a share, a year ago. Adjusted earnings came to 81 cents a share. 
Revenue totaled $1.24 billion, up from $1.2 billion a year ago.
A FactSet survey of 23 analysts called for quarterly earnings of 69 cents a share on sales of $1.2 billion.
The company said it raised its full-year guidance by 5 cents a share and now expects earnings of $4.55 to $4.75 a share on revenue of $5.67 billion to $5.84 billion. Wall Street is calling for earnings of $4.60 a share and revenue of $5.73 billion.
"We have had a strong start to 2019 with comparable revenue growth of 3.5%, operating margin expansion and significant EPS growth," Laura Alber, president and CEO, said in statement. "Customer acquisition and engagement continued to grow as we delivered more compelling and differentiated experiences to our customers. We also reached a significant milestone for our company as we were named, for the first time, to the Fortune 500 largest companies in the U.S."
During a conference call with analysts, Alber said the company's Key Rewards loyalty program was "one of our most valuable and fastest-growing assets."
"Since the launch of this loyalty program two years ago, total membership has grown to 5.5 million," she said.