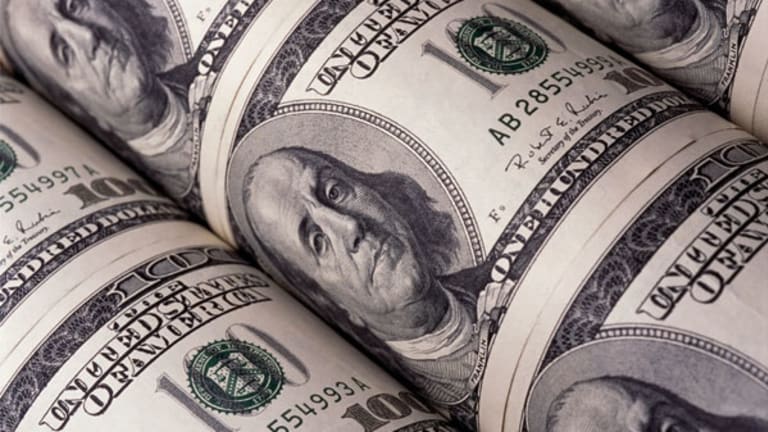 Williams: No Gas for EU!
U.S. liquefied natural gas is not an option for Europe.
Editor's Note: This article was originally published at 2 p.m. EDT on Real Money on July 25. Sign up for a free trial of Real Money.
You hear it everywhere: America needs to open up its natural gas markets and export liquefied natural gas. It is a simple solution to solve Europe's dependence on Russian natural gas.
It's hogwash. Let me explain.
First, liquefied natural gas is a nation's last fuel of choice. Think about it. To make liquefied natural gas, producers need to buy natural gas, which has already been processed. They need to process it again. They need to store it, move it and store it again. Then they need to undo everything and convert the liquefied natural gas back to natural gas. The only value in this long and expensive chain of events is transportation. To assure the price is high enough; many consuming markets index the price of natural gas to oil.
Second, the U.S. has only one liquefied natural gas export facility in operation. It is in Alaska. It is owned by ConocoPhillips (COP) - Get ConocoPhillips Report. It has been operating since the late 1960s. Unless it gains access to new sources of natural gas, ConocoPhillips' Kenai LNG Export Terminal will cease operations within 20 months.
The good news is that there are new natural gas resources available. ConocoPhillips, BP (BP) - Get BP Plc Report, ExxonMobil (XOM) - Get Exxon Mobil Corporation Report and TransCanada (TRP) - Get TC Energy Corporation Report announced plans to develop new resources. Today they are securing permission from the State of Alaska and federal regulators. According to Breaking Energy, they plan to spend $45 billion to $65 billion, which could make this project become the "largest integrated gas/LNG project of its kind ever constructed."
The not-so-good-news is that this project may never get off the ground. Developers are naturally motivated by returns. In Alaska, natural gas is frequently used to pressurize Alaska's oil fields. Unlike natural gas, oil does not require expensive processing in order to reach markets and achieve margins. Consequently, oil can offer a higher return than natural gas. If forced to choose between oil and natural gas, developers may elect to re-inject natural gas to yield more oil.
Third, liquefied natural gas export terminals are being built in the lower 48 states, but they are not built for the reasons many assume. More directly, they are not intended to help Europe. They are intended to help shareholders.
Subsidiaries of Cheniere Energy (LNG) - Get Cheniere Energy, Inc. Report and Dominion Resources (D) - Get Dominion Energy Inc Report are converting their existing liquefied natural gas import facilities to export facilities. The objective is not to speculate on foreign demand. The primary purpose is to repair balance sheets. They are converting stranded assets into producing assets.
Their assets became stranded when shale gas was developed. Just a few years ago, North America thought that it was running out of natural gas. Anticipating an energy crisis, several companies speculated tens of billions of dollars and built 10 liquefied natural gas import terminals on the East Coast and in the Gulf of Mexico. Canada and Mexico followed suit. North America was on track to import most of its natural gas from other countries.
Then shale gas appeared. It was abundant. It was cheap. There was little need to import liquefied natural gas. Most liquefied natural gas import terminal assets became stranded. Owners looked for any way to recover their massive losses. Converting import terminals to export terminals seemed to be a way out.
Fourth, most liquefied natural gas developers and underwriters were burned on their import terminals. They learned their lesson. They are unwilling to speculate on liquefied natural gas markets. To assure their assets will not be stranded again, they pre-sold most of the facilities' production for the period of the financing. Most of their production is already committed for the next 20 to 25 years.
Fifth, building liquefied natural gas export terminals is almost as costly as building new nuclear power plants. Liquefied natural gas export terminals cost billions and take about six years to reach commercial operations.
In addition, a new liquefied natural gas export facility must be located near the intersection of three critical resources and a helpful government. A liquefied natural gas facility needs to be near a pipeline that has excess capacity. It needs to be near a deepwater port to load 900-foot-plus super tankers. It needs access to reliable sources of cheap power. It needs a community unafraid of natural gas operations and willing to issue permits.
Commentators make a mistake thinking that the U.S. has natural gas to sell Europe and other troubled markets. The U.S. owns very little natural gas. There is no sovereign ownership of a complete value chain.
Private interests own most gas in the ground. They sell to other interests to process and move that gas to market. Liquefied natural gas facilities buy their natural gas from the market. They process it into liquefied natural gas and sell it at the dock to another party.
In short, U.S. liquefied natural gas facilities are tolling machines. They do not own any natural gas wells. They do not own any ships. They have no direct relationship with the ultimate consumer. They simply sell most of their product to a third party. Because most of their production is committed, they cannot sell their product to Europe. U.S. liquefied natural gas is not an option to Europe.
There is an answer for Europe. It can acquire more liquefied natural gas. Other nations are already producing liquefied natural gas. More nations are joining in. The challenge will not be the liquefied natural gas commodity, as many believe; the challenge will be storing and transporting the commodity.
If Europe is wise, it might consider building liquefied natural gas storage facilities as fast as possible. It also might want to look at its pipeline infrastructure. If Europe wants to displace Russian gas, it will have change the direction of some pipelines.
Ignore the commentators. No matter what: The U.S. is not a near-term option for Europe's natural gas problem.
At the time of publication, Williams had no positions in the stocks mentioned. Glenn Williams has more than 30 years of experience in power and fuels, including design, engineering, construction, startup and operations of large-scale power projects. He has had direct involvement with coal plants, natural gas facilities, and approximately half of the nation's nuclear power facilities and designs energy strategies for regulated and unregulated energy organizations. He received a bachelor's degree in electrical engineering from Northeastern University and a master's degree in technology management from the University of Maryland.