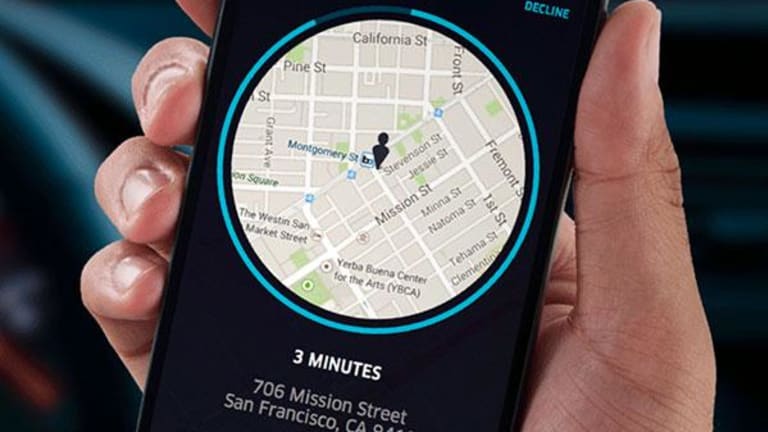 Will Uber Ever IPO? -- Tech Roundup
Uber's CEO Travis Kalanick remains vague as to when the company will go public.
Many have been wondering for a while now when an Uber IPO might come. Given that the company's valuation is north of $60 billion, it's no surprise that the question has been asked.
However, Uber has shown that it has an ability to raise capital without having to tap into the public markets, something that a lot of other companies don't have the luxury of.
At some point though, it's likely the company will go public. It's just the "when" part that investors haven't figured out. Uber's CEO, Travis Kalanick, looked to shed some light on the situation. Well, sort of.
Previously, Kalanick has referred to the company as being like a junior high schooler being asked to the high school prom. Now though, he refers to Uber as an "early high schooler."
So while the answer is incredibly vague, it shows that an IPO is drawing closer, but is still some time away.
Separately from Uber, it's once-rival in China, Didi-Chuxing, has plans of its own. Uber and Didi were engaged in a fierce price war in China, until the two called a truce. Didi paid Uber $1 billion and Uber received a nearly 20% stake in the company while agreeing to cease operations in the country.
However, Didi doesn't plan only operate in China. "We're definitely going global," said its president Jean Liu.
Does that mean that Didi and Uber will once again clash somewhere else, perhaps in Europe or the U.S.? It's possible. But since the deal between the two companies happened, competition is a bit more complicated.
Lui says the ride-hailing industry is still in its infancy. So maybe there is still plenty to go around.
In 2009, the European Union hit Intel (INTC) - Get Free Report with a $1.16 billion fine due to antitrust violations. Of course, Intel appealed the decision and has been engaged in a legal tussle since.
However, the odds for victory could be shifting in its favor, now that General Nils Wahl, an advisor to the Court of Justice of the E.U., has said the trial should be re-examined in a lower court. He argued that the first ruling had errors in its judgement and that Intel's appeal should be upheld.
If that's the case, then there may be a long line of those looking to claw back its prior rulings too. Big tech companies, including Apple (AAPL) - Get Free Report and Alphabet (GOOGL) - Get Free Report (GOOG) - Get Free Report , have faced a number of different antitrust issues over the past few years.
Apple and Alphabet are holdings in Jim Cramer's Action Alerts PLUS Charitable Trust Portfolio. Want to be alerted before Cramer buys or sells AAPL or GOOGL? Learn more now.
A reversal here could be a one-off, but it could also signal a change in how things are being handled.
Shares of Intel closed at $35.43 Thursday, down 0.2%.
Under Armour (UA) - Get Free Report has partnered with Harman's (HAR) JBL line to bring headphones to its customers. Of course, TheStreet's Brian Sozzi was able to get his mitts on a pair, where he went on to grade and review the product, here.
The device is connected via Bluetooth (convenient for more than workouts) and can even tell the user what their heart rate is.
But Under Armour has done more than just release new headphones -- it has detailed what's also to come. The next set of headphones will reportedly have a 35% smaller ear tip, and will be able to better fit a number of different ears. In other words, it will be more comfortable for a wider range of customers.
The new headphones will also have a two-piece tip design, so it will be more customizable for users. The materials are also designed to withstand sweat and water, which is definitely good for the intense-workout crowd.
Additionally, customers who buy a new pair of headphones will also get a 12-month premium subscription to MapMyRun, an app Under Armour bought a few years ago to help build out its Health Kit and fitness ecosystem.
Shares of Under Armour closed at $38.41 Thursday, down 1.1%.
This article is commentary by an independent contributor. At the time of publication, the author held no positions in the stocks mentioned.