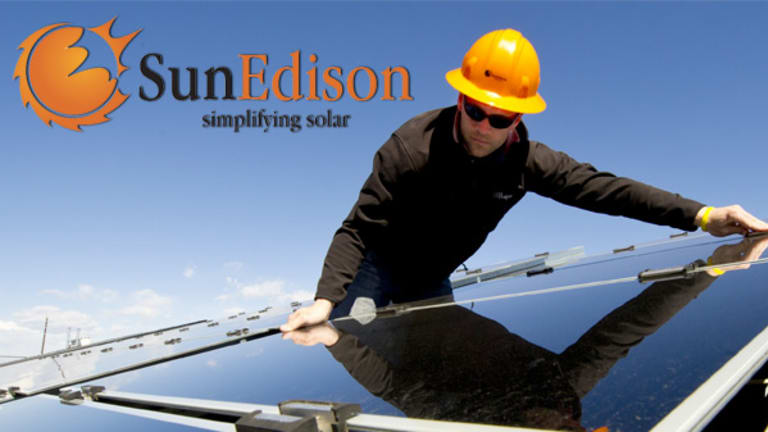 Will Troubled SunEdison Need to Raise More Equity?
SunEdison has suffered so much damage that at this point its only hope would be an equity capital raise, according to Michael Morosi of Avondale Partners.
SunEdison (SUNE) has suffered so much damage that at this point its only hope would be an equity capital raise, according to Michael Morosi of Avondale Partners, whose team took SunEdison off of its conviction list on Nov. 10.
"It seems like increasingly some form of capital raise is going to be necessary -- probably equity and probably dilutive," Morosi told Real Money. But even so, finding willing buyers in this climate will likely be no easy feat.
"It's most likely that the discussions they're having now are with longer-term, strategic-type investors, people who are interested in owning a material part of this business," Morosi added.
How did the former darling of the S&P 500 (SPY) - Get SPDR S&P 500 ETF Trust Reportsink so low? It seems the company cannot catch a break, as liquidity concerns have caught the attention Wall Street analysts as well as hedge funds, who pared down their position in the company.
The Missouri-based renewable energy company develops, builds and operates solar and wind power plants. As part of its business, the company spun off two companies -- Terraform Global (GLBL) and TerraForm Power (TERP) - Get TerraForm Power, Inc. Class A Report , both YieldCos -- to operate its projects. As of Wednesday's market close, its stock price has fallen 83% this year to $3.25 from $19.74.
"The company overextended itself, continuing to make big acquisitions even when it became clear that the market had turned against them," Jim Cramer said of the company in August as the stock was already in freefall.
Recent news hasn't been much better for SunEdison. The company's disappointing third-quarter earnings, released on Nov. 10, raised questions about its ability to meet current obligations.
"The reality is this: SunEdison's debt went from $2.6 billion to $11.7 billion currently," Gordon Johnson of Axiom Capital Management told Real Money. "A lot of that debt was due to the purchase of companies and projects they intended to drop down to the YieldCo. They can no longer do that so the question is can they sell that stuff into the open market at accretive margins?"
The company's current ratio, which measures current assets vs. current liabilities, stands at 1.3, below the 1.5 to 2.0 range considered prudent by stock analysts.
Axiom also takes issue with the company meeting its targets and how it measures -- and discloses -- its margins. In October, SunEdison said it planned to sell projects at 18% to 19% gross margin, but it reported that the projects were actually sold at 15%. Making matters worse, SunEdison said that the project excluded equipment, according to James Bardowski of Axiom.
"When you include the full solar system, they actually sold it at 9.6% gross margin -- far below what they told everyone a month prior," Bardowski told Real Money.
Also concerning analysts is a $160 million loan SunEdison received from Goldman Sachs (GS) - Get Goldman Sachs Group, Inc. Report . Axiom as well as other analysts believe the loan was used to pay off another loan from Deutsche Bank  (DB) - Get Deutsche Bank AG Report . The company stated an interest rate on the loan of 9.25%, but paid a hefty origination fee, which made the effective rate closer to 15% -- a high rate for short-term financing.
"There's an absence of transparency in their financials," said Doug Kass, of Seabreeze Partners Management and columnist for Real Money Pro, in reference to the company's sales figures as well as the Goldman Sachs loan.
While fundamental issues about the company's sustainability persist, SunEdison has also taken several other hits this week. On Monday, as hedge funds submitted their 13Fs, it was revealed that several, including David Einhorn's Greenlight Capital and Dan Loeb's Third Point, significantly pared down or completely exited their positions in SunEdison during the third quarter. Shares of the stock plummeted 33% on Tuesday in response to the news.
Adding to the pile, on Wednesday its shares were halted as the price shot up as high as 19% on a rumor that Blackstone (BX) - Get Blackstone Inc. Report was going to invest in SunEdison's debt. When those rumors proved to be untrue, the stock fell in after-hours trading.
Editor's Note: This article was originally published on Real Money at 10:30 a.m. on Nov. 19.