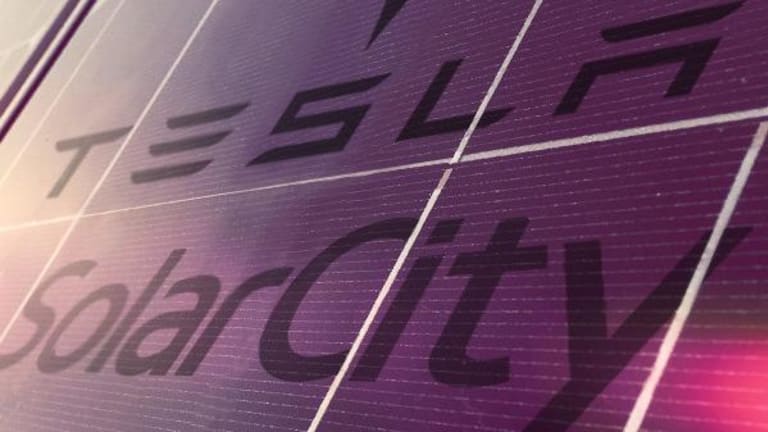 Will Tesla's Solar Roof Really Cost Less Than Normal Roof as Musk Claims?
Some analysts aren't buying the CEO's claims, which he made Thursday after announcing that the highly controversial Tesla-Solar City tie-up had been approved by shareholders of both companies.
Following the news that Tesla Motors (TSLA) - Get Tesla Inc. Report and SolarCity (SCTY) shareholders had voted to approve the companies' $2.6 billion tie-up, Elon Musk told investors that the new clean energy behemoth would now be able to provide homeowners with a solar roof that costs less than a traditional roof before factoring in the savings from energy generation. 
"It's looking quite promising that a solar roof actually cost less than normal roof before you even take the value of electricity into account," he said in a speech after the vote was called. "So the basic proposition would be 'Would you like a roof that looks better than a normal roof, last [sic] twice as long, cost [sic] less and by the way generates electricity' why would you get anything else."
Claiming a solar roof will be cheaper in the long-run than a traditional roof with asphalt shingles is one thing when factoring in the expected utility bill savings from generating your own power-- this is the primary premise behind spending thousands of dollars on currently offered rooftop solar panels. 
But even as the costs of solar panel components continue to decline, the claim that a roof made of high-grade solar technology will be cheaper to produce and supply than one covered in asphalt shingles available at your local Home Depot (HD) - Get Home Depot Inc. (The) Report is bound to face some skepticism. 
Indeed, the longtime solar bears at boutique research and investment banking shop Axiom Capital Management are not biting. 
Axiom's Gordon Johnson wrote Friday that based on the average price of asphalt shingles available on Home Depot's website, the cost of the main component of a traditional roof is about $1 per square foot. 
Traditional rooftop solar panels provide about 15 watts of power per square foot, according to solar power information website SolarPowerRocks.com.
Based on this estimate, and assuming a polysilicon module cost of 40 cents per watt (the low-end of Tesla's projected cost of producing solar panels), Axiom's Johnson calculates the cost for rooftop solar is about $6 per square foot.
Therefore, all other things equals, the key input costs for solar rooftop shingles could be 6 times higher than the key input costs for a traditional roof. 
But Axiom argues all things are not equal, including the cost of distribution. 
For example, while a contractor can pick up asphalt shingles from any local Home Depot, Tesla's shingles will likely be sourced from its forthcoming one-and-only Buffalo, N.Y., manufacturing facility, Johnson wrote. 
Based on quoted costs for transporting clay tile roofs, Axiom calculates the cost of transport for Tesla's solar roof could add $1 to $3 per watt to the total acquisition cost for solar rooftop installations. 
Furthermore, Axiom notes that Tesla won't even have the cheapest solar rooftop solutions, as SolarCity noted earlier this year that it is targeting manufacturing costs of between 40 cents and 45 cents per watt over time.
Several Chinese solar panel manufacturers, including Trina Solar (TSL) and Jinko Solar (JKS) - Get JinkoSolar Holding Company Limited American Depositary Shares (each representing 4) Report, are already producing at costs below 40 cents per watt, the firm wrote.
To be sure, asphalt shingles need to be replaced every 10-15 years, and therefore the cost of such a roof over the life of a home could add up quickly when compared with a solar roof that is expected to last much longer. 
And it's unclear what type of roof Musk was referring to when he said "normal roof" on Thursday.
The logical assumption is asphalt, but tile roofs, which are much more expensive than those layered with asphalt shingles, have become very popular in sunny regions as the clay tiles have a Class A fire rating. 
Tile roofs can cost as much as $30,000 to install and cost around $11,000 on average, according to some estimates.
According to the Asphalt Roofing Manufactures Association, however, 80% of U.S. roofs are of the asphalt variety. Over 12.5 billion square feet of asphalt shingle products are manufactured annually, which is enough to cover more than 5 million homes every year, the organization claims.
Musk also claims the current supply chain for roofing is inefficient, implying that Tesla can be more cost effective than traditional options by being more efficient in its delivery of solar solutions to the estimated 5 million U.S. homes per year that need new roofs.
The polarizing CEO seemingly feels the weight of solar roof components may play a role in the cheaper transport costs, as he claimed Thursday that the glass developed by Tesla for the solar roof tiles weigh "a third, a quarter and sometimes even a fifth" of other current roof solutions.
When you add back in the hypothetical energy savings, the thesis that a solar roof investment could ultimately cost a homeowner less than tacking on new asphalt shingles every 20 years, and all the while paying a small fortune in utility bills, becomes easier to swallow. 
And this is the mantra Tesla had been providing up until Thursday. Nevertheless, there is still the question of how great the savings really are if the solar panels, or solar roof, is not providing 100% of a home's electricity needs 24 hours per day, 365 days per year. 
To truly be this independent of the grid, one might have to buy a number of Tesla battery packs, an additional $5,500 per unit expense that may not be part of Musk's solar roof cost analysis. 
Moreover, in many areas of the United States, solar panels are often deemed not worth the expense of installation, meaning those 5 million homeowners might not all find value in installing a solar roof.
Investors have some time to dig into the numbers, though, given the fact that Tesla doesn't expect to roll out the solar roof in volume until sometime next year.
The company has missed its deadlines in the past. And that was before it gobbled up debt-laden SolarCity, giving itself a whole new set of problems to deal with as it works to get its anxiously awaited Model 3 off the ground on time and under budget.