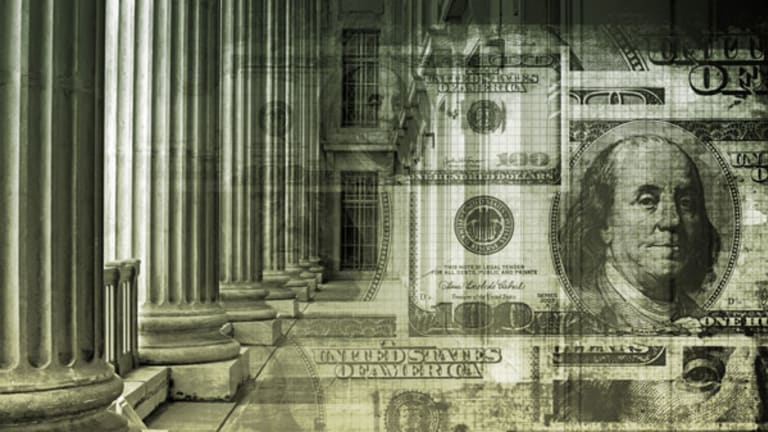 Will Tech Carry the Market on Its Back in 2012?
Tech stocks account for 16% of the S&P 500, and have the ability to lure fresh capital from retail investors who have been keeping money on the sidelines.
Editor's note: As part of our partnership with Nightly Business Report, TheStreet's Jill Malandrino will appear on NBR Monday (check local listings) to discuss why tech stocks are so important to broader market movement.
NEW YORK (TheStreet) -- Many investors are unaware that the tech sector comprises almost 16% of the weighting of the S&P 500, just a few tenths of a percent behind the financials and consumer discretionary sectors. Just two weeks ago that number was at almost 20%.
Here's another interesting tidbit: Net cash held by the top eight companies of the
NDX
(NASDAQ 100 Index) amounts to nearly 10% of the benchmark's market cap, or $270 billion.
What does all of that mean? The S&P 500 is up 4.7% year-to-date as of Friday's close, and investors and institutional traders alike really don't know why this slow, unconstructive grind is taking place. Quarterly earnings and the domestic economic picture have not been exactly stellar, Greece is on the brink of default and the European sovereign debt crisis shows no sign of getting resolved anytime soon.
So where is the market getting this underlying support from? Let's take it back to fundamentals and see why the tech sector is quietly lending a bid to the overall market.
Even in times like this, when the average investor is uncomfortable allocating money to stocks due to the macro uncertainty, tech stocks can produce attractive returns since their valuation is cheap and their fundamentals are so strong. We are starting to see management put cash to work through share buybacks, dividend payouts and
.
One of the most identifiable investment themes in 2011 -- and one that is already playing out for 2012 -- was the desire for healthy, dividend-paying companies. This is especially true among a group of investors who needs the income and has the most disposable capital to put to work: baby boomers.
One bright spot in a murky earnings season has been the tech group. We all know
Apple
(AAPL) - Get Report
blew away the quarter on every metric
, taking analysts and investors alike completely by surprise. Let's face it, the name is essentially in an asset class of its own. But even famously dividend-shy Apple is heeding the call of investors, as the company said last Tuesday on its earnings conference call that it is "actively discussing" uses for its $100 billion cash pile, which could include a dividend.
Now think about this. If Apple's board voted to approve a 3-for-1 stock split, at Friday's closing price of $447.28, that would take shares to $149. This new level would attract fresh capital from retail investors, who would be more inclined to buy round lots of 100 shares instead of odd lots, as so many are forced to now due to the stock's high price tag.
This could drive the value of the stock even higher, as Apple trades at a cheap 11 times analysts' profit expectations. It's easier to drive a $149 stock by 15%, for example, to $171.35 than a $450 name to $517.50. Imagine what 15% gain would do to Apple's already astonishing market cap and to the overall market!
And we are starting to see more positive momentum outside of just iconic Apple.
KLA-Tencor
(KLAC) - Get Report
also handily beat analysts expectations for the quarter, and management continues to see outperformance and is actually going to increase headcount slightly. In fact, Mark Heller, large-cap semi equipment analyst at CLSA, views KLA as the best secular growth story in the space.
Seagate
(STX) - Get Report
is another company that announced a share buyback and dividend increase, while
CA
(CA) - Get Report
just took the dividend up five-fold. All of this positive news shows these large-cap tech companies have the capacity to get things done. Generate cash, return cash. Rinse and repeat.
Retail investors are holding a lot of money on the sidelines. If the tech sector can continue to deliver results and reward investors by returning cash, an infusion of fresh money into tech will provide a true bid to the S&P 500, as it is one of the largest weighted components. That is not sector reallocation or "shuffling of the papers" but true, investable new money.
Clearly tech companies have the cash on hand, more so than any other sector, as indicated by the impressive $270 billion held by just the top eight companies. This is your market growth story -- a sector that is in a recovery cycle, making and blowing away earnings expectations, not through cost cutting but with healthy bottom-line revenue beats.
Readers Also Like:
>>
Bankers Bullish on Tech M&A for 2012
>>
Waiting for Facebook's IPO Filing