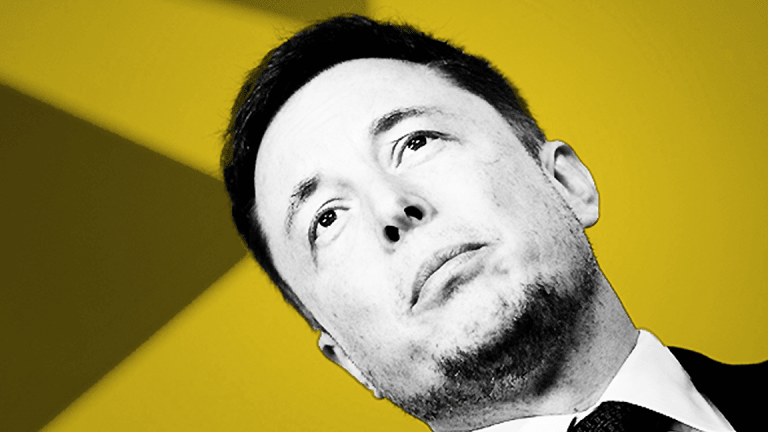 Bet on Boeing Rather Than Elon Musk's SpaceX Reaching Mars First
Even if Elon Musk wins the race to the Red Planet, Boeing is a heck of a defense stock at the right price.
Elon Musk's SpaceX launched a Falcon 9 rocket from Cape Canaveral just after midnight Monday to place a communications satellite owned by a Luxembourg company into orbit. Will SpaceX someday achieve Musk's goal of reaching Mars, or will someone else beat it to the punch? How can investors play this?
TheStreet last week asked Dennis Muilenburg, CEO of Boeing (BA) - Get Free Report , who would be the first to Mars -- Boeing or SpaceX? Muilenburg's one-word answer: Boeing."
Muilenburg rattled off a few data points for such a mission: "38 stories tall ... 9.2 million pounds of thrust ... the biggest rocket ever." Oh, and then there's the small matter of requiring cooperation with NASA. Muilenburg also indicated that test flights would begin next year.
But then Musk saw TheStreet's coverage and tweeted back to Muilenburg: "Do it." Musk has stated in the past that he expects SpaceX to start testing a rocket that would reach Mars some time early next year, and that manned flight to the red planet could come as soon as 2024.
Take Me to Your (Market) Leader, Earthling
Why bother racing to Mars, and why bother investing in the space of space at all?
Well, while there's obviously no mass of potential consumers to reach on the red planet, President Trump has made reaching Mars one of his priorities. And according to The New York Times, the U.S. government's fiscal 2019 budget calls for a $370 million increase in NASA funding.
Now, a more realistic goal based on planned spending would be a return to the Moon rather than a trip to Mars. But either way, are SpaceX and Boeing now rivals in a new space race to Mars? How should investors play this? Let's check it out.
Reasons to Bet on Musk
Monday's SpaceX launch wasn't the only one on the company's schedule, as the firm plans to launch a resupply mission to the International Space Station (ISS) later this month.
Sound like a business? Maybe. SpaceX has successfully produced the first privately funded, liquid-fueled rocket to reach orbit, and revenues could surpass $2 billion this year. The company has also already launched the first non-government spacecraft to reach the ISS.
Reasons to Bet on Boeing
Anyone who follows Tesla (TSLA) - Get Free Report , Musk's money-losing electric-vehicle company, can answer this one. After all, Musk has consistently overpromised and then underdelivered on Tesla's production.
That's made TSLA the most-shorted stock that I personally own. The fact that an incredible 33% of the entire float is now sold short is the primary reason I have a long position on the name.
Now, the race to Mars is a cool technological story, but it's demand that drives revenue and revenue that should drive your investment decision-making. But unfortunately, Musk's track record there isn't so great. For example, Tesla currently runs with negative numbers for both operating and levered free-cash flow.
Needham analyst Rajvindra Gill last week initiated TSLA with a "Hold" rating, writing: "We don't foresee Tesla reaching full production until 12 months from now. [And] if the company does manage to hit its production targets, we suspect it will be by sacrificing margins and profitability." Ouch!
On the other hand, Boeing had more than $8.5 billion in levered free-cash flow on a trailing-twelve-month basis. What that means is that BA can more easily afford to spend on research and developmentthan Musk can.
A Better Way to Play This
Now, where is the kind of progress that's needed for space travel often made? Answer: The defense sector.
After all, NASA's top 100 contractors include not only Boeing, but also Lockheed Martin (LMT) - Get Free Report , Raytheon (RTN) - Get Free Report , Northrop Grumman (NOC) - Get Free Report , Honeywell (HON) - Get Free Report and Rockwell Collins (COL) .
So overall, I like investing in space travel not via a dangerous world full of bad actors, but via projected global defense spending. Boeing is one name that I've repeatedly missed owning.
(An earlier version of this column incorrectly put NASA's proposed fiscal 2019 budget increase at $370 billion instead of the correct $370 million.)
At the time of publication, Guilfoyle was long TSLA, LMT, NOC and RTN, although positions may change at any time.