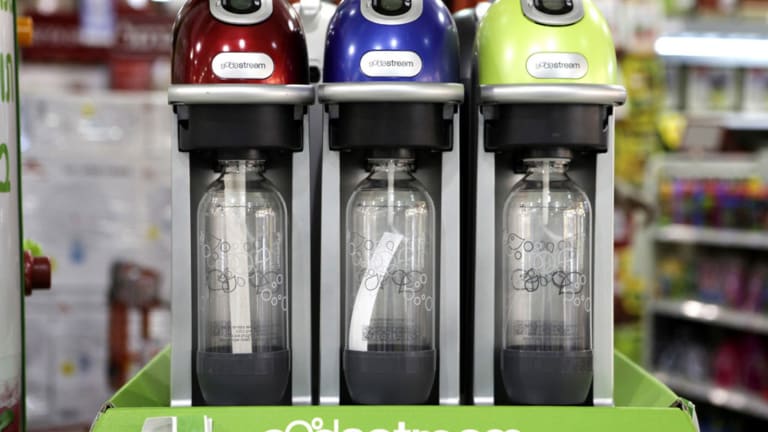 Publish date:
Will SodaStream Profits Bubble Over With New U.S. Brand?
With a new product aimed at U.S. millennials, SodaStream's stock should continue its breathtakingly bubbly rise.
With a new product aimed at U.S. millennials, SodaStream's stock should continue its breathtakingly bubbly rise.
Just two weeks after news that per-capita bottled water consumption had surpassed soda consumption for the first time in the U.S., SodaStream (SODA) - Get Report has unveiled a new brand poised to take the U.S. sparkling water markets by storm.
At the Chicago International Home and Housewares Show, the company announced the launch of its new Aqua Fizz brand with a home beverage maker marketed specifically to sparkling water aficionados. The development is another indication that SodaStream is a compelling growth stock in an otherwise risky broader market.
SodaStream has been capturing headlines for a year now, thanks to its shift from presenting itself as a soda machine company to the maker of gourmet sparkling water beverage kits. However, the company pointed out that whereas its flagship line of carbonation machines are intended as a bridge between sugary soft drinks and more healthful flavored waters, the new line is aimed at consumers who are already converts.
The Aqua Fizz machine dispenses unflavored sparkling water into provided elegant glass carafes, compared with the flavored beverage that is stored in SodaStream's traditional plastic soda bottles.
SodaStream already markets a product similar to the Aqua Fizz in Europe, where it has been popular, selling more than 1 million units in 2016 alone. Europe is SodaStream's largest market, and although its products have been well received in the U.S., where they're sold at Whole Foods Market (WFM) , Target (TGT) - Get Report and other popular retailers, there's still a huge amount of room for growth.
But that's not to say there still aren't large profits from Europe to be made for SodaStream investors--only 10% of countertops on the continent boast a SodaStream device.
The Aqua Fizz will be available in the U.S. starting in June 2017, and it will be sold on the company's website, as well as by high-end retailers. The retail price for the machine will be $179.
As consumers switch from the sugary sodas made by Coca-Cola (KO) - Get Report and PepsiCo (PEP) - Get Report to water and other soft drink alternatives, SodaStream has been reaping cash. After several years of stagnation and decline, the company's stock broke through as one of the biggest turnaround stories of 2016, registering a gain of more than 145%.
And there's little sign of this upward trend stopping. Year to date, SodaStream's stock is already up more than 21%.
By rounding out its portfolio with a glamorous sparkling water machine clearly aimed at "foodie" millennials here in the U.S., SodaStream should continue to grow its base and strengthen its sales. Analysts are calling for the stock to gain as much as 21% more in the next 12 months ... but the stock could surprise us yet again and rocket even higher. Keep an eye out for any price dips and grab shares of this comeback kid.
I "Sold My Soul" for This One Irresistible Stock ...
High-flying tech stocks have a nasty tendency to nosedive without warning. So much so that it's been nearly two decades since I've been tempted to buy one. But when I discovered this state-of-the-art facility just 4 minutes from my office, I couldn't help myself. This company has it all: explosive growth potential (with none of the risks that usually come with trendy tech stocks), steadily increasing dividend payments, and the buy-in of a group of Silicon Valley's top CEOs... Wouldn't you break your own rules for a piece of that action? Click here to tap into its $8.47/second income stream.
John Persinos is an analyst with Investing Daily. At the time of publication, he owned none of the stocks mentioned.
Action Alerts PLUS, which Cramer manages as a charitable trust, is long PEP.