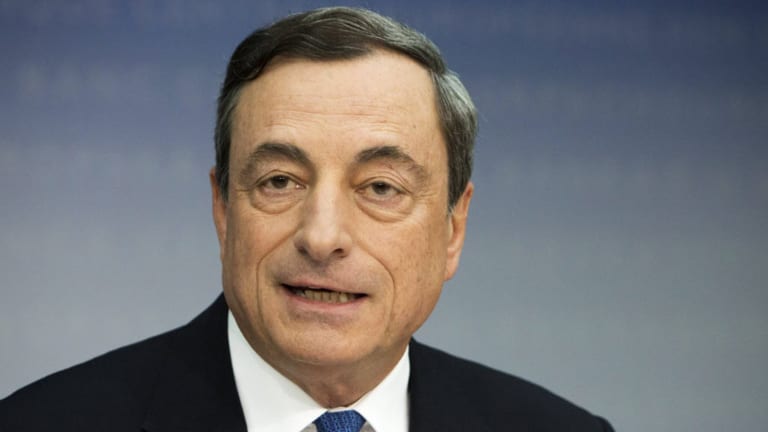 Will Markets Throw a 'Tantrum' Over Jackson Hole?
How to interpret and play Mario Draghi's important speech Friday.
How to interpret and play Mario Draghi's important speech Friday.
European Central Bank President Mario Draghi will be speaking at the Kansas City Fed's annual conference (better known as Jackson Hole) on Friday. There has been rampant speculation that he will use this forum to discuss the ECB's strategy to slow its quantitative easing (QE) program. Here is what that could mean for markets.
Taper Tantrum 2.0?
Investors will remember in the spring of 2013 when then U.S. Fed Chair Ben Bernanke talked loosely about wanting to "taper" the Fed's own QE purchases. This set off a wild ride for all markets, with the 10-year Treasury rising 136 basis points, peaking at 3.03%, and the S&P 500 fell 6%.
Draghi had his own mini-taper tantrum moment earlier this year, when he said that "deflationary forces have been replaced by reflationary ones," which of course the market read as suggesting less accommodation in the future. Immediately after this comment, the German 10-year bond rose from 0.25% to 0.60% and the euro jumped 2.3%. While German bonds have fallen back to 0.35%, the euro continues to appreciate, now up 5.5% since that Draghi speech.
Draghi will work hard to avoid such an outcome. He wants to find a way to ease the ECB out of the QE business, but can afford to do so over time to avoid market disruption. That might mean not saying much at all in Jackson Hole, but more likely it will involve saying just enough to nod toward slower QE purchases without giving the market any actual new information.
He can get away with going extremely slow because...
Mission not accomplished
The European economy is definitely looking better. Second-quarter GDP growth came in at 2.2% year over year, which isn't bad. Most economists expect it to stay in the high 1%s through 2018. The unemployment rate is down to 9.1%, from 10.1% a year ago.
Still, 9.1% isn't anyone's definition of full employment. Europe has some structural and demographic problems that probably won't allow it to have GDP growth as fast or unemployment as low as the U.S. Still, unemployment was as low as 7.3% during the last recovery. Surely there is room between 9.1% and 7.3% for further improvement. And consumer prices rose just 1.3% over the last year, or 1.2% when stripping out food and energy.
With all this going on, why is the ECB talking about slowing down QE at all?
Don't let the sun go down on QE!
Partially it is because the ECB already set a sunset date of December 2017, so one way or the other they are going to have to address what happens after that. In a sense, if QE lasts any time period after 2017, it is more accommodation than was originally planned. Still, it would be easy for the ECB to just extend the program as is, which currently has the bank buying €60 billion in bonds per month.
The ECB could revisit in six months to avoid boxing itself in too much. Or else it could do what the Fed did with QE3, make the program open-ended and contingent on data as opposed to time.
Yet this doesn't seem to be the direction the ECB wants to head. Even if Draghi says very little in his speech about QE, it is clear it is much closer to ramping down vs. ramping up. This is evident from recent ECB meeting minutes.
Why is this?
Like the Fed, it seems the ECB views QE as a fairly weak tool at this stage in the recovery. Speaking from the same conference, Nobel Laureate Christopher Sims said as much, referring to the Fed's QE2 and QE3 programs, he noted "The subsequent quantitative easing I don't think was harmful. I think it may have been somewhat helpful, but I don't think it's been a major powerful instrument of monetary policy."
I'd say this view is widely (but not universally) held among economists on both sides of the Atlantic. QE is fine as far as it goes, but it seems to only go so far. And there are risks. QE might be propping up the financial markets, creating a risk of bubbles forming. ECB bankers might also be thinking that they want to slow down QE long before (maybe even years before) actually hiking rates. If so, better get started now.
My assumption is that the ECB sees the mild economic improvement as encouraging, and it gives them a window to ease its way out of the QE program. Given this imbalance of risk/reward, it is going to grab this opportunity.
What does this mean for interest rate policy?
If my supposition is correct that curtailing QE is mostly about risk/reward, then it tells us very little about interest rates. In fact, I'd expect the ECB to emphasize its commitment to accommodative policy overall to minimize the impact of changes to the QE program. At best, an ECB rate hike is a year away, probably more like two. In fact, I'd bet on a U.S. recession coming before an ECB rate hike, which would probably delay the ECB all the more.
Trade ideas
I like buying German bunds on any Jackson Hole-related weakness. I'd sell/short EU corporate credit as a trade, but not for a long-term hold.
More intermediate-term, I like the German 2-10 curve to head toward 90 basis points as people realize that the ECB isn't hiking anytime soon. Long the 5-year is a good way to play this.
(This article originally appeared Aug. 23 on Real Money, our premium site for active traders. Click here to get great columns like this from Tom Graff, Jim Cramer and other writers even earlier in the trading day.)
At the time of publication, Graff had no positions in any securities mentioned.