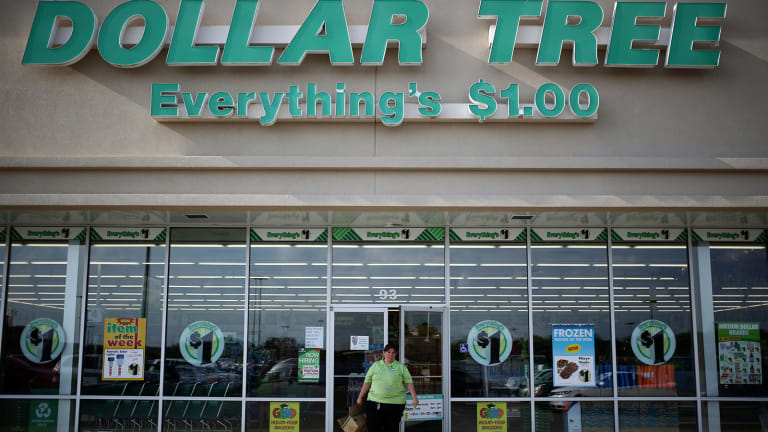 Will Dollar Tree Hit New Highs on Earnings Beat?
Dollar Tree stock started off higher on the day, but is under pressure in afternoon trading. Here's how to trade DLTR stock now.
Dollar Tree (DLTR) - Get Free Report was having a great start to the day, but quickly found itself lower on Thursday with shares closing lower by 1.94% at $97.67.
Before the market opened, some investors were wondering whether Dollar Tree could rally to new highs over the coming days and weeks. After all, Dollar General (DG) - Get Free Report is up big on the day and hitting new highs after its earnings results.
Second-quarter earnings of 76 cents per share beat estimates by 1 cent, while revenue of $5.74 billion grew 3.8% year-over-year and topped estimates by $20 million. Further, comparable-store sales growth of 2.4% bested estimates of 1.9%.
However, while management tightened up its full-year revenue outlook -- giving it a slight increase in the process -- and raised its full-year earnings outlook, both marks came up short of analysts' expectations. It didn't help that margins contracted in the second quarter and that management said its guidance did not include the recent tariff announcements.
In other words, just like Best Buy's  (BBY) - Get Free Reportcharts indicate, Dollar Tree is under pressure, part of which is in thanks to the tariff situation. The concern is alleviating some of the broad market woes on Thursday, but hurting many individual companies based on management commentary.
To see the damage for Dollar Tree stock, let's look at the charts.
Trading Dollar Tree Stock
There is a lot of disappointing price action on the chart above, so let's just start with the open. Shares began trading at $102.50 on Thursday before pushing to $104.24. The move over $103 took Dollar Tree stock above the 50-day moving average, while the open put shares over the 200-day moving average for what looked like the second straight day.
Had this rally stuck, DLTR stock would be setting up in a rather bullish manner. Instead, shares were rejected by the 50-day moving average and have proceeded to fall below the 200-day at $99.02 as well.
Worse yet, Dollar Tree couldn't stay above $100. It's possible the stock reclaims this level before the close or going into the weekend, but Thursday's post-earnings action is quite discouraging.
As you can see via the blue rectangles on the chart, the $100 level has played a key roll for the bulls in post-earnings price action. Both times took the stock up to new highs past $110. This time, though, $100 doesn't look like it will be of much help. Adding salt to the wound, the 38.2% retracement stands at $100.16, putting even more importance on this area.
So what's the bottom line? See that channel support and the 20-day moving average buoy the name from here. Should they fail as support, keep an eye on the $95 level. If Dollar Tree stock can reclaim $100, the 50-day moving average and Thursday's high are the next two upside targets.
Labor Day Sale: Join Jim Cramer's Club for Investors and Save.Get 57% off on your membership to Jim's Action Alerts PLUS club for investors.
This article is commentary by an independent contributor. At the time of publication, the author had no positions in the stocks mentioned.