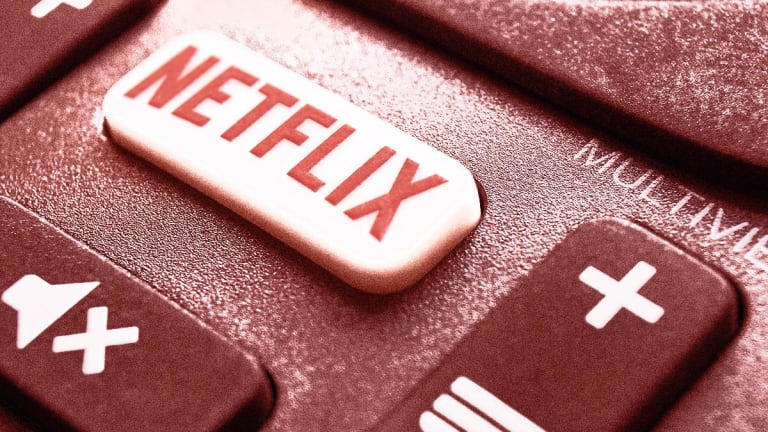 Will Apple TV+ and Disney+ Put a Stop to Netflix Price Increases?
With the entry of cheaper streaming options like Disney+, Netflix's $13 standard plan looks pricey by comparison and could have some consumers thinking twice aboutt what they're getting for their dollars.
Love entertainment, but don't want to pay for Netflix? Thanks to an increasingly crowded market for streaming services, you don't have to. 
Competitors Apple (AAPL) - Get Apple Inc. Report and Disney (DIS) - Get The Walt Disney Company Report are making their debuts this month, bringing new complexity to the streaming market. And while more choices in streaming may be a win for consumers, their implications for market leader Netflix aren't yet clear. Netflix (NFLX) - Get Netflix Inc. Report shares closed 1.65% lower on Tuesday to $288.03.
With the entry of lower-priced offerings into the streaming market -- Disney+ is $6.99 per month, while Apple TV+ costs $4.99 or free for a year for Apple device buyers -- Netflix is suddenly looking like a relatively costly option. Netflix's most popular standard plan is $12.99 per month, and its premium plan is $15.99 for U.S. subscribers. 
Per Sjofors, CEO at Atenga Insights and an expert in how pricing affects consumer behavior, said that there's a psychological threshold at $15 per month that may be risky for Netflix to cross. 
"If you go over that, not only will subscription levels decrease, but revenues will decrease," he said. After Netflix posted a quarterly drop in domestic subscribers in July, some analysts speculated that it was partly a reaction to price increases implemented months earlier. (It reported 500,000 net U.S. adds in October, however.)
However, all streaming services are not created equal and, to a great extent, people's willingness to shell out more for a streaming plan depends on their personal preferences or the composition of their households.
Netflix, Disney, Apple and future competitor AT&T (T) - Get AT&T Inc. Report , which will release its $14.99 HBO Max offering in May 2020, each have distinctive value propositions. Netflix boasts a high volume of syndicated and original content, including various popular premium shows; Apple has a small catalog of content, but a powerful ecosystem; and Disney's variety of content will likely appeal to families. Disney will also offer a $12.99 bundle that includes Disney+, ESPN+ and ad-supported Hulu. HBO Max, meanwhile, leverages HBO's stature in prestige TV with a range of other brands and syndicated content. 
Research suggests that, as it stands, many Netflix subscribers are happy with the service and believe it is fairly priced. PiperJaffray recently conducted a survey of 1,100 Netflix subscribers and found that "most would be willing to pay more to remain subscribers of the service," analyst Michael Olson wrote in October. Using a weighted average of prices, PiperJaffray determined that respondents were willing to pay $15.50 for a Netflix subscription. While that would be impossible to implement in the immediate future, it suggests that Netflix has the ability to raise its average revenue per user domestically -- even if price increases turn off some subscribers. 
While price increases carry risks, there can also be pitfalls in setting one's prices too low, Sjofors added. That may particularly affect a brand like Disney, which is a premium brand that commands high prices for other experiences, such as its Disney theme parks, which easily run in the hundreds of dollars for a single visit. 
"When you teach your customer that they're going to pay a low price, obviously you can increase prices, but it's not always going to be that easy. Especially when you're a brand like Disney, it may even tarnish their brand," he said.  
Apple and Disney are holdings in Jim Cramer'sAction Alerts PLUS Charitable Trust Portfolio. Want to be alerted before Cramer buys or sells these stocks? Learn more now.