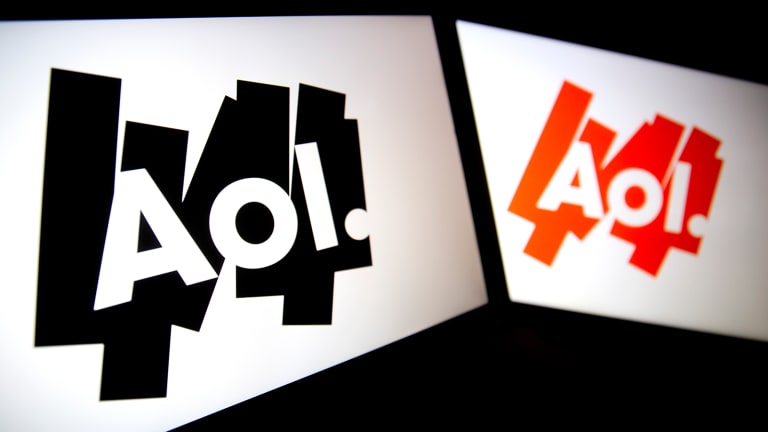 Why You Shouldn't Hurry to Buy AOL Shares on Verizon Merger News
While it's tempting to jump in and buy AOL stock, my recommendation would be to buy a company's shares based on the business, not a coming acquisition.
NEW YORK (Real Money) -- This morning, Verizon (VZ) - Get Verizon Communications Inc. Report announced its intention to acquire AOL (AOL) for $4.4 billion, or roughly $50 per share, a 16.5% premium to Monday's closing price. I suspect there will be all sorts of reasons put forth for the deal, as well as backslapping from AOL CEO Tim Armstrong over how Verizon is a fantastic choice and from Verizon CEO Lowell McAdam over how AOL is a crown jewel that Verizon had to have.
Or at least have now.
Cited reasons for Verizon acquiring AOL include:
Acquiring AOL would further its strategy to build out its LTE wireless video and streaming video strategy.
AOL would contribute to its Internet of Things platform.
From AOL's perspective, Armstrong cited the need for the company to be part of a larger player. Verizon has 1.5 billion connected devices in the U.S. and touches 70% of U.S. Internet traffic, according to Armstrong.
From my perspective, we can read the press release that "Verizon's vision is to provide customers with a premium digital experience based on a global multiscreen network platform." But what does that mean, and why now?
While we all expect Internet connectivity 24/7, it's what we do with that connectivity that matters. Given moves by other companies that are going after over-the-top services -- such as Apple (AAPL) - Get Apple Inc. (AAPL) Report TV and its iTunes service -- that enable consumers to buy TV shows, movies and more, cable companies need to prevent becoming a dumb pipe that loses content revenue. We're starting to see that happen as consumers unplug from phone and TV in favor of higher-speed broadband to access digital content. Why use a messy Verizon FiOS interface when, with two clicks, I can stream a movie via my Apple TV from Netflix (NFLX) - Get Netflix, Inc. (NFLX) Report or Apple? A simple USB jack lets me stream Amazon's (AMZN) - Get Amazon.com, Inc. Report proprietary Bosch series over my FiOS connection.
Verizon's move is far from surprising given the earlier move by Comcast (CMCSA) - Get Comcast Corporation Class A Report to acquire NBC Universal, a shift that added competitive moats around the cable and Internet business by layering in content. Even that deal echoed the Disney (DIS) - Get Walt Disney Company Report buy of ABC/Cap Cities back in 1995. It's no secret that content is a competitive differentiator. Just look at the moves by Netflix and Amazon to distinguish themselves from other streaming services.
The big question to me is what does this mean for AT&T (T) - Get AT&T Inc. Report, Charter Communications (CHTR) - Get Charter Communications, Inc. Class A Report, Time Warner Cable (TWC) , Cablevision (CVC) and other cable companies, as well as digital properties Yahoo! (YHOO) and Hulu, and content companies such as 21st Century Fox (FOXA) - Get Fox Corporation Class A Report. My suspicion is M&A mania is likely to pop the shares of those companies as herd-think takes over and we see a game of musical chairs.
JimCramer's charitable trustAction Alerts PLUS owns 21st Century Fox and Apple, and he recently reaffirmed his faith in 21st Century Fox. Read his analysishere.
While it's tempting to jump in, my recommendation would be to buy a company's shares based on the business, not anticipated M&A activity. It's better to be safe than sorry. You could be left owning the last player standing.
This article is commentary by an independent contributor. At the time of publication, the author held no positions in the stocks mentioned. Versace manages a portfolio that owns shares in FB.
Follow Chris Versace on Twitter and Facebook.