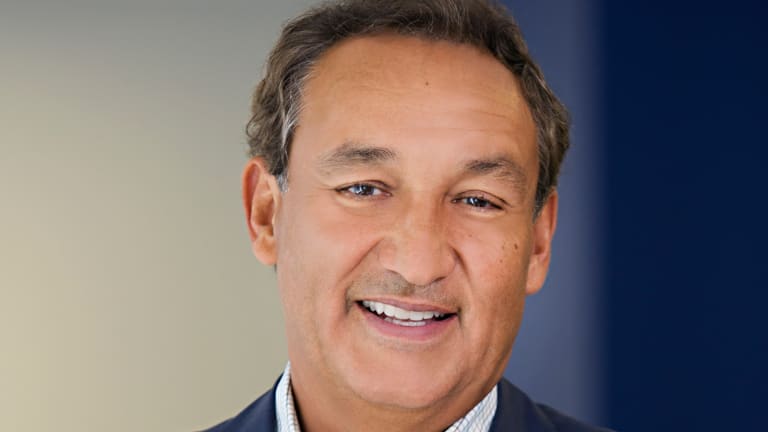 United Airlines CEO Is Getting Ripped to Shreds by Lawmakers
Oscar Munoz deserves to feel even more incredible heat.
This article originally appeared at 08:05 ET on Real Money, our premium site for active traders. Click here to get great columns like this from Brian Sozzi and other writers even earlier in the trading day.
If making money in the stock market is one of your life's goals, then flip on the TV on Tuesday morning and hope that United Airlines (UAL) - Get United Airlines Holdings Inc. Report CEO Oscar Munoz gets torn to pieces by lawmakers.
The embattled airline CEO was grilled during a hearing in front of the House Transportation Committee on his company's botched response to the incident with Dr. David Dao, and why it happened in the first place. Joining Munoz in front of regulators was United President Scott Kirby -- a longtime airline executive who is supposed to be an operations wizard -- along with top executives of American Airlines (AAL) - Get American Airlines Group Inc. Report , Akaska Airlines (ALK) - Get Alaska Air Group Inc. Report and Southweast Airlines (LUV) - Get Southwest Airlines Company Report .
"This won't be an easy hearing," Congressman Bill Shuster said in opening statements, adding that the hearing with be a "tough, tough one." Munoz called the event a "serious breach of public trust" and said that United had to get better at making decisions in the moment.
At the hearing, U.S. Rep. Steve Cohen called the video of Dao being brutally hauled off the United plane "disturbing."
"It reminded me of a Trump campaign," Cohen said. "People shouldn't be treated that way."
U.S. Rep. Peter DeFazio questioned why United and American charge $200 to $300 for a customer to change its flight, if there's really no cost to the company.
"United, you collected $800 million in change fees last year," DeFazio said. "That is a lot of money and there's no real cost? Southwest, I'll ask you as you are stopping overbooking. How can you do that? Are you going to go broke?"
"No, we are not going to go broke," Southwest Executive VP Bob Jordan said. He said he's seen no-shows come down. The executives all agreed that overbooking was put in place decades ago when business people cancelled flights frequently.
U.S. Rep. Rick Larsen asked Munoz what the United employee said to law enforcement that resulted in them dragging Dao off the flight.
Munoz said it was a "failed policy" of offering the passenger money to get off the flight, raising the offer and then asking for assistance if the customer still refuses to leave. He said now United will not allow employees to boot a passenger from the plane once seated and raised the offering amount to up to $10,000.
U.S. Rep. Michael Capuano said he accepts Munoz' apology and United's plans to resolve the immediate customer service issues at hand. However, he warned that Congress will be watching all of the airline companies to ensure that real change happens.
"We have a problem [with flying] that shouldn't be as bad or as unpleasant as it is," Capuano said. "No one is against you making money. I just want to get from point A to point B [easily]."
Kirby at the hearing claimed only 15% of the time does a flight get overbooked at United where all the customers actually show up.
In response to a question from U.S. Rep. Brenda Lawrence, Kirby said ticket prices will not rise due to the policy changes at United.
American Airlines' Customer Experience Senior VP Kerry Philipovitch was put on the hot seat, too, by U.S. Rep. Frederica Wilson, who criticized the employee training, or lack thereof, that led to a recent incident in which a woman's stroller carrying her 15-month-old twins was ripped from her by a flight attendant, who has since been suspended, as she boarded a plane.
"We did not handle that situation as it should have been handled," Philipovitch said. "We should have helped her to gate check her stroller before she got on the plane."
Safety was also a key theme addressed by several Congress members, who questioned whether passengers can really exit the plane in an emergency situation in the three-minute time frame the FAA requires as so many airlines are reducing the size of seats to accommodate more passengers. Southwest, to be sure, has invested in wider seats.
Aside from this hearing being great fodder for those on Twitter, in my opinion Munoz deserves to leave the spectacle feeling dressed down by regulators. If he does, it could be a win for investors. For seemingly forever, it has been OK for CEOs to mostly sit in their corner offices, draw out plans, sign off on things and collect big annual paychecks (Munoz received $18.7 million in total compensation in 2016). The reality is, that is no longer acceptable in this age when digital media could cause breaking news to blow up globally, in an instant. CEOs should be out, meeting regularly with their global work forces, taking the temperature of morale, seeing what is working and what's not and then crafting plans accordingly.
While Munoz probably has made the rounds each month to some part of United's operations, if he has reflected on this event surely he realizes he could have done more. Personally reviewed procedures to ensure they are in line with his values and today's environment, personally sat in a departure gate and studied employees. All in all, just more hands-on stuff as opposed to being a prototypical CEO. 
And hopefully, a good number of CEOs atop America's biggest companies watch the airline hearing today or YouTube clips of it later on. It could very easily be them in front of some government body getting bashed, while at the same time raked over the coals on Twitter. If that's something that isn't too enticing, the said CEOs should be getting to work today to reassess their operating styles. Better approaches from the executive office could lead to a better organization, and that's a win for shareholders (especially as they are paying excess multiples right now to own stocks). 
Read This Or Lose Out
Boy, is tech becoming a crowded trade: Tech has undoubtedly been the hottest place to be this year, as investors search for the biggest growth prospects, with as little risk as possible. But we may be nearing a point where it's a wise decision to reassess valuations on tech names. Check out the below data nugget on the relative valuation of the Nasdaq Composite vs. the S&P.  
The market did embrace Amazon's (AMZN) - Get Amazon.com Inc. Report earnings last week, despite the company's ballooning valuation. Let's see if it does the same with Apple's (AAPL) - Get Apple Inc. Report after the close today. 
In case you were wondering: Here is a photo of a giant rabbit -- named Simon -- that was found dead after taking a ride aboard a United airplane in late April. So sad. 
Not for me: Many food companies have toyed around with the concept of edible food packaging as a means to improve the environment. While it's easy to understand their causes, edible packaging is sort of gross. Take for example a London-based startup that wants to you to stay hydrated by "eating" a water balloon-like blob instead of using a plastic bottle, reports Christian Science Monitor. 
The blob is named Ooho (see video below) and is a seaweed-based, double-membrane capsule containing water. No thanks. 
Today is The Rock's birthday: Be sure to wish Dwayne "The Rock" Johnson a happy birthday today; believe it or not, he turns 45 years old. He is a great example of doing things right in life and getting rewarded accordingly. 
Do you like your Airpods: I am still not there with Apple's Airpods, too weird for me and still too much a concern of losing them on the subway. But apparently many people don't share my gripes, as seen in the below chart. Let me know what you think of yours at @BrianSozzi on Twitter. 
Jim Cramer and the AAP team hold a position in Apple for their Action Alerts PLUS Charitable Trust Portfolio. Want to be alerted before Cramer buys or sells AAPL? Learn more now.
Employees of TheStreet are restricted from trading individual securities.