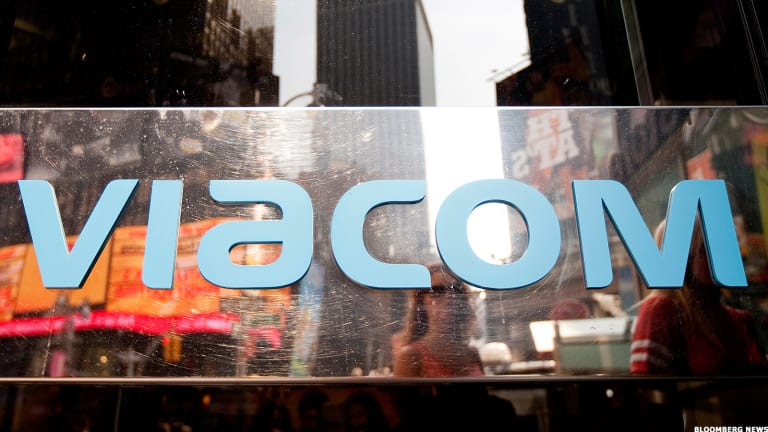 Why You Should Buy Viacom Shares Right Now
Viacom shares are cheap right now, and the company has taken the right steps to deal with industry challenges.
NEW YORK (Real Money) -- Viacom Class B shares (VIAB) are attractive on a longer-term basis as this is a strong franchise at a great price. Since we recommended the company in late March, the stock has moved lower.
The biggest force driving Viacom's shares lower, along with the rest of the media industry, is the heightened fears of consumers using alternative distribution technologies to view entertainment programs. Netflix (NFLX) , Amazon (AMZN) Prime, Hulu and Google's (GOOGL) YouTube in particular have seen record viewing times while the number of cable television subscribers has stalled.  
Investors would be wise to use this weakness to bring VIAB up to a full position. Since our March recommendation, there have been a number of company-specific developments. Most of them have been good, although one was a short-term negative. 
One of the positives was that Viacom announced a meaningful restructuring program in early April to refocus on new growth areas while increasing overall company efficiency. Viacom wrote down several poorly performing programs while outlining a restructuring plan that would produce an annual savings of $350 million beginning in the second half of 2015. Analysts project that these savings will boost operating income by 4% in the coming year while earnings per share will rise by 8%.   
In addition to these projected lower future costs, Viacom also reported solid first-quarter results. EPS came in at $1.16 vs. $1.06 for the estimates. The better-than-expected results were driven by positive affiliate fees and international revenue growth, combined with better-than-expected cost controls. While negative, advertising revenues were better than expected.   
In recent days, CEO Philippe Dauman made positive comments about up-front sales going well for the quarter and year to date. He also reiterated confidence in favorably renewing affiliate fee deals with distributors over the coming months.
Dauman also spoke highly of Viacom's international growth potential in the U.K., India, Latin America, Europe and Asia by saying that the multiyear investments are now gaining revenue and earnings momentum. Viacom also just announced a much better-than-expected 20% dividend increase, boosting the current yield to 2.4%.  
One negative has been partially offsetting these positive developments. When Viacom announced its restructuring plan in April, it also said it would be freezing its aggressive share repurchases until October 2015. This action was taken to rebuild balance sheet strength and keep its investment-grade credit rating. 
The short-term freezing of share repurchases will reduce the support levels for the stock price. It also slows the earnings accretion from share repurchases by a quarter. 
Nevertheless, we believe this should ultimately be a short-term development. The company has committed to starting up the repurchase activity in earnest in October, if not sooner. Share repurchases are a key component to generating shareholder value at Viacom as one should expect a 6% to 8% reduction in the share count annually.   
While Viacom and the industry face some headwinds, we believe that Viacom has avenues available to offset the negative developments through international growth, cost reduction opportunities and favorable capital return policies.
In light of these offsetting positives and the company's valuation well below industry and market levels, we believe that now is an opportune time to step up and fill out a Viacom position. The company will continue to grow earnings, and the shares are very inexpensive with a price-to-earnings ratio of 11.4 and a 2.4% dividend yield.
Editor's Note: This article was originally published at 7:00 a.m. EDT on Real Money on May 27.