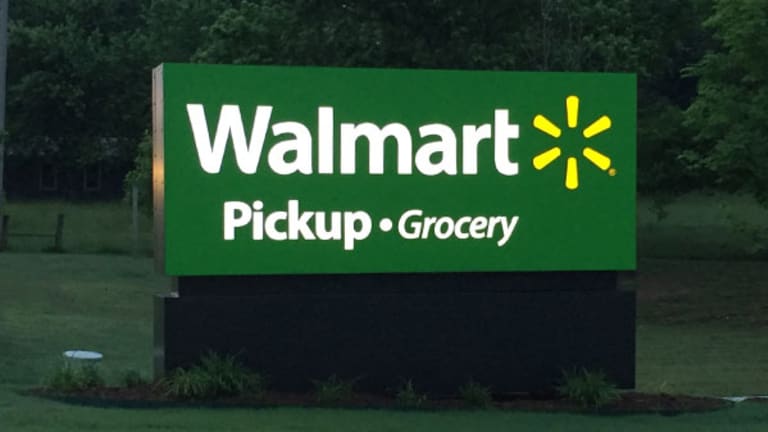 Publish date:
Why You Should Be Wary of Walmart's Latest Acquisition
Even with Jet.com, Amazon has the retail juggernaut on the ropes.
Even with Jet.com, Amazon has the retail juggernaut on the ropes.
For online startups, it's starting to look like 2000 all over again.
In July, Unilever plc (UL) - Get Unilever PLC Sponsored ADR Report bought Dollar Shave Club, a website peddling disposable razors to members, for $1 billion-or around five times the company's forecast revenue this year. Then last week, Walmart Stores (WMT) - Get Walmart Inc. Report bagged two-year-old online retailer Jet.com for $3.3 billion.
These are huge sums to pay for unprofitable companies, but the upside is that they hand the big players assets that have turned traditional business models upside down.
Jet.com, for example, uses an algorithm that lowers the price of each item as a shopper adds more goods to their cart. Customers can also save money by paying by debit card instead of credit card and waiving the option to return the item for free.
That's a key difference from Amazon.com (AMZN) - Get Amazon.com, Inc. Report , which offers free shipping and other perks to members of its $99-a-year Prime service. And it's a model that's driven strong growth since the Jet.com website launched a little over a year ago: according to Quartz.com, Jet adds 400,000 new shoppers a month.
Walmart, for its part, reported 7% online-sales growth in the first quarter. But that number hides a troubling trend for the world's largest retailer.
For one, even though that figure is going the wrong way: in the fourth-quarter, Walmart's online sales rose 8% year-over-year, down from 10% in the third quarter and 16% in the second quarter.
Meantime, Amazon continues to dwarf Walmart's e-commerce operation, boasting more than 200 million items, vs. around 10 million for the leading bricks-and-mortar retailer. The revenue figures tell a similar story: Amazon racked up $92.4 billion in product sales in 2015, compared to $13.7 billion for Walmart's online division, which accounts for a paltry 3% of its top line.
Even when you add in Jet's 12 million products and estimated $1 billion in annual sales, Walmart remains online also-ran. And then there's Target, whose online sales rose 23% in the first quarter -- more than triple Walmart's rate.
But like Walmart (and Jet.com, for that matter), Target hasn't found a formula for consistently making money online, resorting to deep discounts and free shipping to drive sales growth at key times, such as during last year's holiday season.
Meantime, Walmart's main business continues to face higher costs-including for employee pay raises-and currency headwinds.
Analysts expect earnings-per-share of $1.02 in the second quarter, results that Walmart will report on Thursday morning, down from $1.08 a year ago, on revenue of $120.3 billion, essentially flat from the second quarter of 2015.
There's not much here for income investors, either: the stock yields 2.7% today, which is above the S&P 500 average of 2.1%, but dividend growth has slowed to a crawl, with the quarterly payout rising just $0.01 a year since 2013.
None of this points to much more upside for Walmart shares. Investors would be wise to browse elsewhere.
---
How many times have you heard someone on CNBC say "I think the economy is fine here in the United States. Buy stocks!"? If you're like many Americans, you've probably heard it more than once. But just because they're saying it doesn't make it true. Because I can tell you with absolute certainty it's not. America is in deep trouble. And the crisis looming on the horizon has the potential to make 2008-2009 look like child's play. The window to protect yourself is rapidly closing. I'll show you how to safeguard your portfolio here.
This article is commentary by an independent contributor. At the time of publication, the author held no positions in the stocks mentioned.