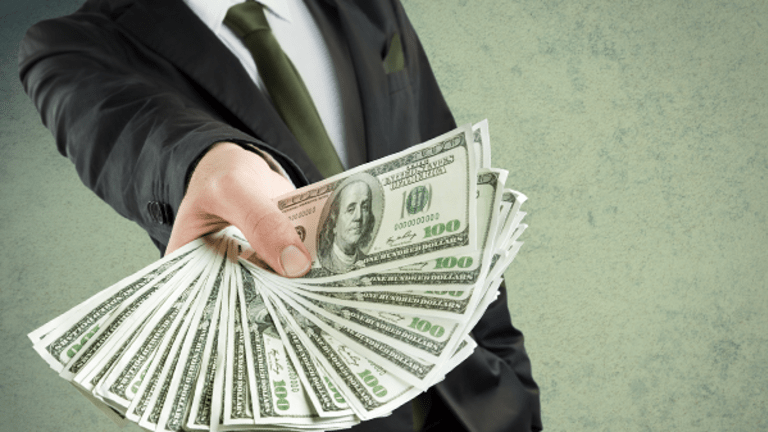 Why You Keep Cash on Hand; No Downside Conviction -- Jim Cramer's Top Thoughts
Cramer reflects on why keeping cash on hand is a good thing and also explores the lack of any conviction to the downside.
Here are Jim Cramer's top thoughts on some of the biggest stories of the week.
Jim Cramer: This Is Why You Keep Cash on Hand

Is that all there is? Was that it to the selloff? Point blank, I am going to tell you no. The market does not work like that. August is notorious for the kinds of declines we had last week, as is September. They are short. They are sharp. They are fear -inducing.
More From Jim Cramer
And you have to be mentally as well as financially ready for them.
Remember that last week we had a combination of weak retail earnings -- although I could contest that -- terrible bank stock performance and a noted hedge fund manager who came on television to tell you there was far more risk to this market than he thought people realized.
That combination caused fear to spike and a serious run for the exits.
It was a wholesale panic, and with all panics there are bargains.
This kind of activity is why I always recommend raising some cash after big runs like we have had because you need to be ready with your shopping list, as we were with my charitable trust club, and we had stocks like those of Nvidia (NVDA) - Get NVIDIA Corporation Report and Activision (ATVI) - Get Activision Blizzard, Inc. Report , which we were waiting to come down to our levels so we could buy them. (Nvidia and Activision are part of TheStreet's Action Alerts PLUS portfolio.)
More of What's Trending on TheStreet:
Like Rats Off a Sinking Ship, Steve Bannon Out at White House
10 of the Most Worthless And Expensive Olympic Venues of All Time
 Before I tell you why you have to get used to these declines, let me explain why dip buying worked.
First, the positive backdrop for stocks did not change. We have low inflation and low interest rates, good earnings and a weak dollar.
Low inflation makes the earnings in the out years worth more. Remember, that's what we need to have if we are investing in growth stocks. High inflation erodes the long-term value case for equities.
Lower interest rates remain both a positive spur to business -- think the incredibly robust housing stocks -- and a reason to buy stocks with good yields.
The earnings picture is very strong. We just came through the bulk of the season and there were incredibly few downside surprises. Other than oil and some retailers, most companies' managements raised estimates after beating the numbers for the quarter.
More of What's Trending on TheStreet:
Even the very controversial Nvidia, which took a drubbing on Friday, actually reported amazing earnings. There was simply one business line in transition that kept the company from blowing away the estimates even more than it did.
The weak dollar is nothing short of amazing. Say what you want about President Trump -- and a lot of people do -- this weak dollar may be the story of 2017 because the international companies that are based here are seeing their earnings from overseas being transformed into much higher numbers that are allowing estimates to be beaten handily. It's possible that the weak dollar may be early on the decline, especially against the yen with Japanese gross domestic product growth running double what people expected, and Europe growing at a level that means its low interest rates are unsustainable.
So then, what are my reservations about saying it is "game on"?
First, Congress is not in session. Given how at odds Congress -- both sides of the aisle -- seems to be with the president, we have a real opportunity to move up here. But when Congress reconvenes in September, we will be back to the old set of disappointments. There will be difficulties raising the debt ceiling. There will be more calls to repeal and replace. There will be more heartbreaks about tax reform as the fiscally conservative Republicans in both houses align with the Democrats to block anything that causes more spending -- even if it is temporary.
Second, there is an undercurrent of worry in tech that today obscured. The undercurrent is that the plain vanilla tech, the semiconductors that go into autos, the semis that go into personal computers, and even the semis that go into cellphones, are just one disappointment away from blowing up.
The action in the stock of Micron (MU) - Get Micron Technology, Inc. (MU) Report is instructive. Here's a company that has blown away the estimates for two quarters and yet hasn't seen its stock go up to its old high. Micron makes commodity semis like Drams as well as specialty flash storage devices. We know from Seagate (STX) - Get Seagate Technology PLC Report that disk drives are in trouble, given how badly that company missed its quarter -- the worst of the season. We know Western Digital (WDC) - Get Western Digital Corporation Report was not able to crush the estimates as it has. We know the whole group has ridiculously low price to earnings ratios on next year's numbers, which typically means those estimates will prove way too high. Today we got a short-covering rally in the group, but I think analysts are itching to downgrade them.
More of What's Trending on TheStreet:
Apple Should Be Terrified By How Much Samsung Is Spending on Its Future
Third, interest rates were higher today and that should continue, but for the most part it hasn't and we've been stalled here. When rates go up, we get a good move in the bank stocks, which are ideal leaders. We need rates to go high enough to attract buyers into the financials but not so high that we lose the advantage to the companies with high yields. Without the banks, we cannot mount a sustained advance.
Fourth, today the transports went up and that group, whether it be freight forwarding or railroads or airlines, has been trashed endlessly. Sure, perhaps today the group bottomed. They were all red-hot and I don't believe they deserve the opprobrium they have received of late. But I also think any prediction of a sustained bounce may be too positive.
Fifth and finally, a slew of retailers report this week, everything from Home Depot (HD) - Get Home Depot, Inc. (HD) Report and Gap (GPS) - Get Gap, Inc. (GPS) Report to Walmart (WMT) - Get Walmart Inc. Report and Target (TGT) - Get Target Corporation Report . This group, which is heavily relied upon as a leadership sector, demonstrated some pretty paltry performance last week when Dillard's (DDS) - Get Dillard's, Inc. Class A Report , Macy's (M) - Get Macy's Inc Report , Kohl's (KSS) - Get Kohl's Corporation (KSS) Report and J.C. Penney (JCP) - Get J. C. Penney Company, Inc. Report all reported fairly decent earnings and saw their stocks get killed anyway.
That can't happen again.
Does that mean you raise cash into this move? I think you do some selling of your worst stocks that have managed to move up as part of the S&P's rally so you have cash for the next downturn. Believe me, there was plenty of weakness underneath today, including the drug stocks -- and not just because of a spat between President Trump and Ken Frazier, CEO of Merck (MRK) - Get Merck & Co., Inc. (MRK) Report , who resigned from Trump's business council in protest of the president's initial response to the heinous Charlottesville attacks. I saw weakness in anything related to the oils again, which are simply horrendous. And some of the commodity stocks were weak off some subpar Chinese economic numbers.
So my take is to remember that in the dog days of summer, things can happen at lightning speed. Unless you have some cash and some stock ideas and some levels where that money can be put to work in a cool and methodical way, I predict you will miss the next buying opportunity when it comes forward in the not-too-distant future.
Action Alerts PLUS, which Cramer co-manages as a charitable trust, is long NVDA and ATVI.
Originally published Aug. 14 at 3:14 p.m. EDT.
Jim Cramer: There Is Simply No Conviction About the Downside
These moves are really getting compressed now. This most recent selloff that began Thursday didn't even last the requisite three days. Remember the sequence: day one they shoot the hot ones hard and sell everything else along with it. We sure had that.
Then, usually, some big-time guru comes out and says "this is the real deal" when the futures start cascading, and that guru says that the bull market at last is dead and stakes his reputation on it. We had that, too. No need for names.
Day two, they start making a stand on the easier ones -- the higher yielding stocks, consumer packaged goods, you know, the stocks that do OK during a recession. But that's all that is supposed to go up. Everything else is supposed to be down.
Not this time. Instead we had an up day, a soft rally, still remarkable given that we were supposed to be going into a possible nuclear weekend. More important, Nvidia (NVDA) - Get NVIDIA Corporation Report , the Action Alerts PLUS charity portfolio semiconductor holding that is supposed to be "the key" to this market, didn't cause any damage away from Nvidia when it allegedly disappointed. In fact, many of its fellow travelers in tech-land went up, not down. That's highly unusual, and much more bullish than is typical.
The gurus were silent.
On the third day -- this was Monday -- you usually get a retest of the hottest stocks back to their lowest level of the last two days before a late afternoon upward surge. Instead, you got strength from the get go, led by none other than Nvidia.
To me this shows you that there is simply no conviction about the downside, even as there are plenty of stocks that, when you looked at the charts this weekend, were simply awful and should have broken down.
When I pored over the charts Sunday night, I was tempted to write something here about how singularly bad they all looked. But then I started thinking, every time I have written that piece it has turned out to be the bottom. So, I decided the heck with it, I am not doing that this time. Let's just see what happens.
Put it this way: I had no idea it all could turn this quickly. It makes me a tad suspicious about how long it can last. Surely there have to be some analyst out there somewhere in tech land who says "enough FANG and FANG-like stock cheering, I have to get off this before all goes bad."
If we don't get a big downgrade or two on tech today, then it could be some clear sailing as the dramatic move back in Nvidia tells you don't be so quick to sell.
The key thing, though, is that we compressed time, and in retrospect we had a three day selloff turn into a one day decline. The whole thing happened in 24 hours!
And the gurus?
Silence.
More From Jim Cramer
Action Alerts PLUS, which Cramer co-manages as a charitable trust, is long NVDA.
Originally published Aug. 15 at 6:42 a.m. EDT.
Click here for information on RealMoney, where you can see all the blogs, including Jim Cramer's--and reader comments--in real time.
Jim Cramer fills his blog on RealMoney every day with his up-to-the-minute reactions to what's happening in the market and his legendary ahead-of-the-crowd ideas. This week he blogged on:
How it's a horse race between Amazon and Walmart
How the chaos in Washington doesn't matter much to business
Action Alerts PLUS, which Jim Cramer co-manages, is long NVDA and ATVI.