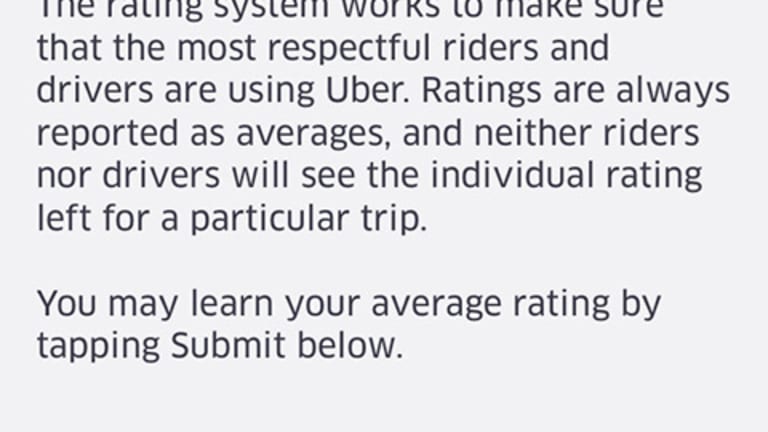 Why You Can't 'Uberfy' a Marketplace
These days, everybody wants to 'Uberfy' everything from groceries to TV installation. But for many markets, 'Uberfication' presents a fatal flaw: the elimination of consumer choice.
NEW YORK (TheStreet) -- Some start-up companies these days tout themselves as "Uberfying" marketplaces, such as those for local services. Problem is, you can't.
Uber is a fantastic service provider, but it's not a marketplace. The car-hiring app is missing one of the fundamental elements that makes any true marketplace successful: consumer choice.
It's common practice for start-ups and venture capitalists to associate their companies with as many trendy terms as possible.
As parodied on the show Silicon Valley, it's hard to find a start-up that isn't "social," "mobile," "local," "big data," "programmatic" or "on-demand." Recently, "marketplace" has joined the hit parade of desirable, and egregiously overused, start-up descriptors.
Marketplaces have long occupied a coveted position in any industry. Marketplaces help buyers and sellers in a fragmented market find each other and transact in a safe and consistent manner. They play the powerful role of initial gatekeeper to commerce within an industry. Once successful, marketplaces can become highly scalable, profitable and difficult to displace.
eBay (EBAY) is the classic example of a company that achieved marketplace dominance within its industry; once a critical mass of buyers and sellers were on the platform, there was no reason for users to go anywhere else, and eBay was able to achieve powerful network effects.
Given these desirable characteristics, it's no surprise that many new companies in local services want to associate themselves with the promise of becoming a marketplace.
They've seen the success of OpenTable (OPEN) in restaurants, HomeAway (AWAY) in vacation rentals, TripAdvisor (TRIP) in travel and my company, HomeAdvisor, which is owned by IAC (IACI) , in home improvement. In their attempt to prove their marketplace bona fides by comparison, many of these start-ups tout themselves as "Uber for ____."
But as stated above, Uber's not a marketplace.
A marketplace provides consumers with options among different service providers and arms them with information, such as ratings and reviews, that enables them to make an informed selection. By providing this transparency and choice, marketplaces empower buyers and organically facilitate higher quality and competitive pricing among sellers.
Certain unique characteristics of the local transportation vertical have set the stage for Uber's astronomical success. There are no established marketplaces to shop and compare local taxi or car services; in fact, there's virtually no need for them.
There are a few reasons for this. Taking a taxi is a relatively low-cost transaction with standardized pricing. Driving a car requires only basic skills (all you need is a driver's license) and the task is largely commoditized (just follow directions on your smart phone). This supports consistent pricing and creates low variability in quality among service providers. As long as the driver can safely get from point A to point B, the rider is relatively indifferent as to who shows up. Uber knows this and automatically selects which driver to dispatch.
Most other local business verticals, such as home services, have a strong need for a marketplace to serve as a platform for business search and discovery. In home services, the average project cost is relatively high, and there is a tremendous amount of variability in quality and price among local contractors.
Because of this, according to a recent survey we conducted at HomeAdvisor, more than 80% of consumers prefer to get multiple bids for their home improvement projects. To sort through their options, consumers are increasingly turning to marketplaces like HomeAdvisor, where they can browse through millions of reviews and project costs, compare detailed information on more than 100,000 prescreened local contractors, and book an appointment with the service provider of their choosing. In just the last year, the number of consumers coming directly to HomeAdvisor.com has increased by more than 100%.
In their race to copy Uber, new entrants to the industry are trying to shoe-horn home services into standardized pricing. They are often attempting to get consumers to pay up front for their projects, despite the fact that our data shows that less than 20% of homeowners are willing to pay up front before the work on their project is completed.
This is not surprising as only half of homeowners say that the original price they were quoted for a project was different than the final price. Even low-end projects that seem like a fit for standardized pricing, say "wall-mount a flat screen TV," too often can have more complexities than one might initially suppose; a $99 flat rate probably won't suffice if there is a brick wall or there are no electrical outlets are nearby.
The recent crop of start-ups claiming to be the "Uber for home services" are not only inaccurately being characterized as marketplaces, but more importantly they're missing the mark as to what homeowners want.
An Uber-esque service may become a successful service provider. But within verticals such as home services, where there is high variability in cost and quality among service providers, consumers are understandably gravitating to marketplaces that provide them with information and choice.
This article is commentary by an independent contributor. At the time of publication, the author held no positions in the stocks mentioned.