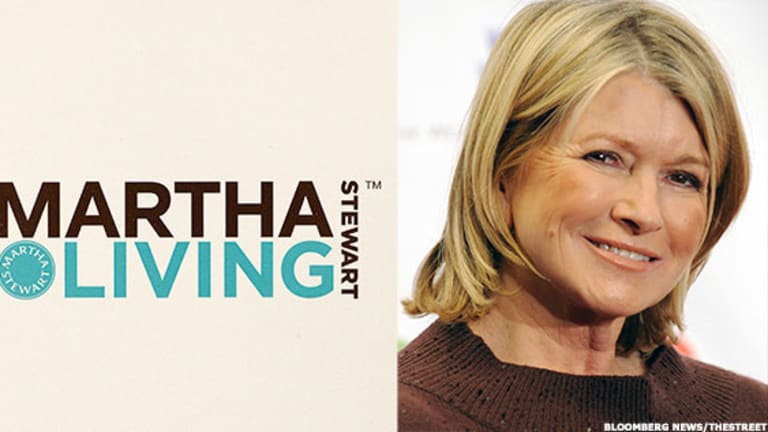 Why We're Holding on to Martha Stewart with an Eye to a Better Price
Here's the thought process behind how we will manage our position in Martha Stewart Living Omnimedia in the near term, as takeover speculation is swirling.
(The following article was originally sent as an alert to subscribers of Stocks Under $10.)
NEW YORK (Real Money) -- Stocks Under $10 model portfolio holding Martha Stewart Living Omnimedia (MSO) was up nearly 8% at around 2:30 today, adding to Thursday's 26% gain and recently changing hands around $6.95.
We'd like to share our thought process behind how we will look to manage this position in the near term, as takeover speculation is swirling.
While we never buy stock solely on takeover speculation, mergers and acquisitions occur regularly, particularly in the under-$10 universe. It's important to know that for every deal that gets done, another four or five are speculated about. And not all takeovers are created equal.
When analyzing a potential takeover, we believe it's important to list all of details you know, as well as what you don't know and then consider the company's leverage to the composition of the overall portfolio.
In the case of MSO, the stock was halted late on Thursday afternoon, when more traders were watching the U.S. Open or daydreaming about a weekend getaway than actively trading. The stock jumped a quick 12% and the New York Stock Exchange volatility curbs kicked in until the specialists were able to get the trade order book under control.
By the time the company resumed trading several minutes later, the shares were now up 20% to $6 and we'd seen that Dow Jones had reported that Martha Stewart was near a deal to be acquired by Sequential Brands (SQBG) - Get Sequential Brands Group, Inc. Report. No financial details were offered.
What We Do Know: A credible media source has named a specific potential buyer for a stock we own and the deal appears to be a strategic fit. Those are both positive items and increased likelihood of an actual deal materializing.
What We Don't Know: How much Sequential Brands willing to pay for Martha Stewart and whether MSO is interested in selling, even if it doesn't get a sizable premium to the current price.
That's where the situation becomes murkier, so we must assess how we will handle the position in the context of the model portfolio.
On the answer of how much would Martha Stewart the business accept in a takeover, it's important to note that Martha Stewart the person owns more than 25 million shares of the company. While that's a minority of the 57.4 million of the total shares outstanding, nearly all of Stewart's shares are unlisted, class B shares, which carry 10x voting power.
While some could speculate that a 73-year-old Stewart might be motivated to sell and retire from day-to-day activities, the majority of the voting control and her legendary business sense lead us to believe that a potential deal would likely need to be near the double-digits (offer around $10 per share).
Martha Stewart wasn't our largest position in the model portfolio, but our two most recent trades had been buys in May in the low-$5s after having previously sold around $6.50 in March. If a deal is going to materialize, it will likely be above the recent 52-week high of $6.72. We already had published a $7 price target and recently sold shares at higher levels, so there's little risk to us now in waiting to see if a deal goes through.
Whether it's through an acquisition premium or otherwise, we believe the company could ultimately command a higher valuation, given its recent business turnaround and transition to an asset-light publishing model through the joint-venture with Meredith (MDP) - Get Meredith Corporation Report.
David Peltier is the portfolio manager of TheStreet's Dividend Stock Advisor, a newsletter service that seeks solid stocks that are likely to both increase dividends and appreciate in value. Get access to a portfolio that lays out a strategy for safe, sound, money-making solutions from companies you will recognize at www.dividendstockadvisor.com