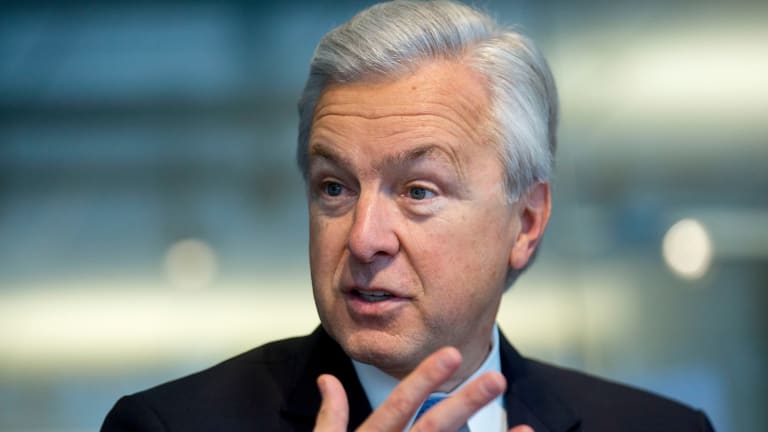 Why Wells Fargo CEO John Stumpf Dreams of Checking Accounts
The first thing Wells Fargo CEO John Stumpf does when he arrives at work is check the bank's total deposits, which average $1.2 trillion. Primary accounts grow 6% a year.
NEW YORK (TheStreet) -- Most people dream about money. Wells Fargo (WFC) - Get Wells Fargo & Company Report CEO John Stumpf's dreams are slightly more specific.
"I dream about checking accounts," Stumpf told a crowd at Bernstein's 31st Annual Strategic Decisions Conference on Friday. "I just love them."
You see Jim Cramer on TV. Now, see where he invests his money and why Wells Fargo is a core holding of his multi-million dollar portfolio. Want to be alerted before Jim Cramer buys or sells WFC? Learn more now.
In Stumpf's view, checking accounts determine which bank a customer identifies with, making them uniquely valuable.
"If a consumer has a mortgage at Brand X and they have a credit card at Brand Y, and if they have a checking account at Wells Fargo, if you ask them where they bank, they'll say Wells Fargo," he said. "So, every morning, when I get in to work at 5:30, the first thing I look at is at the deposits.  And I would guess each of our 275,000 team members probably does the same thing.
By Stumpf's measure, net new primary accounts for small businesses and individuals are growing about 5.7% a year. The bank is second to JPMorgan Chase (JPM) - Get JP Morgan Chase & Co. Report in deposits with $1.2 trillion, to JPMorgan's $1.3 trillion.
Checking accounts are also a popular way for the bank to make inroads with millennials, the 92 million people born between 1980 and 2000 and represent the biggest generation in U.S. history. In an era of mobile banking and online payment systems such as Paypal and Venmo, old-fashioned branch business and checking accounts remain popular with millennials.
"Most millennials open up their first checking account with a branch that was within 2 miles of where they grew up, even if they live some place else," Stumpf said. About "75% of our customers, millennials included, visit our branches once every six months."
Even for customers who use mobile apps for most of their banking, the branch is still a symbol of safety and security, Stumpf said.
"It's a place they can go if they have a problem that no one else can solve," Stumpf said. "It's where they think their money is when they're driving by, that if Uncle Leo dies and leaves them $2 million, they take it there and they want to see light in somebody's eyes."
Wells Fargo has actually been increasing its number of branches at a time when many banks are closing them and focusing on mobile platforms like smartphones and tablets. The bank currently operates 6,200 branches, though Stumpf admits that the scale and location of some will be moved to accommodate traffic patterns.
The branches are no longer "grandpa's" banks, Stumpf said.  Instead of 5,000-square-foot sites with a boardroom in the basement and operations on the second floor, many of the new branches are 1,000 square feet and offer more ATMs, he said.
Maintaining a physical presence is important, particularly for small businesses -- and lucrative. Stumpf pointed out that Apple (AAPL) - Get Apple Inc. Report may not have achieved its present success without stores that showcased products like the iPad and iPhone and offered prospective customers a chance to try them out.
That's a boon to investors, who include Berkshire Hathaway (BRK.A) - Get Berkshire Hathaway Inc. Report, the single biggest holder. In fact, at the end of Stumpf's presentation, he fielded a question about whether Berkshire would ever take a board seat. 
In conversations with Berkshire CEO Warren Buffett, said Stumpf, that topic has never come up. But Buffett does pay attention to the San Francisco-based bank, in which Berkshire's stake of almost 10% is valued at about $28 billion.
"He knows us as well or better than we know ourselves," the CEO said. "He reads everything that we produce. I called him one day on something, or he called me, I can't remember what it was. He said, 'I was reading your 10-Q this weekend and on page 37 in the note, you're doing something, a VI, i.e. a variable investment.' And I said 'Warren, don't you watch football on Saturdays?' And he said, 'No.'"
Action Alerts PLUS, the charitable trust managed by TheStreet's Jim Cramer, holds Wells Fargo stock and expects further gains in the price, which was trading at $56.02 as of midday Friday.