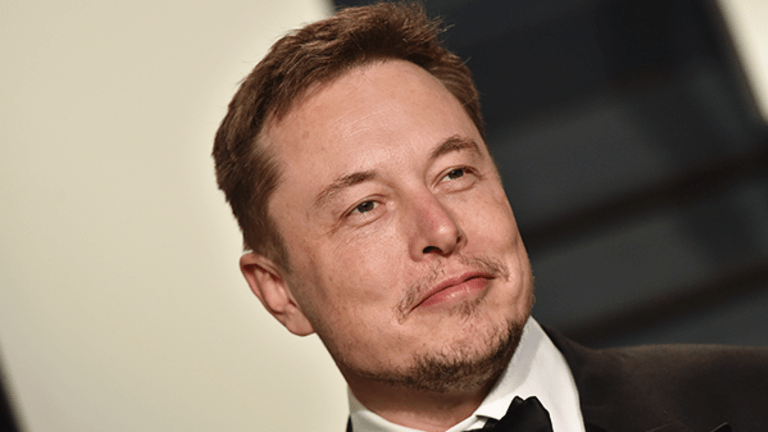 Why Wednesday Is a Pivotal Moment in Tesla's History
Management has provided little guidance on the Model 3.
Shares of Tesla (TSLA) - Get Tesla Inc Report should have been busted for speeding. Year to date, the stock is up 51%, but would have been higher if the company didn't hit a pothole in early July.
Now, all eyes will be on Tesla when the company reports its second-quarter 2017 results after the close Wednesday. Will Tesla be able to steer higher or has it stalled out?
On July 3 the company said second-quarter deliveries were hurt by a "severe production shortfall" of 100 kWh battery packs. The battery issue supposedly hurt the production of cars by 40% in the quarter. Ouch!
Tesla delivered just over 22,000 vehicles in the quarter, of which just over 12,000 were Model S and just over 10,000 were Model X. Total vehicle deliveries in the first half of 2017 were approximately 47,100, but the final numbers could vary by 0.5%.
Watch: Tesla's Elon Musk Is All Jokes as the Model 3 Accelerates Into 'Production Hell'
In May, management reiterated its first-half delivery outlook of 47,000 to 50,000 units. If this pace keeps up through the rest of the year, Tesla will likely miss most Wall Street estimates of 113,000 to 115,000 deliveries for 2017.
So far, the company has provided little guidance on the outlook for its new car -- the Model 3. Previously, management said the company is looking to deliver 500,000 cars next year, but that seems quite a stretch given the Model 3 just went into production last month. Let's be honest, Tesla would have to crank up production to 11 to get anywhere near that figure, especially given its history of production missteps.
Management indicated the company would have just 30 Model 3s available by the end of July. The auto factory that Tesla is operating from used to crank out three times as many cars as Tesla does.
Furthermore, it seems like demand for the Model S and X are slowing. Consider that Tesla delivered 25,051 units in the first quarter and just an estimated 22,000 vehicles in the second quarter. While deliveries are up year over year, deliveries are down sequentially.
Forget the Model 3, Tesla Could Be in Wind Farms
Tesla Shares Could Crash More Than 45% -- Goldman Sachs Reveals One Big Call
Maybe it really was a "severe production shortfall" of batteries that effected the second quarter and those deliveries will show up in third quarter guidance or management is just making excuses for the lack of demand. The Model S has been in production for about five years, so you'd think they would have worked out the kinks by now.
Analysts are looking for second-quarter revenue of $2.542 billion and a loss of $1.92 per share.
Besides auto deliveries, I think there is a lot of confusion regarding capital expenditures. First-quarter capex was $533 million, which was well below the previously implied run rate of $2 billion-$2.5 billion.
It seems that Tesla has to spend $2 billion this quarter to ramp the Model 3. But can it do both? Is there enough time to blow through $2 billion, re-tool the factory, ramp production and get a huge number of vehicles out the door?
Most observers believe Tesla will have to push back the Model 3 delivery date, which would be a huge disappointment to investors.
Some of Wall Street's Biggest Firms Hate Tesla's Stock, a Lot
I think this quarter will be pivotal for the company. Tesla needs to straighten out its battery issues, deliver those units that were sidelined in the second quarter and meet its production schedule for the Model 3. And, on top of that, can Tesla successfully navigate an auto market that seems to be slowing into the second half of the year?
If management can't meet these challenges successfully, this stock will be stalled out.
Tesla shares fell 1.2% to $319.58 on Tuesday afternoon.
(This article originally appeared on Real Money, our premium site for active traders. Click here to get great columns like this from Bruce Kamich, Jim Cramer and other writers even earlier in the trading day.)
More of What's Trending on TheStreet:
At the time of publication, Laudani had no positions in the securities mentioned.