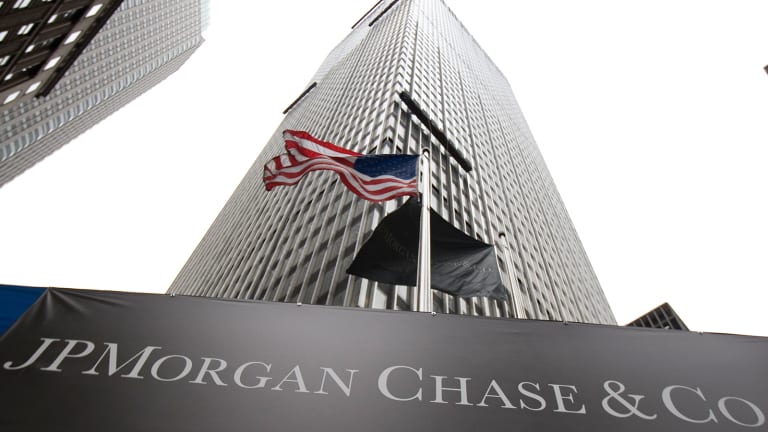 Why Wall Street Won't Be Pouring Cristal on New Year's Eve
Banks from JPMorgan to Wells Fargo may benefit in 2016 from higher interest rates, job growth and housing gains, but not as quickly as Wall Street would like, Moody's says.
This article, originally published at 10:17 a.m. on Tuesday, Dec. 8, 2015, has been updated with comments from an interview with a Moody's analyst.
The Federal Reserve won't decide for another week whether to raise interest rates for the first time since the financial crisis, but Wall Street has already begun to discount the potential benefits.
It's not that U.S. banks expect no gains from higher rates, but rather that a small increase -- or even a few small increases -- from rates that are almost zero is still low.
And that, even combined with job growth and housing market gains, won't make up for years of pressure on net interest income, a key revenue stream drawn from the difference between the interest banks charge to lend money and what they have to pay to depositors.
"Revenue growth will remain constrained," ratings firm Moody's said in its 2016 outlook for U.S. banks, released Tuesday. Cost-cutting, such as branch closings this year at Bank of America (BAC) - Get Bank of America Corp Report and layoffs at JPMorgan Chase (JPM) - Get JPMorgan Chase & Co. Report, will probably continue as finance companies try to elicit higher profits from their operations.
"We do expect that any rate hikes will be moderate at best and gradual," Moody's Senior Vice President Joseph Pucella, who authored the report, said in a telephone interview. 
Consequently, low rates are likely to weigh on core profits "for some time," Moody's said. The net interest margin for 15 major U.S. banks has been well below a 20-year median for all banks since the start of 2014. A peak of 3.2% in last year's first quarter was still more than 50 basis points below the norm of 3.7%, Moody's found.
That gap had widened to nearly 80 basis points by the end of this year's third quarter, a trend that bodes ill for the broader economy. When bank and finance profit margins are squeezed, "then overall corporate profits are squeezed as well," investment icon Bill Gross, who co-founded Pimco before moving to Janus Capital in 2014, said in November. 
If pension funds and insurance companies can't earn an acceptable return on investments to pay for future liabilities, "then capitalism stalls or goes into reverse," said Gross, who has regularly argued that the Fed maintained low interest rates for too long. "Profit growth or profits themselves come down and economic growth resembles the anemic experience of Japan."
The Federal Reserve trimmed interest rates to nearly zero in late 2008, to bolster the economy during the height of the financial crisis, and has kept them there ever since. Speculation that the central bank would soon boost them has heightened this year, however, and futures trading now implies a 78% probability that the Fed will raise rates at least 25 basis points during a monetary policy meeting next week.
Even if that happens, Fed Chair Janet Yellen has said repeatedly that a measured pace for interest-rate increases is necessary to avoid spooking the economy, and Moody's predicted that tepid growth in business sales in the U.S. will limit the rise in short-term rates.
"What matters for the economic outlook are expectations concerning the path of the federal funds rate over time," Yellen told Congress' joint economic committee on Thursday. "It is those expectations that affect financial conditions and thereby influence spending and investment decisions."
With that in mind, she said, the Fed's monetary policy committee anticipates that "economic conditions may, for some time, warrant keeping the target federal funds rate below levels the Committee views as normal in the longer run."
Still, the outlook for Wall Street isn't totally mediocre.
"If the markets are correct and rates do improve, that should be constructive for markets in 2016, broadly," JPMorgan finance chief Marianne Lake said Tuesday at Goldman Sachs' financials conference in New York.
Further, tighter regulations enacted after some banks collapsed during the financial crisis of 2008 and others were forced to take government bailouts mean liquidity will remain strong, Moody's said. Deposit ratios at 15 major banks are above 100%, indicating deposit balances exceed outstanding loans, and they're 5 percentage points higher than the norm over a roughly 20-year period, according to the Moody's report.
The leaders are JPMorgan Chase, with a deposit ratio of about 160% as of the third quarter; Wells Fargo (WFC) - Get Wells Fargo & Company Report , with a rate of about 140%; and Bank of America, at about 130%, according to the Moody's analysis.
Consumer credit quality appears good, too: Improvement in the jobless rate, which has dropped to 5% -- half its 2009 peak -- is strengthening the quality of individual loans, the ratings company said. The percentage of so-called problem loans had spiked in late 2008, along with initial unemployment claims, as the financial crisis prompted massive layoffs and left borrowers unable to pay their bills, Moody's analysis showed.
JPMorgan believes loan demand will remain "solid to robust" in 2016, Lake said. "Our expectation is that we're going to have a reasonably solid economic footing," despite some emerging-market weakness, she explained. "With that, demand continues to grow."
There are early warning signs that lending to businesses could grow riskier in 2016, however. For starters, Moody's predicts the default rate on junk debt will rise in 2016 as credit costs increase with interest rates. Bank of America's Merrill Lynch concurred, in a report released on Tuesday. 
Defaults might rise "5% to 6% on an issuer and par basis, with commodity issuers" leading the trend, Merrill Lynch said in the report. Energy and mining companies have suffered this year, as falling prices for oil and metals slashed revenue, and the bank expects continued challenges in both industries.
Another risk is that banks will ease credit standards on commercials loans as they try to make up for stagnating interest income, Pucella said.
"Revenue pressure coming from low short-term interest rates encourages weaker underwriting to try and offset that pressure," he said.