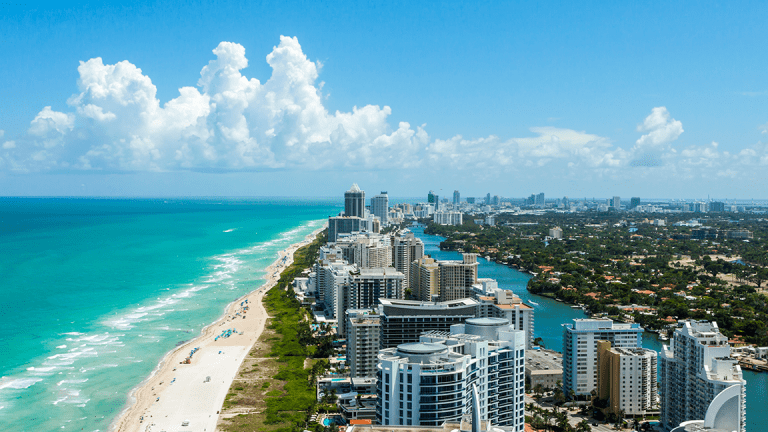 Wall Street is Migrating to Florida for Low Taxes, Better Weather
New York's gloomy weather isn't the only reason Wall Street money managers are escaping to south Florida.
New York's gloomy weather isn't the only reason Wall Street money managers are escaping to south Florida.
The Sunshine State's low capital gains, estate and corporate taxes have lured 70 financial service firms away from the Northeast in the past seven years including SkyBridge Capital and Universa Investments, according to Palm Beach County Business Development Board President Kelly Smallridge. I Squared Capital, along with its founders Sadek Wahba and Adil Rahmathulla will soon be joining them, Bloomberg reported Monday, as the new federal tax law's limit on state deductions would compound their savings. The firm did not immediately respond to requests for comment.
"As it always does, it comes down to money," Bob Rubin, president of Boca Raton, Fla.-based Rubin Wealth Advisors LLC said. "New York, Connecticut, and New Jersey revenue people have to be terrified with the trend. Their best, brightest and wealthiest are leaving."
In 2016, West Palm Beach Mayor Jeri Muoio unveiled the city's new financial district. A local real estate developer called the Related Group has proposed a 200,000 square foot office building in the district with "all of the high-end amenities that rival buildings in New York but a much prettier view" to accommodate new firms, Smallridge said.
By leaving New York for Florida, a person taking home $1 million a year could save $100,000 in city and state income taxes alone, according to the Business Development Board. And with the new tax law limiting deductions for state and local taxes coming into effect this year, even more firms could be looking to leave the Northeast, said tax attorney Parag Patel, who works in both New Jersey and South Florida.
How to Play Today's Risky Markets. Click here and register for free to watch what top experts from Bank of America, Fisher Investments, Invesco and Wells Fargo say smart investors should do now.
The new tax law "will likely lead to the trend of high income taxpayers leaving high tax states as such as New Jersey and New York," Patel said. "I personally have seen an increase in number of clients seeking such domicile planning advisory services."
New York City and Greenwich, Conn. also aren't giving hedge fund managers a reason to stay, according to president of the Hedge Fund Association Mitch Ackles.
"I've seen what Miami or Palm Beach or other cities are doing to attract these businesses but I'm not hearing much other than the negative from New York and Connecticut," Ackles said. "We're seeing the headlines where taxes are being threatened or they are going up and obviously the rent is already high and it's only getting higher."
Both Palm Beach County and Miami have worked hard to keep the stream of firms into South Florida flowing. Universa Investments L.P. senior spokesperson Brandon Yarckin said Nitin Motwani at Miami's Downtown Development Authority "aggressively courted" the firm, which relocated to Florida from Santa Monica, Calif., in 2014.
"They were extremely thorough in making sure our experience in moving to Florida, from relocating employees to selecting office space and to integrating into the community, was as seamless as possible," Yarckin said, who also cited the state's "business friendly" taxes as a factor. "That was a definite differentiator in our ultimate decision to move to Miami."
A lifelong Miami resident, Ackles has seen the number of investment firms in the area grow for a long time, but said that the financial services industry in south Florida is still in its "toddler phase." The recent influx will bring the community into its "tweens" in a few years.
"It's not just access to capital or great taxes," Ackles said, "it's a great place to live."