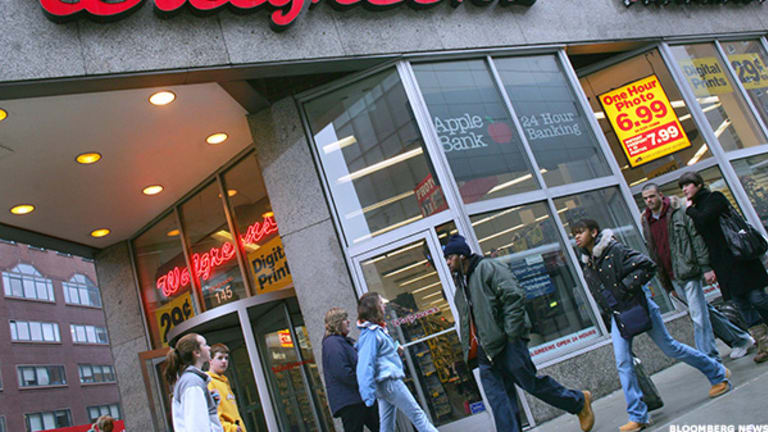 Why Walgreens Is Spending a Whopping $17.2 Billion to Gobble Up Rite Aid
The combined company will be a drugstore retailing monster that can better compete with the likes of Walmart and Target.
Updated to include details and additional comments now that the deal has been confirmed.
To better serve aging U.S. baby boomers and the growing number of Americans with health insurance under Obamacare, becoming bigger may be better for Walgreens Boots Alliance (WBA) - Get Walgreens Boots Alliance Inc. Report . 
On Tuesday evening, Walgreens Boots Alliance announced that it will acquire smaller rival Rite Aid for $9 per share in cash, for a total enterprise value of approximately $17.2 billion, including acquired net debt. The purchase price represents a premium of 48% to Rite Aid's closing price on Oct. 26, the day before the agreement was signed.  
Shares of Rite Aid spiked about 43% on Tuesday, but fell roughly 6.9% in after-hours trading. Walgreens shares rose roughly 6.8% on Tuesday, and tacked on another 0.8% in after-hours trading.
"This combination will further strengthen our commitment to making quality healthcare accessible to more customers and patients -- our complementary retail pharmacy footprints in the U.S. will create an even better network, with more health and wellness solutions available in stores and online," said Walgreens Boots Alliance Executive Vice Chairman and CEO Stefano Pessina in a statement.
The combined company would be a drugstore retailing monster, operating over 12,000 locations in the U.S. and filling more than 1 billion prescription drugs each year. A merged Walgreens and Rite Aid would have an especially commanding presence in California and New York, operating more than 1,000 stores.  Walgreens would also be able to beef up in Rite Aid's second-largest market in Pennsylvania, where it operates over 500 sites compared to Walgreens' 130 stores.
A tie-up between the two companies would pose a serious threat to CVS Health (CVS) - Get CVS Health Corporation Report , which operates roughly 8,300 locations across the U.S. It would also bring New York City's drugstore icons in the Rite Aid and Duane Reade brands under the ownership of Walgreens. Walgreens acquired Duane Reade for about $1.1 billion in 2010.
There are several reasons why Walgreens sought out a blockbuster deal like this, which will require a debt issuance to fund and will warrant close scrutiny by regulators who are also deliberatingStaples' (SPLS) proposed buyout of Office Depot (ODP) - Get The ODP Corporation Report .
First, the smaller Duane Reade and Rite-Aid brands would likely be rebranded as Walgreens over time as the retailer strives to develop a bigger national presence. Becoming more top-of-mind among consumers would be important as Wal-Mart continues to focus on improving its prescription drug and basic preventative care services inside of its super centers. Furthermore, 1,660 Target (TGT) - Get Target Corporation Report  stores across the country are about to be retrofitted with CVS Health shops, giving the drugstore chain a more significant national presence than is the case today.
Walgreens hinted at this on Tuesday's press release.  According to the company, Rite Aid will "initially operate under its existing brand name."  But, says Walgreens, "decisions will be made over time regarding the integration of the two companies, ultimately creating a fully harmonized portfolio of stores and infrastructure." Walgreens will likely have to close hundreds of stores to satisfy regulators, as well as more profitably operate a store network where Walgreens and Rite Aid stores are often right next to one another.  
Second, the combination would likely bring cost synergies in the form of sharper prices from branded and generic drug manufacturers. Saving money on the medications they sell is vital given the likely long-term upward trajectory in healthcare costs due to Obamacare and more boomers moving onto Medicare/Medicaid. Walgreens outlined that it expects to realize synergies in excess of $1 billion.
If a combined Walgreens/Rite Aid is able to negotiate lower costs for their prescriptions, it could be reinvested in making retail prices more competitive for consumers and help wrestle market share away from Wal-Mart, Target and CVS Health.
Portfolio manager Chris Pultz at Kellner Capital, which specializes in merger arbitrage, said that "even though you will be left with two large traditional pharmacies, this is a very competitive market. You still have the specialty pharmacies, pharmacy benefit managers like Express Scripts (ESRX) and mail order firms like Unh's, Optimum RX and even Wal-Mart (WMT) - Get Walmart Inc. Report -- in the end, divestitures should be able to solve any problems the Federal Trade Commission (FTC) may have."
Added Pultz, "Rite-Aid has been closing stores over the last few years in order to stabilize its business, and I would expect there to be additional store closures as the two companies are integrated."
Walgreens Boots Alliance declined to comment for this article, while CVS Health did not respond to requests for comment.