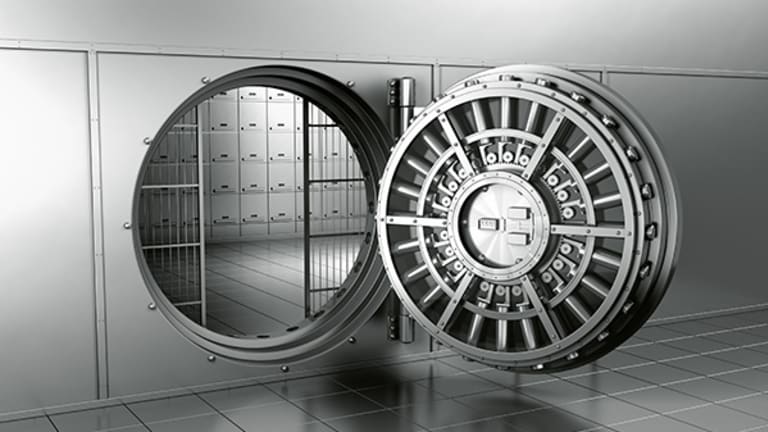 Why This May Be the Golden Age for Community Banks
Bankers gathering in Phoenix this week are brimming with optimism. Here's why.
To say the bankers, consultants and attorneys gathering in Phoenix this week are optimistic about the future of banking is an understatement. 
In a quick poll taken Monday afternoon at the Bank Director: Acquire or Be Acquired Conference, 78% of those surveyed thought the Trump administration would be a positive thing for the banking industry. Of those in attendance, 69% thought we would see more M&A deals in the sector this year; 48% said they intended to buy a bank this year. If they are even close to correct, this should be another fantastic year for us as community bank stock investors. 
(Editor's note: This article originally appeared at 9 a.m. ET Jan. 31 on Real Money, our premium site for active traders. To get great columns like this from Jim Cramer and other top columnists earlier in the trading day, click here.)
Many of the bankers I spoke with felt that small banks would be selling for the same reason in the past few years, including regulatory fatigue and succession issues. Succession is becoming a bigger issue with each passing year as the average director at U.S. community banks is over 70, and the average executive is over 60.
John Eggemeyer of Castle Creek pointed out on Sunday that the banking industry is having a hard time attracting new talent since the credit crisis, so the average age is not coming down and the answer to what is next is often a sale to provide liquidity for existing management and shareholders. 
It helps that the recent rally is raising multiples and prices, so many of the small banks that had a target price in mind are seeing this goal reached, and that should help accelerate M&A in 2017. Buyers see the Trump Bump has made their stocks a much more attractive currency to use to get deals done as well. They have plenty of incentive to go on a buying binge as the market is rewarding acquisitive banks with a much higher price-to-book-value now. Acquiring banks have been earning higher returns on assets and equity, and the attention on cost saving has given them some of the lowest efficient ratios in the banking industry. 
Richard Davis of U.S. Bancorp (USB) - Get Free Report also had a very positive tone in his keynote address. He said the current environment had the potential to be right up there with the first flight, the creation of the assembly line, the founding of Amazon (AMZN) - Get Free Report and the iPhone introduction. He said the combination of higher rates, tax relief, decreased regulation and a strengthening economy could lead to a boom in the banking industry. He cautioned bankers that after the last eight years of playing defense, they now needed to relearn the art of playing offense as we enter a potential new era of the banking industry. 
He did caution that buyers and sellers alike should take a deep breath and a step back. He said there was still a lot to be learned over the next few months. He reminded the conference that if you looked at the potential positives including higher rates, a steeper yield curve and a better regulatory environment, what happens in the economy is 10 times more important than all three combined.
While bankers and customers alike are more optimistic, that has not yet led to behavioral changes. When Davis looks at activity levels at his bank, he does not yet see the cheery outlook resulting in positive changes in savings, spending or borrowing habits yet, and he would wait to see the economy gain traction before entering into deals. 
Davis also cautioned that smaller banks were a lap down when it came to implementing new technologies, and they cannot stay on the second lap if they wanted to survive and prosper in the new environment. This echoed the comments of Josh Siegel of Stonecastle Partners who said Monday that small banks needed to step up their adoption of new products that allow them to operate more efficiently and provide better service to their customers. 
The changing attitude about financial technology is one of the highlights of this year's meeting. Just a year ago, fintech was feared, and there was a fear it would seriously disrupt banking. This year, bankers have realized that fintech can make them more profitable and improve their relationship with customers.
For their part, the fintech companies have realized they cannot replace banking and to maximize their potential they need to work with and not against financial institutions. They need to be partners and not competitors so that both may see the maximum benefit from new technology. The biggest winners could well be customers and bank stock investors. 
I never did talk to a worried banker. The optimism is widespread, and valuations are high. The only banks left on my buy list are mutual holding companies and recent conversions that trade a steep discount (don't ask -- they are tiny, but it is not too much work to uncover them if you really want to know). I won't be a very active buyer until we see better pricing, but I have no intention of selling any of the banks I own either as we stand on the edge of a potential new golden age for community banks.
At the time of publication, Melvin had no positions in the stocks mentioned.