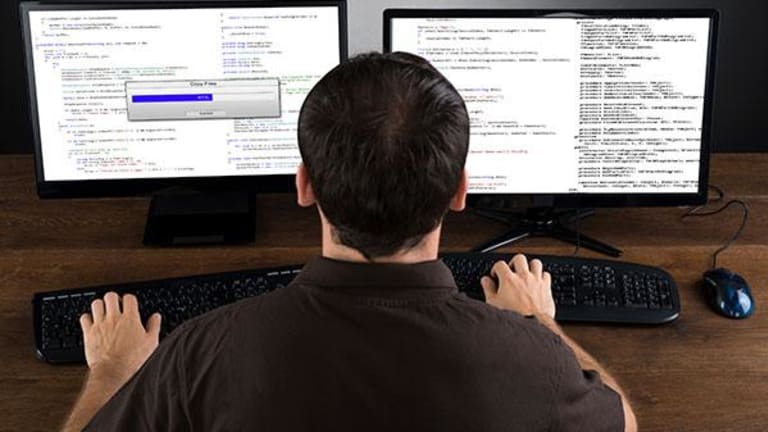 Why These 3 Mega-Cap Technology Long-Term Laggards Look Enticing
Technology has become a staple for global consumers, and this will never change.
Remember 1997 to 2000 when all we wanted or needed to own was technology stocks?
At the peak of the Internet bubble, tech stocks, particularly dot-com ones, were trading at egregious multiples on sales, as most of the stocks didn't yet have actually earnings. But we all know that rubber bands don't stretch forever and the further they get stretched in one direction, the bigger the eventual swing in the opposite direction.
From the peak in March 2000 and for the next couple of years, tech investing wasn't a fun time for investors. In fact, since 2000, tech stocks are the second-worst performing U.S. sector behind the lowly bank stocks.
But though bank stocks are still in the doghouse, tech stocks are the best-performing sector over the past three years. This looks like just the beginning of a multi-year swing in attractive performance and strong dividend growth.
With very little fanfare, the mega-capitalization tech stocks have been performing quite well.
Many of these former greats are trading well below their 2000 price levels and generate enormous amounts of cash flow and pay attractive dividends. Very few carry high price-earnings ratios as well.  
For historical purposes, here is a view of the past three years, compared with the past 17 years by sector. Some of the laggards, both tech and banking stocks, will look attractive if or when interest rates ever rise.
Here are the best brands in the tech sector, with a secular bull market in mind.
1. Amazon (AMZN) - Get Report
The company has no dividend, and investors shouldn't expect one. Amazon probably invests more heavily in its expansion than any other company.
Founder and Chief Executive Jeff Bezos puts his cash flow where it is needed most: into growth. Quarterly earnings can be lumpy at times, but the long-term story is still firmly in place.
Amazon also touches massive numbers of consumers and makes all our lives easier. One can only assume that the company's interest in touching our lives more frequently exists, given Amazon's local build-out of distribution centers.
Same-day delivery is already here. Just think how many products can be added once the build-out is completed.
Amazon still only has about 40% of revenue coming from outside the U.S., so there is plenty of growth to come. And the Amazon Web Services cloud division is firing on all cylinders.
The company's model of being the low-cost provider of important end markets, which drives competitors out of markets, helps assure Amazon that the competition will continue to nip at its heels.
Amazon's chart still looks great. The stock is probably the most extended and typically has short-term bouts of down volatility, but those sell-offs are for aggressive buying for long-term investors.
Until something changes, the company deserves the benefit of the doubt and the stock is worth buying every time we see red.
2. Cisco Systems (CSCO) - Get Report
The company pays a 3% dividend and trades below the market multiple. Cisco Systems has a global footprint and is the No. 1 tech communications company in the world.
Cisco Systems has a $155 billion market capitalization and $49 billion in trailing 12-month sales
Technically, the stock looks terrific, having broken the neckline of an inverse head and shoulders pattern recently.
Cisco Systems is a holding in Jim Cramer's Action Alerts PLUS Charitable Trust Portfolio. See how Cramer rates the stock here. Want to be alerted before Cramer buys or sells CSCO? Learn more now.
3. Facebook (FB) - Get Report
A classic growth story: Facebook doesn't pay a dividend and looks expensive based on most metrics. Should investors expect to get a stock cheap when the company touches about 2 billion consumers regularly?
Buy this stock anytime Facebook has an earnings- or market-driven pullback. Global brands are spending billions of dollars marketing to Facebook users to get their brand message out and increase their mind/wallet share with consumers.
Facebook should continue to capture a large bulk of global advertising spending, given how many people use it on a daily basis. This also makes the potential revenue opportunities mind-blowing from both a direct-to-consumer and corporate-ad-spend perspective.  
There is no doubt that Facebook will one day be the largest company in the world by market cap. To be sure, investors will never think that they are getting a bargain buying the stock, but that is a classic problem that every investor has when buying high-growth stocks.
With market caps of $362 billion and $359.5 billion, respectively, Amazon and Facebook have the best possible opportunities to be the future top market cap companies, given their global scope and attractive end-markets.
Looking at the chart, below, there isn't much to say other than "steady as she goes."
Facebook is a holding in Jim Cramer's Action Alerts PLUS Charitable Trust Portfolio. See how Cramer rates the stock here. Want to be alerted before Cramer buys or sells FB? Learn more now.
4. Bonus Pick: First Trust Nasdaq Technology Dividend Index (TDIV) - Get Report
This dividend-focused tech exchange-traded fund, which yields about 3%, looks great for non-stock pickers. 
This ETF has been around since 2012, and it owns stocks that pay a dividend within its target sectors of tech and telecommunication. The ETF is up more than 15% year to date and is heavily weighted in semiconductors, which are having a stellar year.
The chart looks great, and the secular trend of more, not less technology is intact. In fact, the chart recently broke out of its range since inception.
It looks like blue skies ahead. 
This article is commentary by an independent contributor. At the time of publication, the author held no positions in the stocks mentioned.