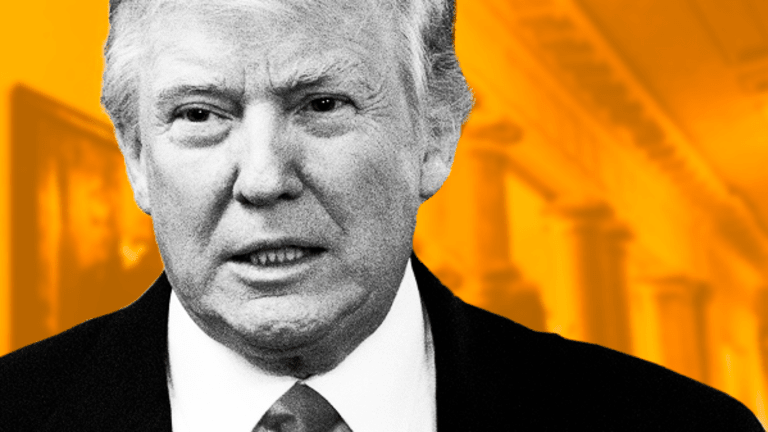 Why The Swamp's Fight With Trump Might Be Great For Markets
'The president will be able to get done less than some people hope and other people fear.'
Donald Trump promised when was running for president to drain the Washington, D.C. swamp. That he's now discovering it fights back may prove to be a boon for U.S. markets, says Ken Fisher, the founder of Fisher Investments.
"The president will be able to get done less than some people hope and other people fear," Fisher told Jim Cramer during TheStreet's "Investing for Your Future" webcast on Wednesday, June 22.
Fewer new policies -- and therefore fewer policy uncertainties -- could drive up equities markets that rally as uncertainty falls.
Some sectors may fall as certain companies don't reap gains they had hoped for under Trump, Fisher said. But those who feared the worst outcomes under the Manhattan real estate mogul will have less cause for anxiety as campaign promises fall by the wayside, he added.
National Economic Council Director Gary Cohn, the former president of Goldman Sachs, said June 20 that he didn't expect Trump's tax reform bill to be ready until September.
Meanwhile, a Senate healthcare proposal expected to be debated this week in Congress has generated concern by lawmakers who have yet to even see it. The GOP-controlled House of Representatives narrowly approved their own version of the bill last month, following the failure of a March plan. 
"Fear has more impact on markets than hope does," Fisher said. And less fear means smoother sailing, for now, for workers trying to maximize portfolio returns before they retire. 
Making sure retirement investments pay off is becoming more important than ever, as years of low interest rates curb portfolio returns while medical advances allow people to live longer. A study by McKinsey & Co. last year found millennials will have to work seven years longer than their parents or double the percentage of income they save to achieve the same wealth at retirement.
Currently, about 46 million U.S. residents are 65, the traditional retirement age, or older, according to recent U.S. Census Bureau data. That figure will more than double by 2060, the bureau projects.
"What I've said all of last year is that we started 2016 with huge uncertainty," Fisher said. "China, Brexit, all the concerns about the largest Republican field that had ever run."
But, he said, one by one, the elements of uncertainty began to "clarify" themselves.
"And as the clarification came, the uncertainty fell," he said. "And as the uncertainty fell, the market irregularly rose."
Read more from TheStreet's "Investing in Your Future" Webcast:
With Amazing Accuracy This Stat May Predict How Stock Prices Will Perform in Trump's First Year
Click here to register and watch the webcast replay.