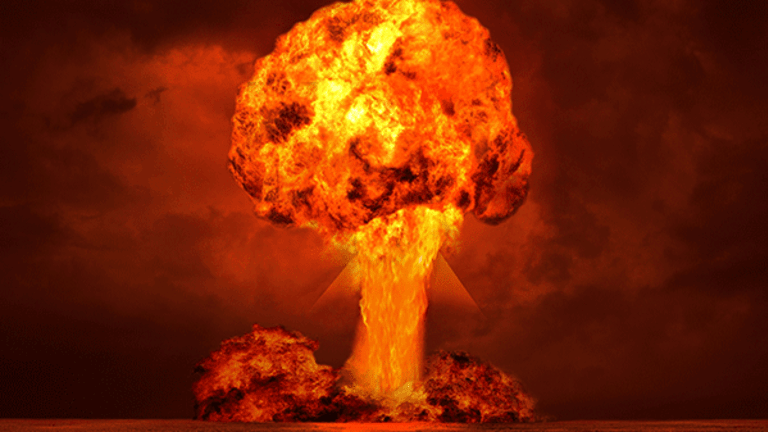 Does a Dangerous Stock Market Bubble Just Waiting to Explode Now Exist?
This surge in asset valuations can't continue forever.
It's getting bubbly out there in stock market land. 
The S&P 500 has gone more than 89 straight sessions without a 1% decline. Considering that Corporate America didn't exactly light up on the top and bottom lines during the fourth quarter, such a streak is rather troublesome. Granted, the stock market is a forward-looking mechanism that appears to be trading on hopes that Trump's unannounced stimulus and tax plans will be lifting economic growth in 2018. Even so, the inability of investors to at least acknowledge persistent struggles among companies and ongoing chaos in Washington is starting to become disturbing.
A few simple charts nicely explain what looks to be irrational exuberance on the part of Wall Street right now (shout out, Alan Greenspan). The price-to-sales ratio of the S&P 500 is only about 8% shy of the level that it reached in 1999. We all know what happened shortly thereafter thanks to the fallout in the tech sector. To be sure, the Federal Reserve being more hawkish on interest rates this year could be akin to when people began to question tech earnings and the sector's business models back in the day -- it served as the trigger for a steep selloff in what was richly valued equities.
The price-to-sales ratio is well above the 2006-2007 financial boom-time, too.
Meanwhile, the gap between commodities prices and the S&P 500 has widened. In an ideal situation (at least to me), commodities prices and the S&P 500 should move more in lockstep. This would confirm businesses are in fact seeing the demand that warrants more investments in raw materials. The chart below suggests stock prices have detached from any semblance of reasonable future demand by businesses. And that's alarming.
This isn't chart doesn't bother you at all?
By all means, continue to ride the stock market wave as we haven't gotten the trigger for the long overdue selloff (could be disappointing Trump fiscal stimulus plans shared on Feb. 28). But while you are hanging ten, be sure to check the valuations on stocks you own against a reasonable set of future earnings outcomes. You may be surprised by how far things have gotten out of whack, and how it may be worthwhile to lighten the load a bit to protect profits.
Cool Reads from Around the Web
Own President Trump's red Ferrari: Now you can be the proud owner of what may be the only supercar ever owned by a sitting president. A red Ferrari F430 that was purchased new by Trump back in 2007 will go up for auction on April 1, reportedCarScoops. Trump owned it until 2011, during which it was driven for a little over 2,400 miles. The car is expected to fetch $250,000 to $350,000. I fancy it goes for more than $400,000.
Bye-bye home button on next Samsung Galaxy: A leaked image (seen below) on GizChinareveals what may be the Samsung Galaxy S8. Notice that it has no physical home button. Rumors have Apple's (AAPL) - Get Apple Inc. (AAPL) Report iPhone 8 ditching the physical home screen button, too. Bring on the bigger screen to type on!
Apple is a holding in Jim Cramer'sAction Alerts PLUS Charitable Trust Portfolio. Want to be alerted before Cramer buys or sells AAPL? Learn more now.
Editor's Pick -- this article originally appeared at 8:00 a.m. ET on Feb. 21 on Real Money, our premium site for active traders. Click here to get great columns like this from Jim Cramer and other writers even earlier in the trading day.)