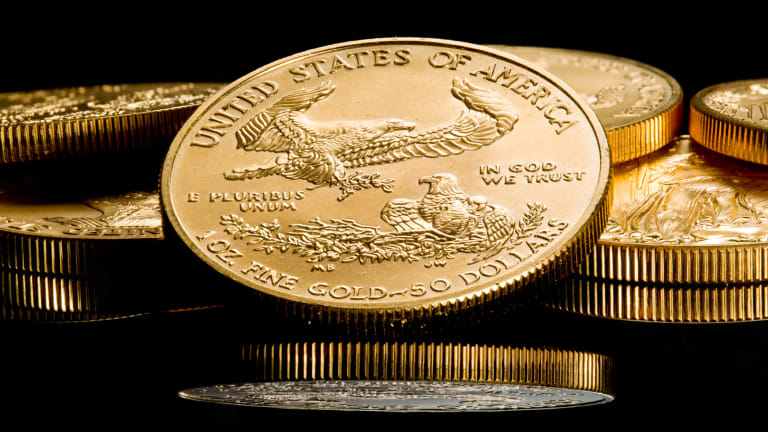 Why the Gold Rally Is Set to Run
A confluence of factors is leading to a rally in gold prices that could last for several years.
It's all systems go for gold investors.
The bullion market is stirring from a multiyear slumber and looks set to enter a sustained rally, experts say. Double-digit increases within the next 18 months may be only the start of the price surge.
"[W]e believe there is a very good chance that this marks the beginning of a new gold bull market," says gold market veteran Joe Foster, portfolio manager for the VanEck International Investors Gold Fund (INIVX) - Get Free Report . Foster says the run is "likely to last several years." 
With that in mind, smart investors should consider buying a heftier than usual helping of gold via the SPDR Gold Shares (GLD) - Get Free Report exchange-traded fund, which holds bars of solid bullion, or perhaps gold futures contracts on the CME futures exchange.
Here's what you need to know.
Usually Cautious Analysts Gave Turned Bullish
The past few years have been bleak for the gold bulls, with prices sliding from a peak of around $1,900 a troy ounce in late 2011 to just under $1,400 today, with the market having never fully recovered since then. For that reason, it hasn't paid to hold a long position in gold and so those who watch the precious metals space have been wisely circumspect.
So when bullion market specialists turn decidedly bullish, it makes sense to sit up and listen. It isn't just Van Eck's Joe Foster who says so. Swiss Bank UBS states a similar position in a recent report:
We have held a friendly, yet conservative view on gold for some time. A few years and several false starts later, we think the macro backdrop has now started moving more convincingly in gold's favor.
The bank now sees the potential for the price to rise as high as $1,580 by the end of next year. That's around 14% higher than its current price.
Recent Heavy Buying
Late last month saw some extremely heavy buying in the gold market that likely came from multiple sophisticated investors.
What we know is that the holdings of the SPDR Gold Shares ETF jumped by 34.93 metric tons, or more than 1.1 million troy ounces, on June 21. The increase, which was worth almost $1.6 billion, represented an increase of approximately 5% in the holdings of the fund.
While these figures might seem relatively small for other parts of the financial market, they are enormous when it comes to bullion, meaning it was likely the result of multiple buyers.
"It's huge and very significant," George Milling-Stanley, head of gold strategy at State Street Global Advisors, told TheStreet. "I believe there were a lot of different buyers that day."
He says the June 21 increase in holdings of the fund was one of the "largest creation days we've ever seen" and that "people who are buying gold at this level are probably smart."
In other words, the buying wasn't the result of small-time day traders jumping into the market.
Interest Rate Boost
Part of the impetus to buy gold now is the growth of negative yielding government debt in some countries such as Germany. It is no small problem; the total volume of such securities hit a record $12.5 trillion this year.  
Negative yields mean that investors are guaranteed to get back less money than they put in, and that is a game changer for the gold market.
Bullion investors have long had to overcome an inherent problem -- it costs investors real cash for insurance and storage of their hoard of gold. That's historically made high-quality positive yielding government bonds more attractive than gold as a safe-haven investment.
But with negative interest rates, the equation of cost comparison is flipped back in favor of gold.
"Negative yields remove the opportunity costs from holding gold," says Milling-Stanley.
Or put another way, two-year German Bunds have a negative yield of 0.75%, which is far more problematic than the 0.4% annual expenses on the SPDR Gold Shares ETF. That means there's no disincentive to hold gold.
Growing Global Uncertainty
Negative interest rates are only part of the boost for gold. Continued geopolitical uncertainty around the world is making investors nervous, and they want to invest in something that they can count on, like gold. Consider the following unresolved issues:
The ongoing U.S.-China trade-war talks
Growing tensions between Iran and the U.S.
The European fiscal crisis, which is currently centered around Italy's budget and unsustainable debt problem.
The U.K., which is an economy similar in size to California's, may leave the European Union without a trade deal in a few weeks.
One thing we know about investors is that they hate such uncertainty. When they see many unresolved matters, then they tend to get cautious and go for safe-haven investments such as gold. That's why gold could be set for a long hot run.
"I think there is considerable potential for gold to move much higher," says Milling-Stanley.
Save 57% with our July 4th Sale. Join Jim Cramer's Action Alerts PLUS investment club to become a smarter investor! Click here to sign up!
Constable owns none of the securities listed in this story.