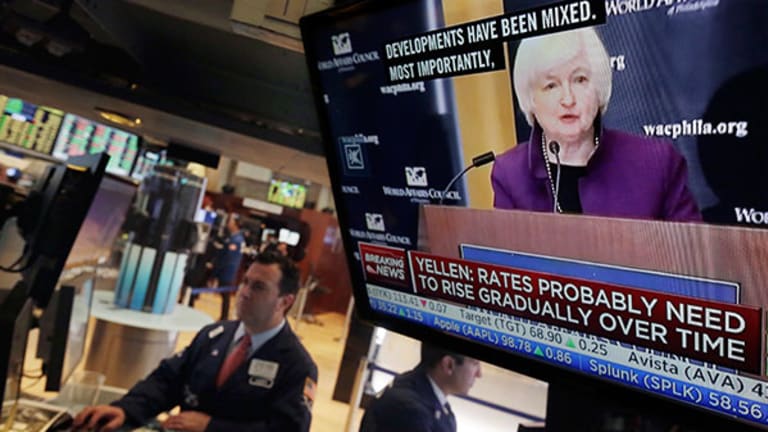 Why the Federal Reserve Left Interest Rates Alone -- For Now
Despite speculation from Fed officials that the central bank might raise rates this month, it left them unchanged. The reasons included gloomy May jobs data and a Brexit vote.
The time for another interest-rate increase is ... not yet, the Federal Reserve decided Wednesday.
Despite hype earlier this spring about considering a hike in June, gloomy May jobs data and the possibility that United Kingdom voters will opt out of the European Union in a vote next week -- setting off a new round of market volatility -- prompted members of the central bank's monetary policy committee to wait, according to a statement.
The decision leaves short-term interest rates at 0.25% to 0.5%, the range set in December when the committee boosted them for the first time since they were cut to nearly zero during the 2008 financial crisis. After that move, the central bank signaled it might raise rates as many as four times this year, but halved the forecast as falling oil prices and slowing Chinese growth hammered markets in January and February.
The committee will continue to keep a close eye on "global economic and financial developments," monetary policy committee members said in Wednesday's statement, which emphasized "diminished" job growth. The U.S. added only 38,000 jobs in May, according to Labor Department statistics, the lowest since consistent job growth began in 2010 and well short of a Dow Jones forecast of 155,000 positions.
Still, "we expect to see continuing progress in the labor market," Fed Chair Janet Yellen said in a news conference after this week's meeting.
The U.K.'s so-called Brexit vote, scheduled for June 23, "was one of the factors that factored into today's decision," she said. "Clearly this is a very important decision for the U.K. and for Europe. It's a decision that could have consequences for economic and financial conditions in global financial markets."
The Fed maintained its forecast of as many as two hikes this year, which would take rates to a range of 0.75% to 1%, and members signaled a pace of three hikes each in 2017 and 2018. That would take rates high as 2.5%, Yellen said.
"We're quite uncertain about where rates are headed in the longer term," she noted. "No meeting is out in terms of a possible rate increase," including next month's, she said.
The delay in boosting rates is a disappointment for banks, whose interest come has been curbed by seven years of of extremely low rates. Companies from JPMorgan Chase (JPM) - Get JPMorgan Chase & Co. Report to Bank of America (BAC) - Get Bank of America Corp Report and Citigroup (C) - Get Citigroup Inc. Report typically benefit from increases, which they're able to pass on to borrowers more quickly than depositors. 
As the benchmark short-term interest rate remained at a range of 0-0.25% from late 2008 through the end of 2015, however, net margin at the four biggest U.S. banks tightened to an average 2.5%, compared with 3.4% at the beginning of the period.
Slow and irregular rate hikes aren't likely to buoy that meaningfully, bank executives say. Many are building growth plans that don't rely on the Fed's increases, though they still would benefit.
Interest income at JPMorgan, for instance, will climb about $2 billion this year even with no rate hikes, CFO Marianne Lake projected in February. Even without a hike in June, the timing still is "not never," she said at a Tuesday conference, "and we think this year. But certainly, it's closer in front of us now than possibly it's ever been. So, we feel quite good about that."
At San Francisco-based Wells Fargo (WFC) , net interest income climbed 6% to $46.4 billion in the two years through 2015, even though the margin tightened, because of lending growth and lower funding costs, executives said at the bank's investor day.
"We expect rates to remain lower for some meaningful portion" of the next two years, CFO John Shrewsberry said Tuesday. Even if the Fed starts raising rates in September, as some economists predict, "normalizing 25 basis points at a time every once in a while doesn't get you very far on average" in the short term, he said.
Wells Fargo and Citigroup are holdings in Jim Cramer's Action Alerts PLUS charitable trust portfolio. Want to be alerted before he buys or sells the stocks? Learn more now.
See full coverage on the Fed's upcoming interest-rate decisions.