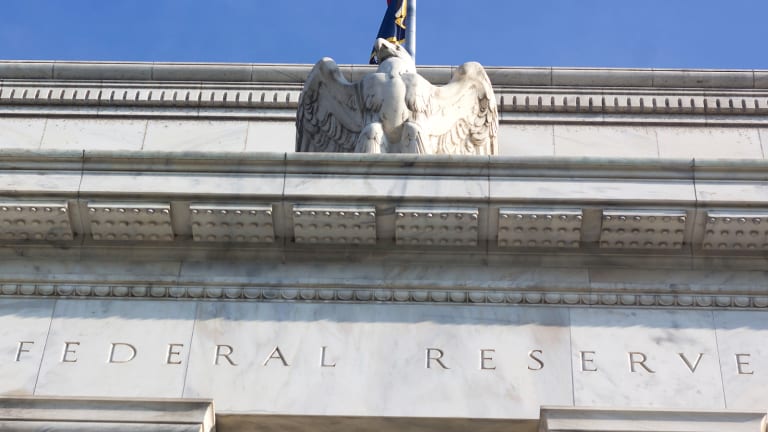 Why the Fed Won't Back Away From More Rate Hikes -- For Now
The Federal Reserve is unlikely to signal any changes to its interest-rate outlook this month, although traders are now betting the central bank will boost them only once this year.
This article, originally published at 10:45 a.m. Monday, Jan. 25, 2016, has been updated with company commentary and market data.
Traders spent years after the 2008 financial crisis speculating about when the Federal Reserve might raise short-term interest rates from nearly zero. Now, after just one hike, they're hoping the central bank will signal that it's prepared to leave rates where they are for a while.
That's not likely, Bank of America Merrill Lynch analyst Michael Hanson said in a note to clients on Monday. Traders and investors expecting the Fed to try and calm the volatile markets of 2016 by suggesting fewer hikes than the four implied after it raised rates in December probably won't get what they want at this week's meeting, he said.
Instead, the outlook may remain in limbo until the panel reconvenes in March, Hanson said in a report entitled, "The waiting is the hardest part," a nod to the 1981 hit by Tom Petty & The Heartbreakers, about an altogether different kind of longing.
The central bank "can afford to remain patient this week and watch to see how the macroecnomic data and markets evolve heading into the March meeting," Hanson wrote. "The Fed may sound somewhat more cautious in the January statement, but will not give updated guidance on the pace of hikes."
As of Wednesday, trading in Federal Funds Rate futures indicated no expectation of a hike this month and only a 24% likelihood in March, according to data analyzed by Bloomberg. Maintaining low rates, while undesirable for banks that rely on interest as a key revenue source, would be beneficial to borrowers, particularly those with high-risk credit ratings or straitened financial circumstances, such as oil producers hammered by plummeting crude prices. 
The central bank said after December's increase of 25 basis points, the first since it cut rates to nearly zero to bolster the economy in 2008, that members would remain accommodative, relying on economic and employment data to guide the pace of increases. 
The Fed will probably at least signal its awareness of concerns over China's slowing economy as well as declining prices of oil and raw materials when the meeting concludes Wednesday, Hanson noted. Oil touched a low of $26.55 a barrel last week, down more than 40% over the past 12 months, before rallying, and both the Standard & Poor's 500 Index and the Dow Jones Industrial Average are down for the year.
A statement after the meeting might note "downside risks, particularly from abroad" or greater concern about inflation, which has yet to reach the bank's 2% goal, Hanson said.
Indeed, inflation was cited as a concern by New York Fed President William Dudley in a speech a week ago when he described the overall U.S. economy as relatively strong. Dudley based that assessment, in part, on improvements in the U.S. job and housing markets as well as gains in consumer spending.
"I don't disagree with our critics that there were risks from lifting off in December versus waiting a little longer," said Dudley, who as president of the New York Fed holds a permanent seat on the monetary policy committee. "My judgment was that these risks were manageable."
Future rate increases depend on how incoming data weighs on the economic outlook, he noted. As of December, committee members anticipated hikes this year -- and afterward -- would push rates to 3% to 4% over the long term, Dudley said.
This month, at any rate, "the Fed is almost certain to not make any changes to key interest rates," PNC bank's William Stone said in a note to clients. "Commentary will be closely watched for indications of timing for future hikes, with current Fed projections calling for four hikes in 2016 and the market only pricing in one."
While banks have been eager for higher rates, executives said during fourth-quarter earnings reports that they're not taking further rate hikes as a given. Uncertainty about rates, combined with concerns about possible energy loan defaults, has helped pull the KBW Bank Index down by 17% so far this year, more than double broader market declines.
JPMorgan Chase (JPM) , the largest U.S. bank, based a projection of $2 billion in additional interest income this year solely on the December rate hike combined with increases in lending volume, CFO Marianne Lake said on a conference call.
The biggest U.S. mortgage lender, Wells Fargo (WFC) , said its executives were working with models based on a range of rate-hike outlooks -- from just one to as many as four. Increases by the Fed could push interest income growth this year past the 4% gain in 2015, the bank said. 
Exclusive Look Inside: Jim Cramer's Action Alerts PLUS holds Wells Fargo stock in its portfolio. Learn more now.
"We've worked very hard to produce the type of net interest income growth that we have in a no-hike environment for the last several years, so we'll see what the future holds," said CFO John Shrewsberry. "It feels a little bit different every day."