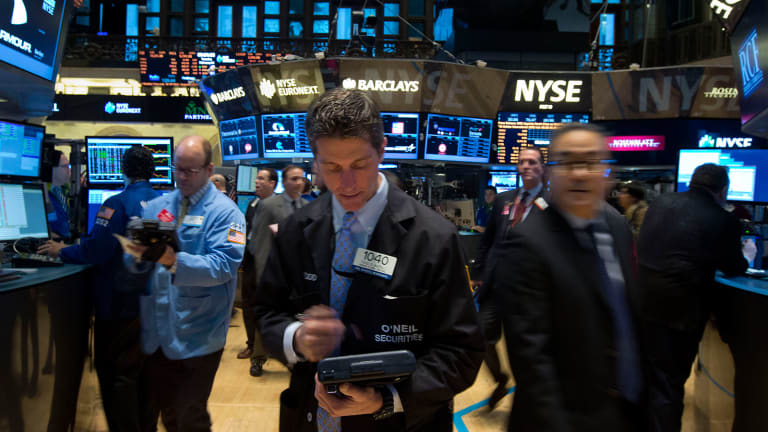 Why the Dow Hitting 20,000 Won't Hurt 401(k)s
The Dow's climb toward 20,000 is making some investors nervous, but some money managers believe the rally could be extended even further.
The Dow's climb toward 20,000 is making some investors nervous, but some money managers believe the rally could be extended even further.
The Dow's climb toward 20,000 is making some investors nervous, but some money managers believe that while the market is reaching an all-time high, the rally could be extended even further.
Reaching 20,000 is not an indicator of an impending recession, said Peter Borish, chief strategist with Quad Group, a New York-based financial firm.
"We are not likely to crash soon," he said. "Crashes don't happen from very overbought conditions, which does not eliminate the possibility of a correction of 15%."
Remaining Invested in the Market
Investors need to stay in the market and divesting equities in favor of an all cash position will not necessarily boost returns in retirement portfolios, said Matthew Tuttle, portfolio manager of the Tuttle Tactical Management U.S. Core ETF in Stamford, Conn.
"The Dow reaching 20,000 makes for great headlines," he said. "But like the Dow reaching 10,000 where people had nice hats, it made for a good story until the Dow went below a couple of years later."
This benchmark figure "doesn't mean much" in the aftermath of the U.S. presidential election and the outcome depends on how the market interprets a more hawkish Federal Reserve and an incoming president who might increase spending on infrastructure and repeal some regulations, Tuttle said.
"Investors should stay in the market until they shouldn't," he said. "Today's good sector could get crushed tomorrow."
Although the Dow's current level in the high 19,000s is probably a little high and 17,500 seems more reasonable, the market could easily gain another 2,500 points, said Patrick Morris, CEO of New York-based HAGIN Investment Management.
"Plain and simple, the market goes up, he said. "It goes up every year year-over-year."
Investors who want to take advantage of the current market moves needs to "be invested, fully invested, all the time," Morris said.
The factors which could be early warning signs of a severe recession can help traders. Housing, interest rates and credit spreads are good indicators of an impending collapse.
"If the housing market starts to suddenly slow down where you live, if interest rates are starting to move upward at a rate that makes it difficult to buy home and if credit spreads start a blowout, then there's a very high likelihood of a pretty swift and pretty severe recession," he said. "Corrections on the market are almost always buying opportunities unless they're signaling a recession. Otherwise, stay invested all of the time."
Employees should refrain from timing the market and trading within their 401(k) portfolios and instead stick to dollar cost averaging which balances out volatility in the market.
"You should try to tune out the 'noise' of the stock market and focus on the concept of dollar cost averaging," said Grant Easterbrook, co-founder of Dream Forward Financial, a 401(k) plan provider based in New York. "The idea behind it is that your money will be invested during periods when stocks are 'cheap' and when things are 'expensive.' Investors lose money on market timing all of the time."
Expect More Volatility
The Dow reaching 20,000 is merely a strong psychological level, but it fails to provide "significant judgment on whether that level is too high or maybe not high enough," said Edison Byzyka chief investment officer of Hefty Wealth Partners in Auburn, Ind.
The price-to-earnings ratio of the Dow is well below that of the S&P 500, which "may imply that there's room for more upside," he said.
While there are not any economic indicators of a recession, more volatility is on the horizon. Retail investors should be prepared for it and remain in the market. Timing when to get back in the market means a large percentage of people will continue to stay out as they seek another low.
"Retail investors are never capable of re-entering a position following any form of volatility," Byzyka said. "It's basic human nature. Consumers are always hunting for better retail deals, but they are always hesitant to purchase stocks when they go 'on-sale.''
Sectors to Invest In
The Dow will breach the 20,000 level, but will pull back in the coming months to settle in the high 17,000s before bouncing higher, said Michael Berger, a former Raymond James energy analyst and founder of Technical420, a Miami-based company that conducts research on cannabis stocks.
While most sectors are overvalued, there is still value in certain banks and technology stocks such as Bank of the Ozarks (OZRK)  and Microsoft (MSFT) - Get Report .
"Although we are favorable on the improving economic data, we believe there is a lot of risk facing some of the largest economies across the globe," Berger said. "We plan to hedge our investments by increasing our exposure to volatility levered funds like ProShares Trust Ultra VIX Short-Term Futures ETF (UVXY) - Get Report ."
While bank stocks have soared in recent weeks by almost 50% and marijuana stocks also rose in the aftermath of several states legalizing recreational and medicinal use, investors need to avoid getting caught up in the hype, said Ron McCoy, a portfolio manager with Covestor, the online investing company, and founder of Freedom Capital Advisors in Winter Garden, Fla.
"It's important to know why you bought a stock and often times people confuse investing with trading, but they are two completely different animals," he said. "The bottom line is investors need to be mentally prepared for a market pullback. It's a question of when it will happen and from what level."
Since President-elect Trump's policies appearing to lean more toward competition in the health care, insurance and services sectors, the health care sector may perform adequately in 2017 after taking a hit in 2016, said Jon Ulin, a managing principal of Ulin & Co. Wealth Management in Boca Raton, Fla. The health care industry surpasses $2.3 trillion in annual spending and exceeds 17% of GDP each year.
"With our aging population and more people today living well into their 80's and 90's, this is a sector that will continue to be a good investment," he said.
The largest risk for equities is the lack of earnings growth, which has stagnated over the past five quarters, Byzyka said.
"Earnings needs to be a strong contributor to growth as the fourth quarter's data is released," he said. " This is especially true if we want to see multiple expansion."
The financial sector has benefitted from the Fed's rate hike, "as the true spread in borrowing and interest paying can go straight to the bottom line," said J.J. Kinahan, chief market strategist for TD Ameritrade, an Omaha-based online broker. Many retail traders are also fond of the tech sector.
"From a technical point of view, most traders would tell you the market is currently overbought," he said. "We are in the middle of an adjustment of stock prices that reflects the increased level of certainty that is in the market. With our first sell-off in many sessions, we have to see if we can get back to 20,000 and hold."
The current rally can not be sustained, said K.C. Ma, a CFA and director of the Roland George investments program at Stetson University in Deland, Fla.
"While there was no noticeable fundamental news, the interest rates for the 10-year Treasury went from 1.85% to 2.63%," he said. "Anyone with common sense should realize that the notion of a rising interest rate along with a rising stock market is fundamentally flawed and can not last." 
"The real question is whether the Dow will stay above 20,000," Ma said. "For long-term 401(k) investors, why are you even asking these questions?"