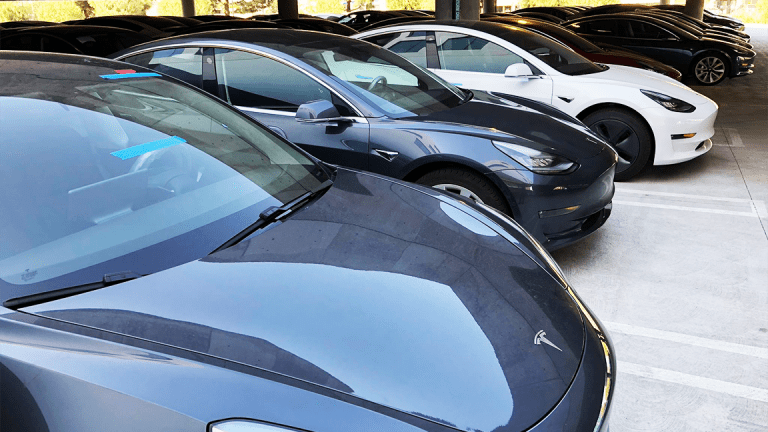 Why Tesla's Stock Is at a Make-or-Break Level Right Now
Tesla's at a critical spot in the charts, which could lead to big upside or big downside depending on how things unfold.
After releasing its first-quarter production numbers earlier this month, shares of Tesla Inc.  (TSLA) - Get Tesla Inc. Report have been on fire. 
Should that really be the case, though? It depends on how you look at it (and likely, whether you're already bullish or bearish).
Bulls may argue that while Tesla came up short of its target for producing 2,500 Model 3 vehicles per week by the end of Q1, its last week of production for the quarter clocked in at a still-impressive 2,020 units. They may also say CEO Elon Musk has found a way to get Tesla through its "production hell" and rapidly boost the automaker's production ability.
Bears have a different take, though. After a leaked email from Tesla surfaced online, it's clear that it would take a miracle for the automaker to produce 2,500 Model 3s per week before the end of the quarter. As a result, an all-hands-on-deck approach seemed likely and no matter what level of production the company hit, it's likely an unsustainable pace. If that's the case, then at the very least Tesla's still in production purgatory while a capital raise may not be far off in its future.
So which is it? Are the bulls right or the bears?
As is usually the case with Tesla, the truth lies somewhere in the middle. The recent production numbers are good, but not great. In order for the company to stick to its target, Tesla can't allow that last week to be a one-time wonder, it needs to build on that momentum and double its production rate over the next three months.
The company had originally planned to produce 5,000 units per week by the end of 2017. That target shifted to the end of second-quarter 2018 and management is more or less still targeting that amount. If it were to come to fruition, it would mean that Tesla's recent numbers are not only sustainable, but have much more upside than short-sellers are giving the automaker credit for.
Tesla always seems to find a way to pull a rabbit out of its hat. It will likely come up short of its 5,000 units per week by July 1, but just like in early April, its results may still be impressive enough to drive up the stock price.
Trading Tesla's Stock
About a week ago, we pointed to Tesla stock trading with a recent low near $250. This was just before the automaker's production numbers were released. In a nutshell, Tesla stock was either going to suffer a massive breakdown or quickly rebound to its prior support. Now that the latter has occurred, what can we expect going forward?
Above is a recent chart showing its recovery. The $300 area had been a critical level of support for Tesla stock. Now currently back above $300 and Tesla has technically re-entered its prior trading range.
The recent breakdown to ~$250 is damaging. But if the overall market is able to recover, it opens the door for Tesla stock to continue rallying. And even though investors on the sidelines have missed a near-$60 per share move, Tesla stock actually has an attractive setup.
If the stock closes below $300, short-term traders can take a small loss on Tesla and move on. Should this level hold as support, though, another $20 to $30+ move higher is in the cards. Let's see where the market takes Tesla from here.
This article is commentary by an independent contributor. At the time of publication, the author had no positions in the stocks mentioned.