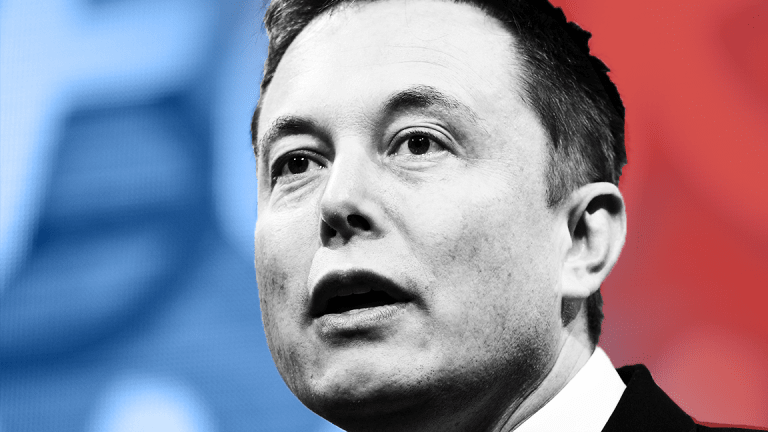 Tesla Investor Pushing for More Board Changes
As CEO Elon Musk admits the fallibility of robots, NYC Comptroller Scott Stringer would like to see an expert in human capital management added to Tesla's board of directors.
Elon Musk's recent concession that "humans are underrated" via Twitter (TWTR) - Get Twitter Inc. Report reflects a change in philosophy that may well determine whether Tesla Inc. (TSLA) - Get Tesla Inc. Report can achieve its projections for the Model 3 -- a closely watched benchmark of the company's ability to reach profitability without having to raise new capital. 
Tesla shares have swung in recent weeks along with the perceived likelihood that the company will -- or will not -- hit its goal of producing 5,000 Model 3s per week sometime around early July. Tesla missed its prior estimate that it would achieve that rate by the end of the second quarter. Apprehension grew this past week with the report of a halt in production of the mass-market vehicle, but subsided after a leaked e-mail from Musk said that the delay would allow Tesla to retool and meet its goals sooner with the help of more workers.
Do the addition of more workers on the factory floor in response to production issues augur for change among the nine individuals who sit on Tesla's board?
New York City Comptroller Scott Stringer, who oversees the city's huge pension fund which has a stake in Tesla, has pushed for Tesla to add a director with expertise in human capital management since last year, thinks so. 
"Investors have a lot riding on the success of the company, and frankly more broadly from a climate change perspective and a transition to a low carbon economy," Stringer said in a statement to The Deal, a sister publication to TheStreet, on Friday. "Elon Musk is a very innovative, strong-willed CEO who has created a lot of value. But the board -- at best -- is still only nominally independent. We need a positive check and balance -- it's a common sense reform."
Stringer's office was part of a group including the California State Teachers' Retirement System that pushed for Tesla to change its board last year. The company added two independent directors, Ebony Media CEO Linda Johnson Rice and Twenty-First Century Fox Inc. (FOXA) - Get Fox Corporation Report CEO James Murdoch, increasing the number of directors from seven to nine.
The New York City Comptroller wants as least two-thirds of the board to be independent and for the company to name an independent chairman, among other steps, a source at the Comptroller's office said. There should be a director with human capital expertise, with experience in a senior role overseeing workplace safety, training and development and Federal EE01 reports that track diversity of gender and ethnicity.
Human capital management, defined broadly, captures all of the various policies and practices related to the workforce compensation, benefits, training and development, workplace safety and employee engagement. "That's one of the capacities we'd like to see strengthened on the board," a source from the Comptroller's office said.
Even with the drama enveloping Model 3 production, and the volatility in Tesla stock, Loup Ventures analyst Gene Munster suggested in an e-mail that changes to the board are not likely or necessary.
"Elon Musk is calling the shots, and changes to the board won't impact that reality," Munster observed. "The good news is despite the negative tone of this week's production news, it's a good thing (that) they pause production to create a step ... up in (the) production run rate."
Despite the uncertainty about Telsa's production, shareholders approved Musk's $2.6 billion package of options last month.
The raise did not site well with the California State Teachers' Retirement System, which, like the New York City Comptroller's office, has pushed for changes to Tesla's board. "Given the size of the (compensation) award, we believe the potential dilution to shareholders is just too great," said CalSTRS then-Director of Corporate Governance Anne Sheehan, who retired at the end of March.
Tesla did not respond on Friday to a query regarding its board composition.
If Musk lives up to his new pay package and the company meets its Model 3 production targets, it may be because of Tesla's human capital.
Editor's note: This article was first published by The Deal, a sister publication of TheStreet that offers sophisticated insight and analysis on all types of deals, from inception to integration. Click here for a free trial.