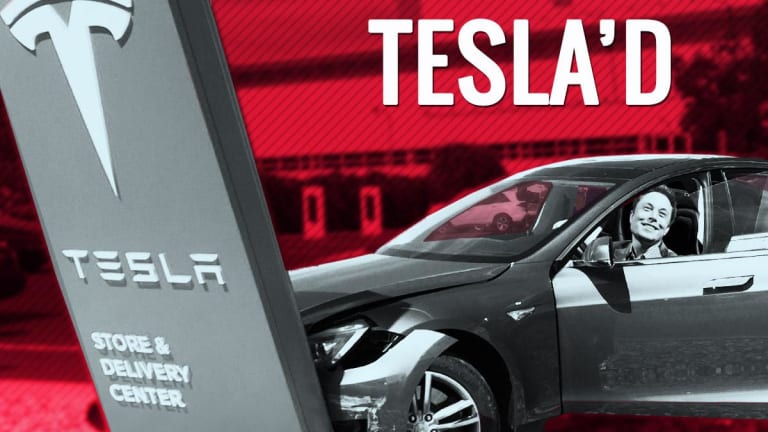 Why Tesla Is Speeding Toward a $100 Billion Market Cap
With profits potentially in sight, could Tesla's stock be in the clear for the rest of the year?
Thursday was a nightmare for short-sellers in Tesla (TSLA) .
Shares of the electric car maker went on a face-ripping rally, screaming higher by more than 16% and ending the day just under $350. On paper, the shorts were sitting on a near $2 billion loss for the day.
So what happened exactly?
Tesla reported earnings on Wednesday after the close. Revenue of $4 billion was solid, growing 43.4% year-over-year and beating analysts' estimates. The company lost $3.06 a share, missing expectations for a loss of $2.82 a share.
But none of that really seemed to matter. 
"Bulls and bears are entrenched in their positions and the report provided information for each to support their views," says Brian Sterz, portfolio manager at Miracle Mile Advisors.
Added Sterz, "This quarter's 'better than feared' report, along with a more subdued tone from Musk on the call, may be enough to move the stock price significantly higher. We certainly would not expect bears to wave a white flag at this point but rather a continued deluge of opinions and content on both sides of the trade."
How higher? Perhaps a great deal.
Tesla'd, Defined
Tesla'd is TheStreet's newest weekly column, focused on one of the most volatile -- and polarizing -- stocks on the planet in Tesla. Each week, the column will take a sharp look at Tesla so investors have the full story on the electric car maker.
What Matters Now
Tesla burned through a ton of cash in the second quarter, $739 million to be exact. Analysts expected an outflow of $889 million. Tesla's cash position went from $2.8 billion in the first quarter to $2.2 billion in the second quarter, the latter of which stands at just $1.3 billion if investors subtract the $942 million Tesla holds in customers deposits.
But the cash burn may not matter, for now. While Tesla's cash balance is concerning, there is unlikely a "cash event" in the near-term. 
CEO Elon Musk clarified that Tesla will not raise capital right now and also said nothing is preventing the company from doing so if it chose to (i.e. an SEC investigation). Further, he reiterated the company's outlook to be GAAP profitable and cash flow positive in the third and fourth quarters.
For a momentum stock such as Tesla, that's music to the ears of the many hardcore bulls.
Soothing words from Musk doesn't kill the long-term bear case, but over the next six months it will be hard for the bears to forge a winning battle with Tesla possibly generating positive cash flow and pushing off a capital raise. Frankly, that should be the outcome given Tesla is only producing high-end versions of the Model 3 and seeing success in other product lines.
"There seems to be more ammo for bulls than bears in [the] commentary. Given [the] stock's propensity to sentiment/momentum, we could see a rally, but remain Sector Perform rated believing a lot [is] priced in," said RBC Capital Markets analyst Joseph Spak.
Even the almost-always bearish Goldman Sachs Tesla team, who has a $195 price target and sell rating on the stock, said the company seems to have "turned the corner on its historical operational mis-execution." 
Tesla's Stock to $500?
Is it all perfect for Tesla? Of course not. If the stock can continue its newfound momentum though, a massive short squeeze could surely fuel a much higher run. In effect, the bears would be tossing in the towels on their most hated stock. 
Tesla remains the most shorted stock on the U.S. market with over $11.7 billion shorted, according to S3 Partners.
"This could be the strong start to a swing in sentiment that will take Tesla up to $450. After another consolidation, $500 or higher is even possible," said Zachary Mannes, the lead analyst for StockWaves. Based on Tesla's current market cap, the stock at $500 would value the company at about $85 billion. That would put a $100 billion market cap in sight.
Mannes isn't a deranged bull by any means. He adds that this pattern with Tesla's stock is something he's been tracking since February 2016. A rally like the one outlined above could leave Tesla putting in a significant top in 2019 and then possibly declining significantly afterwards. 
Romit Shah, managing director and senior analyst at Nomura, essentially nailed it ahead of the quarter. He stated that "if Tesla can execute to plan, we believe that the narrative around bankruptcy risk will go away, thereby reducing short interest and driving the stock higher."
On Thursday, he reiterated his buy rating and currently has a $450 price target on the stock.
Let the electrified run in Tesla begin. 
Read more on Tesla's future from TheStreet
here
.
This article is commentary by an independent contributor. At the time of publication, the author had no positions in the stocks mentioned.