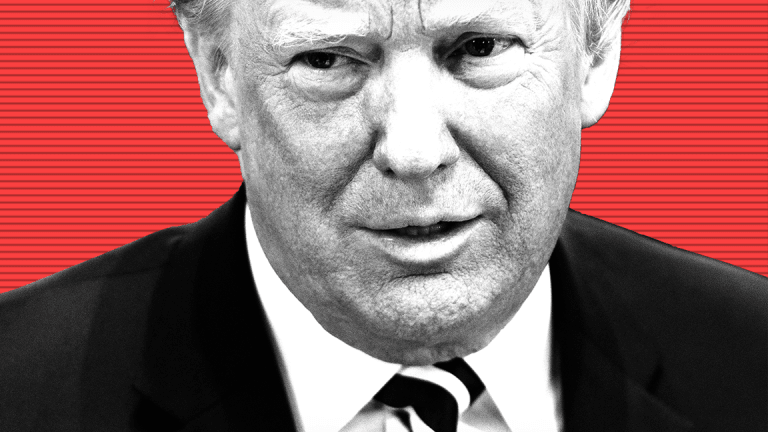 Here's Why Stocks Are Shocking Everyone by Rallying During a Trade War
Rally on, Mr. Market. Wall Street will try hard to defend Apple's stock into earnings. And Starbucks' chairman emeritus, Howard Schultz, is back commenting on business trends.
Without the next dose of bad news on the trade war front, markets are back to squarely focusing on the potential for profit beats when earnings season kicks off later this week with JPMorgan Chase  (JPM) - Get Free Report . Corporate guidance, however, could be the catalyst for a fresh move lower in the markets. Until then, rally on algos.   
Stock Chat 
With Apple (AAPL) - Get Free Report shares down 2% over the past month on fears of slowing smartphone demand, look for Wall Street analysts to try and defend the tech giant's stock ahead of its earnings report on July 31.
RBC Capital Markets analyst Amit Daryanani was first out of the gate on Sunday, reiterating an outperform rating and $210 price target on Apple. Said Daryanani, "We see several levers that AAPL can use to convert low single digit unit/sales growth to mid-teens EPS growth: 1) Gross margin upside from cost downs, NAND tailwinds & yield efficiencies, 2) Services growth, & 3) Capital allocation." In other words, don't give up on Apple.
TheStreet's founder Jim Cramer will likely touch on Apple during his July 11 Action Alerts PLUS monthly member call. Register to listen to Cramer's current thinking on Apple here.
Keep a close eye on cereal giant General Mills (GIS) - Get Free Report ahead of its investor day on July 11. Based on the company's recent business trends, it's unlikely the investor day will be overwhelmingly positive. General Mills does have a good story to tell with its Blue Buffalo acquisition, but with many pressures elsewhere investors are braced for more disappointment.
All eyes on Tesla (TSLA) - Get Free Report , too, as the stock continues to circle the drain. Equity investors seem to be taking their lead from Tesla's bonds. At 88 cents on the dollar, Tesla's 5.3% notes due 2025 are hovering around the all-time lows hit in late May. The bonds rallied a bit in June to more than 91 cents on the dollar coming off CEO Elon Musk's upbeat annual shareholder meeting.
But the notes have since pulled back amid lingering questions on Model 3 production targets and ongoing bizarre behavior by Musk on Twitter. Tesla issued the $1.8 billion tranche of junk debt in August 2017 at par to help fund its operations. The bonds have lost about 10% of their value since then, according to S&P Global Market Intelligence.
Around the Horn 
(1) He just can't help himself. Instead of going out quietly, or at the very least refraining from putting borderline guidance out there while the current CEO runs the ship, Starbucks (SBUX) - Get Free Report chairman emeritus, Howard Schultz, was at it again on Monday. Schultz, speaking at a media roundtable in Shanghai, reportedly said he was unfazed by a "short-term blip" in Starbucks' sales in China. "I've never been more optimistic and positive about the growth in Starbucks in China," Schultz said.
The problem? Starbucks management team may not share the same views, creating confusion among investors on who to take their cue from right now. Starbucks shares are down 15% year to date, pressured by slowing sales and profits and management turnover. Schultz should take a page out of former Cisco (CSCO) - Get Free Report CEO John Chambers' playbook. When I asked Chambers to comment on Cisco's business in a recent interview, the best-in-breed leader told me he didn't feel it was appropriate to comment on the business as that was now the management team's job. Hat tip.
(2) For those bears looking to stay with their thesis while the mini market rally continues, find solace in copper prices. Copper prices have dropped 14.6% from their June 8 peak to Friday, marking their lowest level in a year. The slide comes amid a plunge in the Chinese stock market and the start of the U.S. trade war with China. Said Ed Yardeni of Yardeni Research, "Dr. Copper raised the odds of a recession in recent days."