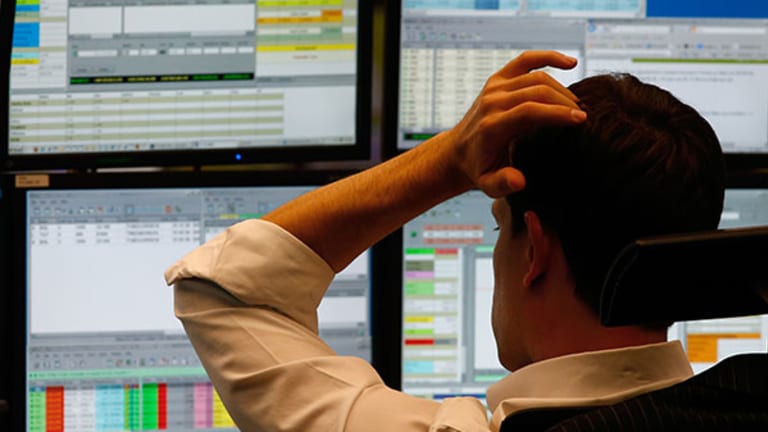 Publish date:
Why Stock Picking Is Here to Stay
Stock picking is a dying business, according to data in The Wall Street Journal. But demand for stock picks is not going away.
Stock picking is a dying business, according to data in The Wall Street Journal. But demand for stock picks is not going away.
Editors' pick: Originally published Oct. 19.
Updates from 2:44 p.m. EDT to include comments from Scott Schoelzel.
Stock picking is being used less and less on Wall Street, as The Wall Street Journal pointed out earlier this week.
However, it still holds great importance in the market, because, as Seabreeze Partners President and Real Money Pro contributor Doug Kass says, there is "still a demand for it."
"Stock picking will continue to be of importance -- though two large market drawdowns in the last decade, coupled with the Great Recession in 2007 to 2009, have alienated a large body of retail and individual investors," says Kass. "The latter class of investors have increasingly opted for passive funds [for example, the SPDR S&P 500 ETF (SPY) - Get Report  ] -- which are liquid, tax efficient and embody low transaction costs."
Investors have added nearly $1.3 trillion to passive mutual funds and the like over the three years ended Aug. 31, while withdrawing more than a quarter trillion from active funds, the Journal reported -- citing Morningstar data.
"Active management will always be a meaningful component of the investment landscape," says former Janus stalwart Scott Schoelzel in a phone interview with Real MoneyWednesday. "There are talented active managers that can outperform the market."
Schoelzel would know from first-hand experience as portfolio manager of the Janus Twenty and Janus Forty funds. During his 10-year tenure, ending Jan. 1, 2008, the Janus Twenty fund returned 169.74% and the Janus Forty fund returned 243.11%, according to his LinkedIn page. The S&P 500 returned 77.54% during the same period.
He noted that there are more than 8,000 mutual funds, but there are not thousands of managers who can outperform the market. "There are a handful of managers that are extraordinary, and fewer that are iconic."
Those few iconic and extraordinary managers will look to take advantages of the displacements in the market.
"As the efficient market has become more jagged and inconsistent, there will be great opportunities for stock pickers to succeed," says Bob Lang, a private trader in equity and option markets via his company, Aztec Capital. "However, one has to show some individuality in their approach and mastery, distancing themselves from the rest of the crowd of stock pickers."
The key, says Lang, is finding a methodology or process that is head and shoulders above the rest.
"The role of a fund manager is going to have to focus more on expertise and the ability to be proactive vs. reactive," says Jeremy LaKosh, chief financial officer at CCRC in Central Illinois and a fellow Real Money contributor.
But as the market has evolved -- especially since the Great Recession -- so, too, must stock pickers. 
"Due to changes in the market, it's possible that in the future, more stock pickers will rely on technical analysis," adds Ed Ponsi, managing director of Barchetta Capital Management. He also says that the effects of the widespread use of ETFs and the application of algorithms and the computers should be priced into the charts. "At the very least, stock pickers who rely on fundamentals will consult technical analysis more frequently," Ponsi, a Real Money Pro contributor, suggests. Algos have vastly altered the market.
For options trader Skip Raschke, it all goes back to July 6, 2007. On that night, the Securities and Exchange Commission eliminated the Uptick Rule, "the best rule ever," in Raschke's opinion.
"The elimination of the Uptick Rule slanted the game far more in favor of the algos and the hedge funds that only short the market," says Raschke. "With no impediment to them shorting on downticks, they have an unfair advantage over the vast majority of the market [who buy stocks, rather than shorting them]. Being allowed to sell short on downticks is akin to being allowed to pour gasoline on a fire."
However, stock pickers can still present an advantage to investors -- as long as they are not trying to compete directly with either big funds or high-frequency trading.
"If you are clear as to the timeframes and consider the character of the market, as well as technical and fundamental considerations, you still have the ability to outperform with stock picking," says Real Money contributor James "Rev Shark" DePorre.
Stock picking may not be going away, but it seems to be less successful than in years past, according managing partner of Gad Partners Fund and Real Money contributor Sham Gad. Gad wrote on Tuesday, "thanks to growing fees and bad processes, active performance has suffered." As the Journal article noted, over the 10-year period to June 30 this year, some 71% to 93% of active U.S. stock mutual funds have either closed or underperformed their benchmark indexes.
In addition, the generational shift will likely continue to alter the outlook on stock picking. Millennials lack market savvy, and will tend to focus on household names, like Facebook (FB) - Get Report and Starbucks (SBUX) - Get Report , because they grew up consuming those products, according to TheStreet's Brian Sozzi. (Facebook and Starbucks are holdings in Jim Cramer's Action Alerts PLUS portfolio). 
"My Millennial generation has no interest in learning about the stock market, while the Snapchat teens don't even know what the stock market is," says Sozzi. "Hence, they will buy what they know and in the process, overpay to do so. So, if you are an old guy right now, hang tight to those household names, because they are likely headed higher over the next 20 to 30 years."
While Millennials' perspectives will skew the market, individual stock picking will continue to be a driver for those who want to outperform the market -- as long as they are willing and able to adjust to new market realities. 
Editor's Note: This article was originally published on Real Money at 10:25 a.m. on Oct. 19.
Action Alerts PLUS, which Cramer co-manages as a charitable trust, is long FB and SBUX stock.