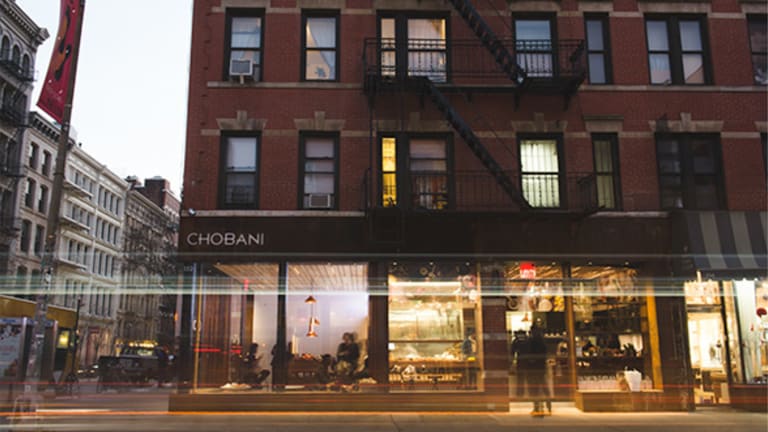 Why Starbucks Should Buy This Billion-Dollar Greek Yogurt Company
In the past, Starbucks has acquired businesses that have brought it into new lines of business. It needs to dip its toe back into the water once more.
NEW YORK (The Street) -- The Starbucks (SBUX) - Get Starbucks Corporation Report empire has grown through the years through strategic acquisitions of premium brands such as loose leaf tea seller Teavana and juice drink brand Evolution Fresh.
Now, with debt financing cheap and cash accumulating, Starbucks might want to consider orchestrating its largest acquisition yet: Greek yogurt giant Chobani. 
Chobani boasts more than one-third of the U.S. market share for Greek yogurt, according to data tracking firm Nielsen. The company pulled in over $1 billion in revenue last year, and is still being led by founder Hamdi Ulukaya. Presently, Chobani, which prides itself on using all-natural ingredients to help people eat healthier, is in the midst of its second act.
Exclusive Look Inside:
You see Jim Cramer on TV. Now, see where he invests his money and why Starbucks is a core holding of his multi-million dollar portfolio. Want to be alerted before Jim Cramer buys or sells SBUX? Learn more now.
A trendy-looking retail store that serves Greek yogurt creations and sandwiches has popped up in New York City, and there are expectations for more to open soon. New, Greek yogurt-based products designed to meet different consumer needs are about to be unveiled in supermarket aisles.
In effect, Chobani's evolution and positive social message are ideal for Starbucks, where founder and CEO Howard Schultz is a champion of new product innovation and socially-conscious business.
Starbucks has been quiet on the acquisition front of late. Its last purchase was its biggest in its history -- $620 million spent in 2012 to acquire mall-based tea maker Teavana. The purchase gave Starbucks access to the $40 billion global tea market.
Since the acquisition closed, Starbucks has opened up several Teavana tea bars in across the country, where it offers handcrafted tea beverages not unlike those at Starbucks.  Execs have also been plotting Teavana's packaged goods strategy, which may lead to bottled teas at supermarkets in the not-too-distant future.
Prior to the Teavana acquisition came two smaller purchases by Starbucks -- Bay Bread Group's La Boulange Cafe & Bakery brand, and Evolution Fresh.
Bay Bread, which Starbucks bought in 2013 for $100 million, has since seen its La Boulange pastry line, consisting of croissant and sweet treats, roll out to Starbucks stores nationwide. As for Evolution Fresh, purchased for a mere $30 million in 2011, its brand has been expanded to a range of flavors that can now be found in Starbucks retail locations and grocery stores.
All of these brands acquired by Starbucks have founders still actively involved in product creation. For example, Evolution Fresh was developed by Naked Juice founder Jimmy Rosenberg. Founders seem to enjoy the notion of selling to one of the greatest founders of all-time in Schultz. And that could be tempting to Chobani's founder Ulukaya, who has been reportedly under pressure to step down as CEO.
TheStreet takes a look at two reasons why this deal would make sense for Starbucks.
Chobani is a big player in the packaged goods sector, where Starbucks is looking to expand.
Over the next several weeks, supermarket shelves will start to be stocked with Chobani products such as "Peanut Butter Dream," the company's take on a Reese's peanut butter cup, and "Strawberry Summer Crisp," a flavor that resembles a strawberry shortcake.
Further, Chobani's new oats platform that features Greek yogurt with quinoa will gain seven new products.
Chobani has also introduced a light version of its Greek yogurt sweetened by stevia, and products for babies. For Chobani, the new product barrage are steps it sees as necessary to continue growing in a Greek yogurt category that competitors such as Danone and General Mills (GIS) - Get General Mills, Inc. Report have successfully entered.
Starbucks, meanwhile, has sought to find growth beyond its bread-and-butter retail stores. 
The company's channel development segment, which houses its expanding consumer products businesses, represents about 8% of total revenue. In the 2014 fiscal year ended in September, the segment's sales rose 11% while its operating profits surged 34.5%, compared to an 18.9% increase for the company as a whole.
"Part of the opportunity for us in channel development is to take advantage of what's in our cafes and bring it down the aisle -- our focus to date has been around coffee, (but) now we have Evolution Fresh (juices), and we've got Teavana where we're trying to figure out what it may mean to us," said Starbucks' president of Channel Development Michael Conway. Any new products from Starbucks would join proven winners in its bagged coffee, K-Cups, Via instant coffee, and bottled frappucinos.
Acquiring Chobani would give Starbucks access to a new area in the grocery store -- the growing yogurt section. Chobani brand Greek yogurt could also serve as the base for Starbucks smoothies at its retail stores, with the well-known name displayed on menu boards to drive interest.  Buying Chobani, however, would mean Starbucks would have to end its relationship with yogurt-maker Danone.  
In April, Starbucks began rolling out customizable smoothies, Greek yogurt parfaits, and ready-to-eat yogurt that will be sold in grocery stores in concert with Danone.
Chobani has a massive retail store opportunity.
Since opening in 2013, Chobani's single retail store in New York City has doubled in size to 800 square feet. It has also doubled the size of its menu, venturing into savory yogurt concoctions featuring chopped-up cucumbers and olive oil to spread on tortilla chips, hearty soups, and sandwiches with a Mediterranean flair. Same-store sales at the location are up a hearty 100% from this point last year.
"We definitely think we are onto something, and do want to open many more," said McGuinness. Chobani could use a partner with the experience Starbucks has in site selection, product sourcing and design. As for Starbucks, Chobani retail stores would unlock an entirely new source of growth for the coffee giant. Chobani stores opened in major markets would be a destination for tourists traveling abroad, many of whom might already be familiar with Greek yogurt.
Starbucks' opening small "express" stores this year suggests it's seeking new ways to expand its retail empire. About 100 express stores, which feature a limited drink and food menu and emphasize mobile payment, will open over the next five years. The most recent store opened on Wall Street in New York City, the first of four set to debut this year in the city that never sleeps.
This article is commentary by an independent contributor. At the time of publication, the author held no positions in the stocks mentioned.