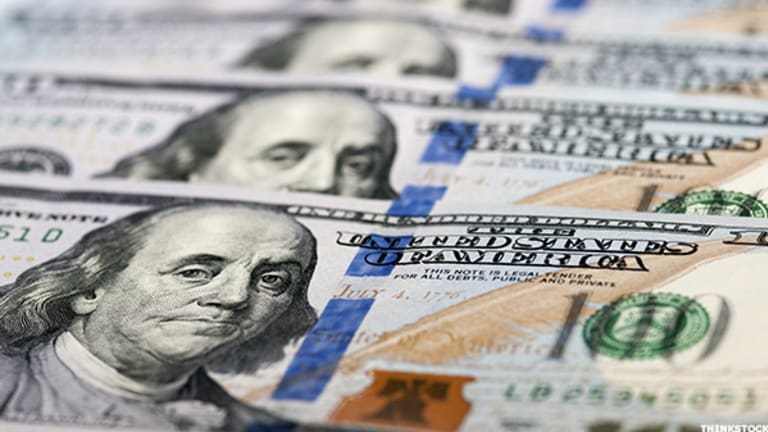 Why Some Investors Are Keeping Large Sums of Money in Cash
Investors are still holding large positions in cash amid the continued volatility in the stock market and remain uncertain of the outlook of the economy.

Investors are still holding large positions in cash amid the continued volatility in the stock market since they remain uncertain about the outlook of the economy.
After being spooked by the markets this year -- evinced by the 21 times the Dow gained or lost 200 or more points through March 1 compared to only nine in 2015 -- investors are finding a large cash reserve to be a reassuring cushion.
A report by Capgemini and RBC Wealth Management in 2015 cites the total cash held by high net households or those who have $1 million or more investable assets in North America as $3.8 trillion. Out of that total, $3 trillion to 3.5 trillion of those assets are estimated to be in the U.S., said Gary Zimmerman, CEO of MaxMyInterest, a New York-based company that maximizes cash balances for savers.
One reason cash remains popular among all age groups is because the sentiment of the economy, job growth and markets is viewed unfavorably. Data on the amount of cash that consumers keep in checking or savings accounts or CDs are not tracked.
"Cash is still a favored asset for investors, because frankly, people are nervous about the economy," said Sean Stein Smith, a CPA in Hackensack, N.J.
Even wealthy people are allocating large sums of their assets in cash, with 23.7% of high net worth people keeping their portfolios in cash in 2015, according to the report.

Ready to Buy Stocks
Aside from holding the cash for to pay college tuition or for a major purchase such as a home, many investors are hedging against market volatility while others want to have "dry powder" or cash available to invest when other people become fearful and sell equities, said Zimmerman.
"Amidst uncertainty, many individual investors feel more comfortable holding cash, particularly if they have a near-term need for funds for an upcoming purchase, capital calls on private equity funds or tax bills," he said.
Millenials still tend to be risk averse after witnessing the aftermath of the Great Recession and continue to invest a large portion of their funds in fixed income investments and cash rather than stocks, Zimmerman said.
Investors who entered the market during the trough in March 2009 would have tripled their return by the end of 2015, he said.
"Some of my best public market returns came during the financial crisis when I was holding cash and was able to redeploy that cash into the market just as others were selling to try to build up cash," Zimmerman said. "Now as we enter another period of market volatility, those with cash on the sidelines are able to better stomach the volatility and take a more rational, long-term view of the markets."
Some investors have turned their stance into a more conservative approach because of the potential interest rate hikes and weak economic growth coupled with the results of the upcoming presidential election, said Kevin Mahn, chief investment officer of Hennion & Walsh, the Parsippany, N.J.-based investment firm.
"Given the volatile start within the equity markets in 2016, for some investors this may involve holding excess funds in cash or having a larger allocation to cash or cash equivalents," he said.
While keeping cash in reserves can be a prudent strategy, investors should not attempt to figure out when they should change their allocation to only cash.
"Trying to time the market in terms of when to be in cash versus when to be in the market can often be an exercise in futility," Mahn said. "These types of investors often tend to mistime cash deployment positions and impact their longer term goals negatively."

Other assets such as fixed income or stocks are a better bet than "having the money sit idle in cash" and can generate greater returns, he said.
A good rule of thumb is to keep 2% to 4% of investment funds in cash to take advantage of opportunities, said Monica Sonnier, a Memphis, Tenn.-based CPA. Maintaining more cash can be "detrimental because few people can actually time the market effectively and take advantage of market rebounds," she said.
Ignoring short-term volatility means investors won't sell stocks at the wrong time.
"For investors who may be uncomfortable with current market volatility and reluctant to let go of their cash, some good recommendations are to go into short to intermediate bond funds or low volatility, growing dividend type stock funds which can dampen volatility, but still provide some growth," Sonnier said.
Saving for a Rainy Day
Although too many investors sat on the sidelines of the market in the aftermath of the financial crisis and missed out on massive gains, others used their cash to pay down debt and establish well-funded emergency reserves, said Dustin Denton, a wealth advisor, at Indianapolis, Ind.-based Wolfrum Capital Management Group, a Noyes Family Office.
"We have seen Millennials to Baby Boomers have a larger than normal allocation to cash," he said. "This sentiment of fear and distrust in the public markets left many on the sidelines during the subsequent bull market."
A large number of consumers still lack adequate savings for an emergency with only 22% of U.S. households who have enough emergency funds to cover six months worth of expenses and 29% of Americans have no emergency savings at all, said Greg McBride, chief financial analyst for Bankrate, the North Palm Beach, Fla.-based financial content company.
Another troubling statistic finds that only 52% of consumers have more money in emergency savings compared to the amount of credit card debt they owe.
"Our figures clearly indicate consumers are undersaved for emergencies and don't have a lot of cash sitting around," he said.
Since many Americans are unprepared to handle even small emergencies, many of them turn to credit cards when their car needs a repair or they become ill.
"Having a savings account as a financial safety net is the best strategy to avoid unmanageable credit card debt," said Bruce McClary, spokesman for the National Foundation for Credit Counseling, a Washington, D.C.-based non-profit organization.
Consumers who lack a rainy day fund can begin by setting aside 10% of their income each time they are paid to reach a goal of having six months of after tax income.
"It takes time to get there, but it is worth the effort," he said.

Homeowners should also consider starting a repair fund in addition to having emergency savings to cover household expenses, said David Reiss, a law professor at Brooklyn Law School in N.Y. Some repairs need to be made immediately such as a roof leaking during the rainy season or the boiler during winter months.
"A homeowner who wanted to be conservative could put an amount equal to 10% of his or her mortgage payment into a comparable fund for home repairs," he said. "There is probably not one right answer for everyone. Some people are handy and can do all sorts of repairs themselves, others can't."