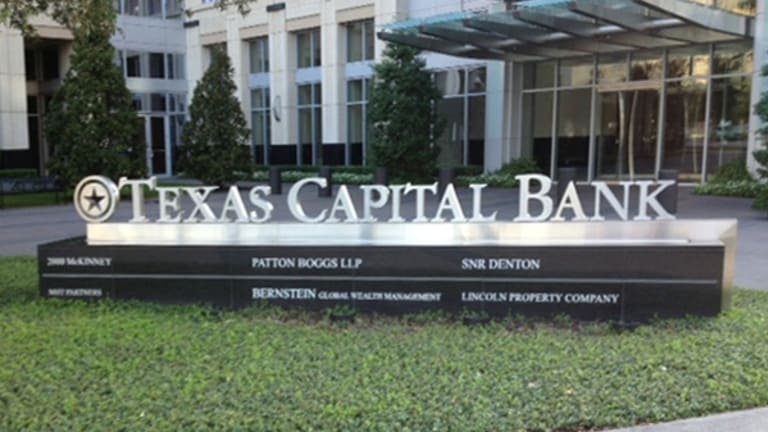 Publish date:
Why Smaller Banks Face Outsize Risk From Bad Energy Loans
Regional lenders like Bank of Oklahoma and Comerica have more to lose from souring energy loans than their nationwide rivals, says ratings firm Moody's. It's partly a matter of location.
Regional lenders like Bank of Oklahoma and Comerica have more to lose from souring energy loans than their nationwide rivals, says ratings firm Moody's. It's partly a matter of location.
This article, originally published at 2:28 p.m. on Friday, Feb. 19, 2016, has been updated with comments from Moody's, video and market data.
The nation's biggest banks may be in good shape even if beleaguered oil producers start defaulting on their loans, but smaller regional lenders have a lot more to lose.
Loans to energy companies by the five megabanks from Citigroup (C) - Get Report to JPMorgan Chase (JPM) - Get Report account for no more than 40% of common equity capital, a measure used by regulators to assess a finance company's strength, ratings firm Moody's has said.
At nine regional banks, however, such loans never account for less than 40% of capital, and at some, they represent 110% of it, the New York firm said in a report this week. That compares with a median ratio of 10% to 15% at the roughly 60 regional banks that Moody's evaluates, prompting it to warn that credit scores at six of the lenders are in jeopardy.
"We've had a huge deterioration in the price of oil for the last year and a half or so and that's resulted in a lot of stress on oil producers and oil service companies, which basically means that quality of bank loans to those sectors is eroding," Allen Tischler, one of the authors of the Moody's report, said in a telephone interview. "That's the impetus for what we've done here."
Together, the Moody's reports offer a window into which parts of the finance industry may be hit hardest by a 20% drop in oil prices this year, which has made it tougher for energy firms to repay money borrowed when crude was selling for three times as much. Concern about the defaults, and whether they pose enough risk to cause a recurrence of the financial crisis, has driven bank stocks down 19% since last December.
The size of the regional banks' energy loans -- pushed higher because many have significant operations in the most oil-dependent states --Texas, Oklahoma and Louisiana -- significantly increases their risk, Moody's said in the report.
"We see energy companies defaulting, credit quality slipping, and so as that credit quality deteriorates, that increases probability of default," Joseph Pucella, a senior credit officer at Moody's, said in an interview.
Consequently, Moody's placed the credit ratings of four regional banking companies -- BOK Financial (BOKF) - Get Report , Cullen/Frost Bankers (CFR) - Get Report , Hancock Holding (HBHC) and Texas Capital (TCBI) - Get Report -- on review for a downgrade this week. The outlook for the ratings of two others -- Comerica (CMA) - Get Report and Associated (ASBC) -- was changed to negative.
The actions followed tougher stress tests for the banks based on the growing likelihood that oil prices will remain lower for longer, Moody's noted. Crude has sold between $25 and $30 for half of the trading days this month, compared with a high of nearly $108 in June 2014, and the firm now predicts prices won't rise much higher than $40 through the end of 2018.
That means cost-cutting at energy producers will probably press ever further into their cash flow and assets, Moody's noted. Its "moderate stress" scenario assumed the median junk rating of energy borrowers would fall two notches while a "severe" scenario evaluated the banks' health with the same rating falling four notches.
"To the extent that any of these banks -- and some of them are -- concentrated in regions where the economy is very much energy-driven, there's the additional incremental risk of weakness in some of the rest of their portfolios, which may have some kind of reliance on all of the oil and energy activity," Tischler said.
Still, all six of the banks have credit ratings above investment grade now, he emphasized, and many have decades of experience in energy lending. A cut of a single notch would take only one of the banks, Texas Capital, below investment grade, according to the report.
"Those that are the most concentrated in energy lending also tend to be among the most experienced banks, and a few of them are pretty highly rated," Tischler said. "We're not talking about weak companies," he added.
That's a pivotal difference, he said, "from the last big downturn in the U.S. banking sector, which was around real estate. There, you had players that were more concentrated, for example, in residential development and maybe were weaker or weren't as resilient to the downturn."
Importantly, the energy-lending market is also orders-of-magnitude smaller than the mortgage market, whose collapse precipitated the 2008 financial crisis that froze global credit markets, prompted the bankruptcy of investment bank Lehman Brothers and led to massive government bailouts of other financial institutions.
Analysts including Dick Bove of Rafferty Capital Markets have pointed out that U.S. banks are much stronger now than before 2008, following years of government-mandated initiatives intended to prevent a recurrence of that crisis. Under the new rules, the banks strengthened capital reserves and many have reviewed borrowers more carefully before extending loans.
"The U.S. banks are fundamentally in very fine shape," William Dudley, president of the New York Federal Reserve -- the regulator for major Wall Street banks -- said last week. "When we subject them to very severe stress tests, they come through in a very good way."