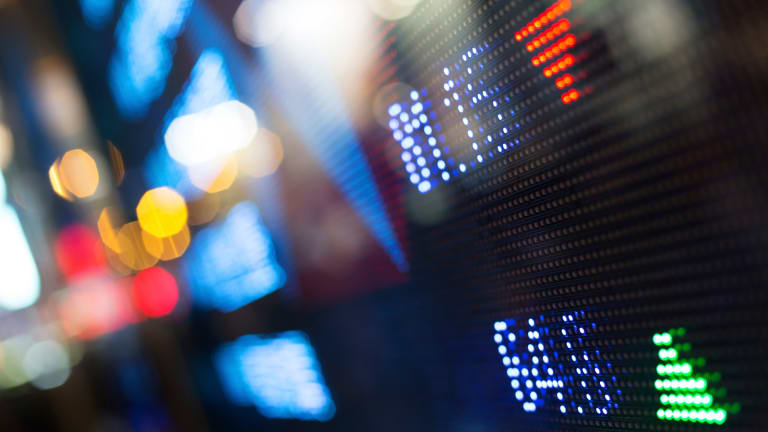 Why Retirement Investors Should Ignore Stock Market Highs and Volatility
Long-term investors should not overreact but tread carefully amid the volatility.
Long-term investors should not overreact but tread carefully amid the volatility.
NEW YORK (TheStreet) — As the benchmark indexes for the stock market notches new highs, long-term investors should not overreact but tread carefully amid the volatility.
The Dow, S&P 500 and Nasdaq have performed well -- respectively up 7.78%, 9.54% and 19.55% year over year as of market close Monday -- but some experts are warning there could be an equity bubble on the horizon. Other analysts believe more risk lies with bonds.
With equities reaching the sixth straight year of a bull market, some market pundits are predicting an interest rate hike by the Federal Reserve will yield positive results for stocks. An interest rate hike would be a sign for the market that "the Fed is confident in the economic recovery," said Robert Johnson, president of The American College of Financial Services in Bryn Mawr, Pa. In the past, interest rate hikes have resulted with lower stock returns compared to falling rate environments, he said.
Yet, even this bull market will end sooner or later, said Matthew Tuttle, CEO of Tuttle Tactical Management in Stamford, Conn. Investors who want to remain complacent and believe that this time it is different or those who believe that the most recent past will predict the future "will have their heads handed to them by the market," he said.
The volatility in the stock market should not be ignored because it measures uncertainty and markets despise ambiguity, said Patrick Morris, CEO of New York-based Hagin Investment Management. That said, there is no evidence of the U.S. heading toward a recession and investors should view downside volatility as nothing more than a buying opportunity, he said.
The current "horizon is so unpredictable, it would be unwise to bet against either bonds or equities," Morris said. "Equities have been on a non-stop tear since 2009 and bonds keep throwing head fakes concerning possible rate increases."
The larger bubble is likely in the bond market, not the stock market, said Johnson. Although less attention is focused on the bond market, its bull market has lasted longer.
"Interest rates peaked in the fall of 1981 and have been in a secular decline ever since and down to the unprecedented low levels we have witnessed over the past year," he said.
Johnson believes that rates "truly have no place to go, but up." Interest rates will definitely rise, but now it is more of a matter of when it will occur. As the rates increase, investors do not want to own any long duration fixed income securities, he recommends.
Since the bond market is more overvalued than the stock market, investors should only purchase very short-term, risk-free government bonds to "park money for investing in the stock market following a correction," Johnson said.
Some of the increased valuations are due to a lack of investors selling their equities instead of true investor demand to purchase equities, said CJ Brott, founder of Capital Ideas in Dallas and a portfolio manager on Covestor, the online investing marketplace. During this bull market, the market rose more on days where they were less volume than average, which means there was less buying and selling of stocks, according to research conducted by Bespoke Investment Group in Harrison, N.Y.
While the current valuation levels are higher than the long-term average, focusing on valuation is not a good mechanism to see where the market is headed, Brott said. A better strategy is for investors, especially ones saving for their retirement, to adjust what they expect the returns for their portfolio will be since the U.S. is still experiencing sluggish economic and earnings growth.
Global Issues Remain a Concern
Equity prices could also be affected by the quantitative easing programs being pursued by several central banks around the world to inflate asset prices, Brott said. Until those programs are halted, the excess liquidity will continue to "flow into debt and equity instruments propping up prices at their current high valuations," he said.
If a selloff occurs and the markets don't rebound to new highs, then the end of the current bull market might take place.
"Until that happens, we have no basis to call for a change in trend," Brott said. "Rather than buy bonds, my answer is to diversify holdings into direct ownership of some real estate, some private equity and some [exchange-traded funds] representing ownership in foreign markets."
Prices could tumble quickly, and a quick correction could occur if an unforeseen political event occurs. The risks remain in the Middle East and Africa while China's economy and the persistent power struggle in the South China Sea between the U.S. and Chinese military should not be ignored, said Morris.
A larger factor that could influence the economic outlook is raising interest rates too soon because that action "could break the market," said Morris.
"Fed Reserve Chairwoman Janet Yellen has inherited the toughest job in the world," he said. "Whenever there is even speculation on the matter, the market in both bonds and equities suffers."
If interest rates are increased too soon, the market could lose 10% to 15% of its valuation in a week or two and bonds will also dip, Morris said. If interest rates remain flat, the market rally will continue, he predicts.
"Commercial real estate will see a downturn as prices start to stagnate and yields are forced higher by investors," he said. "Money could dry up quickly and the run to cash could be a real problem."
Investors who stay "in harmony with market trends" and avoid making emotional decisions will look at the markets rationally and logically and will not have to worry about the returns in their 401(k) or IRAs, said Tuttle.
"They should never overreact but they have to have their heads on a swivel, especially now as we near the top of the market," he said. "Nobody knows where the top will be but bull markets don't last forever."
Too many investors are either greedy ones who tend to time the market, buy the latest hot stock and avoid diversifying or fearful ones who "love cash, avoid equities and also think another big crash is just around the corner," said Bijan Golkar, CEO of FPC Investment Advisory in Petaluma, Calif. These investors will often move from greed to fear repeatedly, but successful ones use a better approach.
"They work to create a long-term investment strategy based on their goals," he said. "They trust that strategy, regardless of what the market does in any given day, month or year."