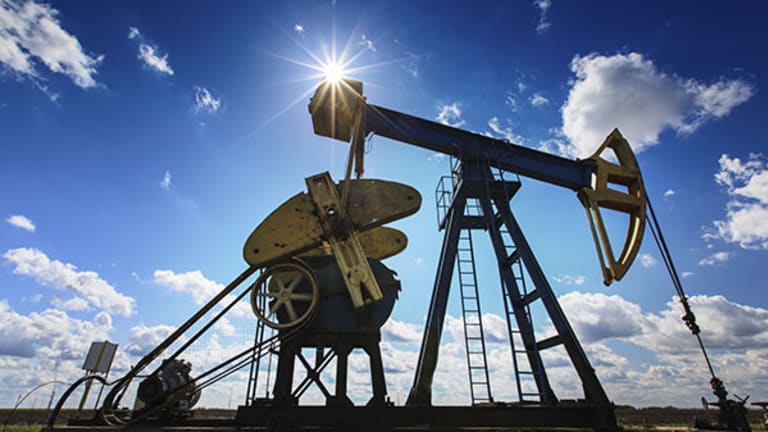 Publish date:
Why Oil Prices Haven't Hit Bottom Yet -- One Analyst's View
Investors buying oil because of technicals are missing major bearish fundamental signals, says Citi Futures' Tim Evans, as oversupply is a major threat to prices.
Investors buying oil because of technicals are missing major bearish fundamental signals, says Citi Futures' Tim Evans, as oversupply is a major threat to prices.
NEW YORK (TheStreet) -- Investors looking at crude oil technicals and thinking the commodity looks like a good value right now are like the people who saw a white dress when the infamous photo of a blue dress crossed their newsfeeds.
In this case, investors' misperception comes from reports of oil rig shutdowns and crude's ability to remain above a key technical level, suggesting the commodity has bottomed. Those are distractions from a real fundamental issue -- there's too much oil and too few places to affordably store it, said Tim Evans, Energy Futures Specialist at Citi Futures.
"I'm trying to keep my clients from becoming complacent about rising inventories as if they don't matter because price action suggests we should look away from physical surplus in the market," Evans said. "There's substantial downside risk, particularly at the front of the WTI crude oil curve."
In the near term, or front of the curve, declining capital investment and declining drilling rig counts -- the factors that have driven oil prices higher in recent weeks -- are what matter least.
In other words, the dress is blue, not white. So instead of a bottom in oil prices, this is what investors should be seeing:
1- High and rising oil inventories
2- High and rising oil production
3- The rising cost of storing surplus oil
Current inventories in Cushing, Okla., one of the most important crude trading hubs, are within 3 million barrels of the record high, which occurred in April 2013 due to a lack of outbound pipeline capacity from Cushing, according to energy market data provider Genscape, which monitors oil storage tank volume levels at Cushing.
As of Feb. 27, 63% of Cushing storage capacity was being used. Since Genscape began monitoring Cushing in 2009, capacity has never exceeded 80%.
As the most affordable crude oil storage facilities like Cushing fill up, the cost of storage is on the rise. The higher cost will affect ETF investors, who need the spot price to rally more than $2 just to break even as their oil futures contracts roll forward to the following month.
That's because the curve is normal, with pricing rising each month, so when investors roll forward they sell at a lower price and buy at a higher price. With the $2.00 cost of storing oil baked into the equation -- $1.50 higher than what it costs under normal conditions -- ETFs will see that as a drag on their performance.
It's going to be frustrating for those holding oil ETF positions, whose numbers have grown to the highest level in five years, said Citi's Evans.
They're looking for the great turn in energy market fundamentals they hope will happen, leading oil prices to behave so well despite a dearth of positive news.
"Just by oil getting 20% off its low, they think the sun has come back out and the birds are singing and it's a wonderful time to own oil," Evans said. "Meanwhile, the statistics show oil production hit its highest level since the early 1970s -- a 40-year high -- and is 15% higher than a week ago."
Crude oil inventories are the highest in 84 years, since 1931. The U.S. Dept. of Energy weekly inventory series dates from 1982, so analysts making that comparison are looking at an older, monthly data series from a different source, he noted.
Inventories of 444.4 million barrels are 80.6 million barrels, or 22.1% higher than a year ago and 89.5 million barrels, or 25.2%, above the five-year average level.
Citi Futures' chart shows the steep rise in crude stocks this year alone.
The average crude stocks surplus has spiked sharply since December, as illustrated by the Citi Futures chart below.
Next week, the market will be looking at new monthly reports from the DOE, OPEC, and the International Energy Agency that may show some revisions, but the February outlooks implied a first-half 2015 global supply/demand surplus on the order of 1.4 million barrels per day -- a degree of oversupply confirmed by the uptrend in U.S. crude oil inventories, Evans said.
Those reports will come against the backdrop of OPEC's ongoing mission to snuff out U.S. competitors and the Iranian nuclear talks that have caused some market chatter.
Evans doesn't anticipate either a quick agreement or a quick lifting of the embargo on Iranian oil exports. Instead, he sees a gradual process with output walking higher in the second half of 2015 and into 2016 rather than a sudden flood of additional barrels. Among other issues, he added, they'll need to find customers.
Cold weather and incessant snow storms in the Northeastern U.S., a key source of supply for the New York Harbor delivery point for the RBOB gasoline and heating oil futures, have caused operational difficulties in refineries.
Scheduled seasonal maintenance work has also limited refinery runs. Add to that a risk of a further drop in refinery rates because of the ongoing USW strike against selected U.S. refineries since Feb. 1, which have had limited impact on runs so far, and crude is meeting a bottleneck that's contributing to supply buildups.
The drop in refinery runs is a support for the petroleum products -- and we're seeing gasoline prices rise as a result -- but it's a corresponding bearish factor for crude oil.
It would seem the cards are stacked against oil. But like other markets that have risen inexplicably, oil is also benefiting from the liquidity the U.S. Federal Reserve has poured into the economy and the low interest rate environment that has investors taking on risk.
The numbers -- physical supply and demand -- are not in their favor, however.
"Sometimes, when you look for risk, you will find it," Evans said. "Inventory is 20% higher than a year ago, and that should send us an economic message all on its own."