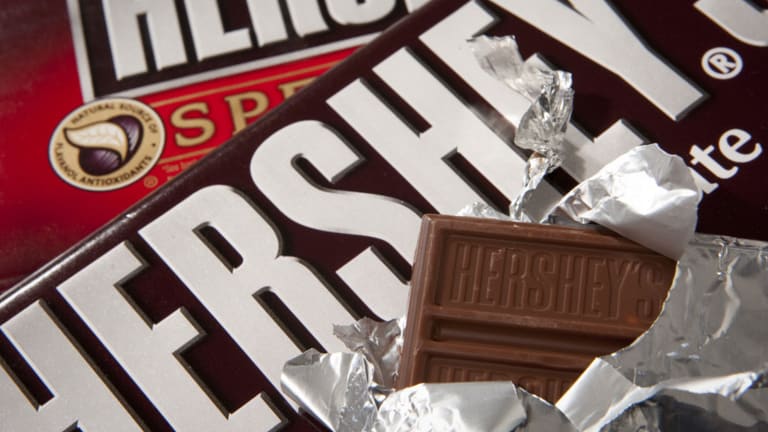 Why Nestle Probably Doesn't Have the Appetite for Hershey
The Pennsylvania confectioner's rigid ownership structure and Nestle's global focus would make a full-blown takeover unlikely.
Could Nestle (NSRGY) - Get NSRGY Report  , the world's largest food maker that's still only No. 4 in the U.S. chocolate market, be hungering to gulp down market leader Hershey (HSY) - Get Hershey Company (HSY) Report ?
Fat chance, say experts who dismiss last week's M&A-fueled Hershey share spike as nothing beyond a short-lived sugar rush. They say Nestle is looking to build global brands and overcome China weaknesses, while Hershey is an improbable target given a rigid ownership structure nearly as old as the 122-year-old Pennsylvania icon itself.
A Nestle spokesman was not immediately available to comment.
Nestle shares were down 1.1% on Monday at Sfr71.30, putting its market value at around Sfr 227.1 billion ($234.9 billion). Hershey shares closed little changed Friday in New York at $96.40, for a market value of around $20.6 billion. So far this year Nestle is down down 4.5%, while Hershey is down 8%. 
Analysts see little chance - and limited motivation -- for Nestle to go after Hershey, now or ever.
"I would give any deal between Nestle and Hershey a less than 50% chance of happening," said a Switzerland-based analyst on Monday who asked not to be named. The low odds come despite Nestle having "a chocolate issue in North America," where Hershey is No. 1 followed by Mars. Nestle's brand portfolio includes Kit Kat and Butterfinger candy bars and the eponymous Toll House chocolate chip cookies.
He said the main barrier to any deal would be Hershey itself - or rather the charitable Hershey Trust foundation, set up in 1905, that controls the company and has the power to block any unwanted suitor. "The foundation would be the biggest stumbling block to anything happening," he said.
The same would presumably hold true even if Nestle teamed up for a bid with General Mills (GIS) - Get General Mills, Inc. (GIS) Report , the Minnesota-based maker of Cheerios cereals and Haagen-Dazs ice-cream with whom Nestle already has a breakfast-cereal joint venture in Lausanne, Switzerland. 
That was indeed the case back in 2002, when the Hershey Trust bowed to public pressure and took Hershey the company off the auction block, after rejecting a surprise $12.5 billion offer from Wrigley designed to upstage a joint $10.5 billion joint offer from Nestle and the-then Cadbury Schweppes.
Interestingly, should the foundation decide to look the other way or support a deal with Nestle, there wouldn't be any major antitrust hurdles to overcome in the U.S. But most bets are on Nestle looking to other ways - such as smaller acquisitions - to expand its U.S. chocolate footprint.
In any case, buying Hershey would only boost Nestle's position in a market that already accounts for 80% of the Swiss company's global food sales with "yet another local brand," notes Lianne van den Bos, senior food analyst with Euromonitor. "Instead, Nestle's latest revamp to their confectionery portfolio signs a strategic shift to create more global brands, with [Italy's] Baci Perugina now being the prime candidate and more are likely to follow."
In addition, she said that Nestle's focus now is China, where it aims to turn around its disappointing sales in e-commerce and its Yinlu Foods division, as well as seeking new partnerships -- and acquisition targets --for its health science division globally.
"The size of a Hershey acquisition would take them [Nestle] away from their objective, instead providing a stronger foothold in a business that it's trying to move away from," she added. 
Fortunately for Nestle, there's no pressure to do a deal immediately. In April it confirmed its full-year outlook for organic growth to be in line with 2015 - with improvements in margins and improvements in underling earnings per share -- after posting better-than-expected first-quarter sales.
Nestle CEO Paul Bulcke noted at the time that Nestle gained market share in the majority of categories, recording the strongest performances in Europe, South East Asia and Africa, as well as for its Nescafe and Nespresso coffee brands - the latter advertised by George Clooney in Europe -- and pet care. He also said the U.S. frozen food business is progressing well.
"The trends seen over the last few quarters show the relevance of our investments and allow us to confirm our outlook for the year," he said.
Though he didn't single out bottled water, that business is also doing well, recording 5.3% organic growth in the first quarter as opposed to 2.2% for the core nutrition business.
In other words, when you're doing well in coffee, bottled water and ice-cream, who needs American chocolate?