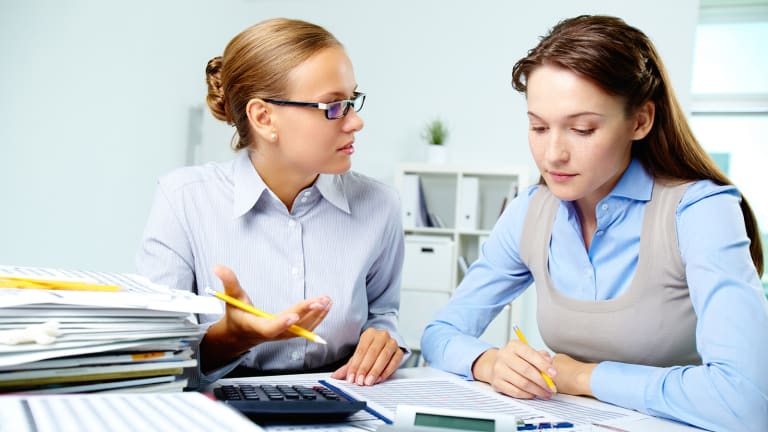 Why Millennials Don't Trust Wall Street or Investing in Stocks
Millennials don't trust Wall Street, according to a new survey from Harvard University's Institute of Politics.
NEW YORK (TheStreet) -- Millennials don't trust Wall Street -- and they're showing it by not investing in the stock market.  
Just 14% of respondents aged 18 to 29 say they trust Wall Street to "do the right thing all or most of the time," compared with 12% last year, according to a survey released earlier in the week by Harvard University's Institute of Politics. The statistic has barely changed over the past five years.
"This could definitely be a problem for Wall Street," said Kevin Kelly, chief investment officer at Recon Capital Partners. "We haven't seen Wall Street change since the financial crisis. Every day, we're starting to see headlines still: Wall Street does it again, another Wall Street faux pas."
And millennials' distrust for Wall Street is illustrated by how few members of this generation have invested in stocks. Only 26% of millennials invest in equities, according to a March 2015 Bankrate survey; this results in their missing out on unprecedented returns. The S&P 500 has risen 210% since its March 2009 low and strategists think the bull market still has fuel left.
Yet David Nelson, chief strategist at Belpointe Asset Management, believes millennials will make their way to the markets. "They will buy stocks, but millennials will invest in ways different from their parents, via robo advisers or methods where they can be more involved."
For now, millennials are bolstering their savings accounts. When it comes to saving 5% of their income, some 56% of millennials aged 18 to 34 do so, an increase from 50% last year, according to a February 2015 survey by the Consumer Federation of America. Overall, Americans save 5.3% of their personal income, according to the Commerce Department. 
Experts say the 2008 financial crisis is the root cause of millennials' distrust for Wall Street.
"I think the recession had a greater impact on millennials than many people think," said John Della Volpe, director of polling at the Harvard institute. "They were coming of age at a time when everything they thought was sacred and secure was found not to be because of the recession. And I think they put a fair amount of blame on Wall Street for the recession."
And millennials vividly remember the trauma of 2008.
"There may be a little bit of a trust issue," said New York City-based software engineer Shaun Salzberg, who is 29. "I graduated right around 2008, when all that stuff went down," he said, referring to the multitude of bank failures that year.
"It's definitely a trust issue with the big Wall Street firms," said Cory Bradburn, 28, who works in social media in New York City. "There's kind of a lack of transparency that I've noticed."
Aside from the collapse of some of the world's biggest financial institutions, unemployment proved a persistent theme of the crisis.
From October 2008 to March 2009, about 712,000 jobs were lost on average each month. That's the worst six-month stretch of job losses since 1945, according to the Bureau of Labor Statistics. During this time, the S&P 500 plummeted 31%, causing 401(k) balances to crumble. Some $34.4 trillion of wealth worldwide was lost from October 2007 to March 2009, according to the Roosevelt Institute.  
Millennials watched their parents struggle to make ends meet.
"I saw a lot of people older than me -- my parents and friends' parents -- lose a lot of money through investing in the stock market," said New York City-based author and entrepreneur Bill Connolly, 26. "That's sort of been ingrained in my mind that it's not a safe place for money."
Even seven years after the financial crisis, about 59% of millennials ages 18 to 34 say their distrust of the markets has made them less confident about investing, according to a 2015 Capital One ShareBuilder survey.
"I came of age in a time when there was a lot of volatility in the markets," Connolly added.
Volatility is an apt word to describe the investing world. From October 2008 through March 2009, the average daily change (on an absolute basis) in the S&P 500 was 2.7%, compared with the 50-year average of 0.7%, according to analysis by Howard Silverblatt, senior index analyst at S&P Dow Jones Indices.
"We're entering a whole new world of investing, but millennials will still be out there buying the Facebooks (FB) - Get Free Report, the Googles (GOOG) - Get Free Report and the Amazons (AMZN) - Get Free Report of the world," Nelson added. "That's going to continue."