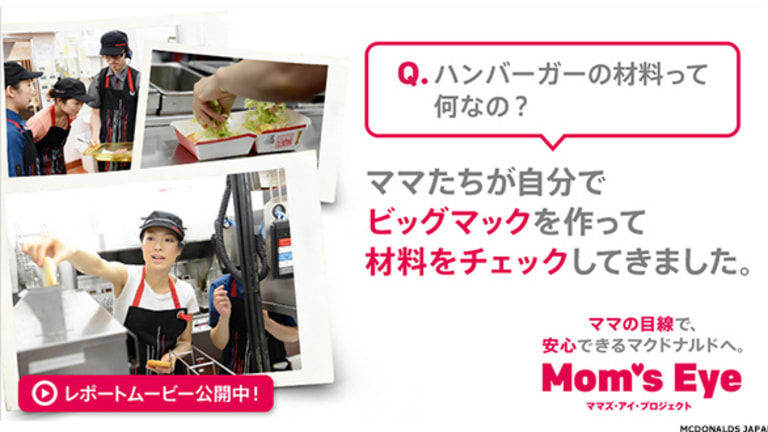 Why McDonald's Isn't Huge in Japan -- and Is Getting Even Smaller
McDonald's sales in Japan plunged again last month as the burger giant struggled to overcome the brand damage from last year's food quality scares.
NEW YORK (TheStreet) -- Even a new supersized Hawaiian pork BBQ burger couldn't prevent another disastrous month of sales declines for McDonald's (MCD) - Get Report Japan division, which has largely failed to overcome the damage to its brand caused by major food quality issues that surfaced last year.
On Wednesday, McDonald's reported that sales in Japan fell a startling 29.3% in March. In February, sales in McDonald's APMEA (Asia/Pacific, Middle East and Africa) segment, which accounted for about 23% of global sales last year, fell 4.4%, in large part due to sluggish results in Japan. And January wasn't any prettier, with APMEA sales plunging 12.3%.
Sales in Japan have now fallen for fourteen consecutive months, according to Bloomberg data.
The stretch of unsavory results for McDonald's Japan, which boasts about 3,100 restaurants, follows a series of high-profile food scares in Asia in 2014. Objects including a human tooth and a piece of vinyl were found in McDonald's food in Japan. Those issues came just months afterMcDonald's sales in China took a hit after Chinese supplier Shanghai Husi Food Co. was accused of selling expired meat. But while sales in China have recovered somewhat, in Japan they haven't, suggesting deeper problems there. 
"As a result of our efforts, sales trends in China are showing signs of improvement -- McDonald's Japan is not recovering as quickly and has been working to overcome significant challenges," McDonald's noted in its latest annual report.
Fixing its Japan business has been a top priority for execs at McDonald's. "The market is executing a multifaceted brand recovery campaign, which is designed to rebuild brand trust and strengthen quality and affordability perceptions," said former McDonald's CEO Don Thompson on a Jan. 23 earnings call.
At the time, Thompson cautioned, "While we know these actions will win back customers, history tells us that these efforts would take time to resonate, so we expect continued volatility in the market through most of 2015." McDonald's has taken multiple steps in Japan to reverse the brutal sales trend there, making the continued sales declines even more concerning to investors.
In January, McDonald's held a press conference, which it rarely does in Japan, to reassure its customers there -- seemingly to no avail. "I am confident that my family can eat McDonald's products," said Takehiko Aoki, senior vice president at McDonald's Holding Co (Japan) Ltd. When asked about why the company didn't disclose findings from its supplier review in Asia earlier, Aoki added, "I think our response has been appropriate." 
In February, McDonald's introduced several new products and marketing pushes in Japan to try to spur customer traffic, including its "World Mac Hawaii" campaign, designed to tap into the strong interest Japanese have in vacationing in Hawaii. Running through late March, the campaign included a trip giveaway in concert with Hawaii Tourism Japan and the Hawaii Tourism Authority. New menu items included a pork BBQ burger with a sweet glaze, Hawaiian themed pancakes, and a banana-flavored McShake.
The difficulties it's experiencing in Japan contrast sharply with the improving tone around McDonald's all-important U.S. business under the leadership of new CEO Steve Easterbrook. The U.S. business may be on the verge of showing stronger sales trends this summer with the addition of new, premium-priced menu additions.
This week, McDonald's began the national rollout of a limited-time-offering burger weighing in at one-third of a pound. At a price of $4.99, the sirloin burger will be available in three versions: bacon and cheese; lettuce and tomato; and mushrooms, grilled onions and white cheddar cheese. All locations are expected to be selling the burger by May 11.
This article is commentary by an independent contributor. At the time of publication, the author held no positions in the stocks mentioned.