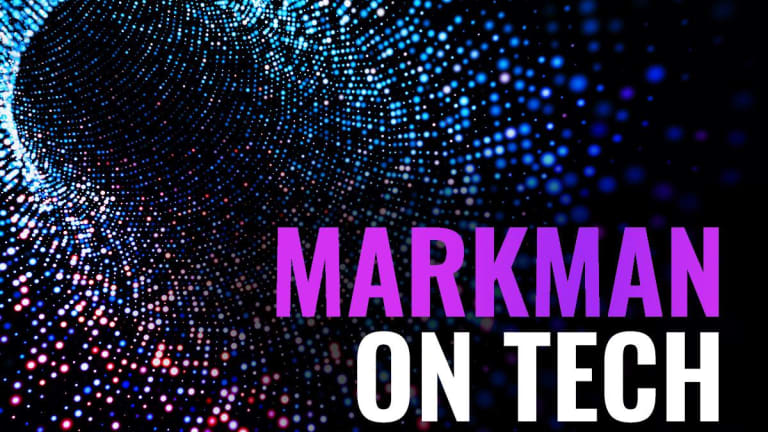 Why Mastercard Is Set to Dominate Business Transactions
The business-to-business transaction process is hopelessly inefficient and costly. Companies shell out $2.7 trillion chasing payments. Mastercard plans to bring the process into the digital age.
There is a huge business opportunity in business-to-business payments that nobody is talking about.
Bloomberg reported a week ago that Mastercard (MA) - Get Free Report agreed to pay $3.2 billion for a digital payments platform based in Denmark. The news barely made a ripple but the transaction processor is building something big.
Investors should pay attention.
Consumers are spoiled. We have credit cards with chips and Apple Pay. In most parts of the world we can swipe or tap a plastic card or use our smartphones to buy goods and services instantly. Vendors get the money instantly, too. It's magic.
Behind the scenes however, robust platforms are working feverishly. In 2018, Visa (V) - Get Free Report, the world's largest transaction processor, claimed its network was capable of handling 24,000 transactions per second.
Now contrast that scale and reliability with B2B transactions. It's like time has stood still.
These transactions take an average of 45 days, according to a November 2018 report from Investor's Business Daily. The process involves drafting checks and getting signatures, then mailing (yes, mailing) the payment to the vendor. And that's only the half of it.
Suppliers wait for the check, manually process it, and wait for it to clear before receiving payment.
The process is hopelessly inefficient, and costly. Businesses shell out $2.7 trillion chasing payments. Entire floors in nondescript office towers are devoted to account managers running down missing payments and balancing the books.
Businesses pay a staggering $16 to $22 to manually process each invoice, according to Investor's Business Daily.
The big transaction processors have been dutifully assembling the pieces to tackle this problem. Managers at Mastercard declared a war on cash in 2005. Digital transactions are cheaper and easier to track. Most importantly, they are many times faster. Ridding the business world of corporate checks is the next logical step.
Mastercard began with payment automation. It built systems infused with artificial intelligence to handle routine payments. People will deal with trickier payments.
The company announced Master Track in September 2018, a cloud-based, B2B payment automation platform jointly developed with Microsoft (MSFT) - Get Free Report .
Now Mastercard is upping the ante. Its $3.2 billion acquisition of Nets, a Danish company with an impeccable reputation in the Nordic region, is the next huge step. The Nets innovative platform has become foundational with banks, merchants, and corporations to simplify digital payments.
The European Commission in 2018 found that Denmark was Europe's most digitized region.
Nets' scalable network is available to 240 Northern European banks. It receives transactions, processes and clears them with remarkable speed and reliability. The company claims uptime in 2018 was 99.98%.
Mastercard managers plan to incorporate Nets technologies into its existing mobile wallet, card, and bill payment infrastructure.
It's the latest acquisition in a busy year of buyouts for the for New York company. Prior to the Nets deal, Bloomberg noted Mastercard spent $1.1 billion adding Ethoca, an identity fraud company; Vyze, a point-of-sale company; bill payment specialist Transactis; and Transfast, a cross-border payment company.
All of these transactions serve the same purpose. Mastercard is building a robust network to help businesses send and receive payments faster and with greater transparency.
B2B global payments is a market McKinsey and Co. analysts believe is ripe for disruption. It's the most vulnerable part of the $1.9 trillion payments segment because there hasn't been any meaningful innovation in two decades.
Only a handful of companies have the scale, expertise and networks to pull off something this big. And it's going to happen because it serves the financial interests of government and enterprises, large and small.
Under CEO Ajaypal Singh Banga, Mastercard has been investing aggressively in the payment systems. He expects that all payments, from subway rides to government checks, are going to be fully digital.
Paper corporate checks have outlived their usefulness.
The stock has been under pressure recently as managers invest in new businesses. Shares briefly fell below $260 last week before rebounding. The stock trades at 29.3 times forward earnings and 17 times sales, for a market capitalization of $270 billion.
Given the prospects for new businesses, like B2B, and the scarcity of similar firms, the valuation is reasonable. Mastercard is buyable on pullbacks for growth investors.
Mastercard and Microsoft are holdings in Jim Cramer's Action Alerts PLUS member club. Want to be alerted before Jim Cramer buys or sells the stocks? Learn more now.

* 
To learn more about Jon Markman's recommendations at the crossroads of culture and technology, check out his daily investment newsletter Strategic Advantage. To learn about Markman's practical research in the short-term timing of market indexes and commodities, check out his daily newsletter Invariant Futures.
The author of this column owns shares of Mastercard and Visa.