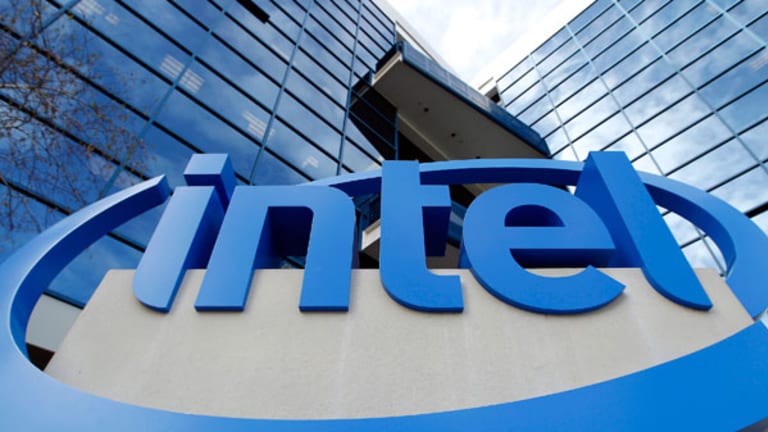 Why Macom's AppliedMicro Circuits Deal Could Benefit Intel
While ARM-based server processors have been seen as a big threat to Intel, they've made limited headway. Macom's deal to buy AppliedMicro shines a light on this.
For years, Intel (INTC) - Get Intel Corporation Reporthas been dogged by concerns its growing and highly profitable server CPU business will bleed market share and see margin pressure as CPUs relying on ARM Holdings' (ARMH) micro-architectures gained ground. As several major chipmakers unveiled plans to launch ARM-based server chips, those concerns naturally grew.
Those fears have ebbed over the last years as various chipmakers have either cancelled or downplayed their plans to launch ARM-based server CPUs. The details surrounding the acquisition of one of the young market's leaders is a fresh sign the fear has been overblown, at least for the near term.
(Editor's note: This article originally appeared at 9:54 p.m. ET Monday on Real Money, our premium site for active traders. To get great columns like this from Jim Cramer and other top columnists earlier in the trading day, click here.)
Macom, which sells a variety of specialized RF and optical chips for telecom, aerospace and defense hardware, announced Monday it's buying telecom and data center chipmaker AppliedMicro Circuits  (AMCC) for $770 million in cash and stock. The price represented a 15% premium to AppliedMicro's Friday close at the time of announcement; the premium is closer to 12% following Macom's 4.1% Monday decline.
Macom talks up the strategic value of AppliedMicro's portfolio of high-speed carrier and data center connectivity chips, declaring the deal will let it "provide all the requisite semiconductor content for optical networks -- analog, photonic and PHY -- from the switch to fiber for long haul, metro, access, backhaul and Data Center."
As is the case for many other recent chip industry acquisitions, big cost and tax synergies are promised. There are some parallels here with Macom rival Microsemi's (MSCC) purchases of Ethernet chipmaker Vitesse Semiconductor and telecom/storage chipmaker PMC-Sierra.
However, Macom plans to divest AppliedMicro's Compute business, which is headlined by the company's X-Gene and Helix ARM server CPU lines, within 100 days of the deal's closing. The business is declared to be "well-positioned but nonstrategic."
Regardless of how "strategic" it is to Macom, it says something that one of the most prominent ARM server CPU operations is an afterthought in a sub-$800 million acquisition, two years after its first chips shipped. X-Gene CPUs have found their way into Hewlett Packard Enterprise (HPE) - Get Hewlett Packard Enterprise Company Report servers and storage systems, and AppliedMicro has also reported of sales to an unnamed major Asian data center owner. However, the company's total Compute business sales over the last 12 months, including sales of non-ARM chips, were just $66 million.
Meanwhile, Samsung (SSNLF) and Nvidia (NVDA) - Get NVIDIA Corporation Report have already backed off plans to go after the ARM server CPU market, and would-be market participant Calxeda shut down in late 2013. And while Intel arch-rival AMD (AMD) - Get Advanced Micro Devices Inc. Reporthas launched an ARM server chip code-named Seattle, it has pushed back the launch of chips based on a custom ARM core code-named K12, and appears more focused on releasing server chips based on its new Zen CPU cores, which rely on the x86 architecture also used by Intel CPUs.
Cavium (CAVM) is still going after the ARM server market. However, its processors target specific workloads such as security and storage appliances, telecom equipment and media servers. Qualcomm (QCOM) - Get QUALCOMM Incorporated Reportunveiled its Centriq ARM server processor line earlier this year, while suggesting samples would ship by year's end and revenue arrive in mid to late 2017. The company has the resources to put up a good fight, but it's very much a wait-and-see story for now.
The slow progress made by ARM server CPU vendors, in spite of all the success ARM-based platforms have seen in many other markets, says something about how well-entrenched Intel is in the data center.
The company's tremendous R&D and manufacturing investments, a chunk of which have value for both its PC and server chip businesses, make it tough to compete against. It's going to take time for ARM servers to have a software ecosystem remotely comparable to the one that currently exists for x86 servers.
In addition, Intel has begun taking a more strategic, platform-level approach to its server chip business -- one that isn't just about developing CPUs with great specs but providing an array of complementary chips and technologies that appeal to server OEMs and cloud data center owners. Intel's Rack Scale Architecture for creating pools of CPU, storage and networking resources that can be separately upgraded is part of the effort. So as things like Intel's 3D XPoint next-generation memory, Xeon Phi accelerator cards and silicon photonics communications lasers, as well as chip packages that pair a CPU with a programmable chip.
This isn't to say that ARM-based server CPUs don't have a future. There's still a healthy amount of industry interest in them, and their potential to deliver chips tailored for various niche applications is especially intriguing. Moreover, cloud giants and others have an incentive to consider non-Intel options, if only to keep the chip giant honest. Alphabet's (GOOGL) - Get Alphabet Inc. Report Google has reportedly testedQualcomm's (QCOM) - Get QUALCOMM Incorporated Report ARM server chips.
But none of that necessarily means Intel's Data Center Group, which did $16 billion in sales last year and produced $7.8 billion in operating income, is facing a monumental threat. The details surrounding the Macom/AppliedMicro deal help drive this home.