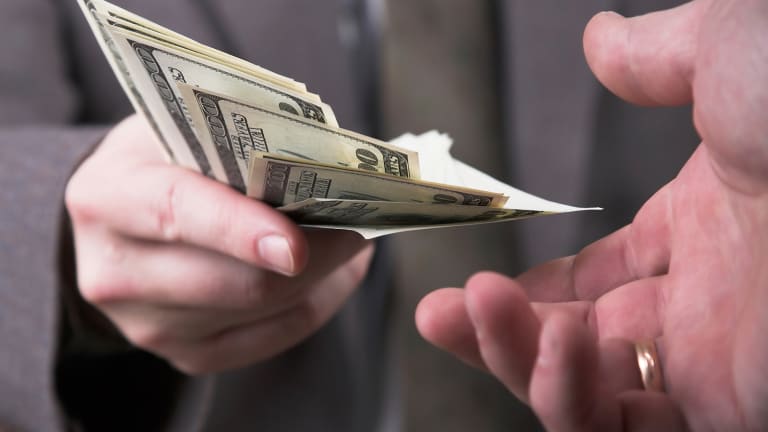 Why Lending Club and Its Rivals Will Get More Government Scrutiny
Availability of funds and loose underwriting standards are risks for marketplace lenders such as OnDeck and Lending Club, the Financial Stability Oversight Council said in its yearly report.
Availability of funds and loose underwriting standards are risks for marketplace lenders such as OnDeck and Lending Club, the Financial Stability Oversight Council said in its yearly report.
The abrupt resignation of LendingClub's (LC) - Get Report  CEO this year made terms like "fintech" and "marketplace lending" household words.
And a simultaneous review of irregularities with the sale of a tiny portion of the company's loans to investors heightened public awareness of the potential risk in the young but growing industry. Its practitioners use digital technology and data analysis to process loans in a fraction of the time traditionally required by banks. 
Some marketplace lenders -- a category that includes companies from OnDeck Capital (ONDK) - Get Report  to Prosper and SoFi with products for clients from small businesses to consumers and students -- initially relied largely on funding from small private investors. Most are now tapping larger financial institutions as well.
The approximately $50 billion such firms lent to consumers in 2015 is a small portion of the $3.3 trillion U.S. consumer lending market, but that amount is likely to grow rapidly in the near future, signaling that regulators should keep a close watch, the Financial Stability Oversight Council warned in a recent report. The panel, formed after the 2008 financial crisis, monitors broad economic trends and industry developments in an effort to prevent a recurrence.
"Financial regulators will need to be attentive to signs of erosion in lending standards," the council noted. "Given the rapid rise in the number of marketplace lenders who often compete with traditional lenders for the same borrowers, there is a risk that underwriting standards and loan administration standards" could deteriorate as the firms compete for customers in order to boost revenue, according to the report.
Additionally, because the firms don't typically carry the loans on their own books, the reported noted, the credit lines may be evaluated and monitored "less rigorously."
That's what happened during the 2008 financial crisis when lenders repackaged home mortgages of widely varying credit quality into securities that were sold to investors, enabling the loan originators to book profits right away without worrying about whether borrowers could keep up payments over the long term.
Homeowners weren't able to repay when the housing bubble collapsed and banks stopped refinancing, and the resulting defaults led to the collapse of Lehman Brothers, the fourth-largest U.S. investment bank. Its failure froze global credit markets, and the U.S. government subsequently funneled billions of dollars in bailouts to financial institutions to protect the broader economy.
LendingClub, however, says it has already taken steps to address concerns about customers' creditworthiness. In a recent SEC filing, the company reported tighter credit requirements, lowering its debt-to-income cap to 35% from 40% across its standard loan program.
The San Francisco-based company also requires borrowers to have a minimum credit score of 660 with at least two revolving accounts, fewer than five credit inquires in the past six months and a credit history of at least three years.
"Our recommendations for facilitating responsible innovation focus on making regulatory expectations very clear, and coordinated with other regulatory agencies," Richard Neiman, LendingClub's head of regulatory affairs, wrote to the federal Office of the Comptroller of the Currency, a regulator that held a daylong forum in June on responsible innovation.
"This perception of unclear regulatory expectations prevents many banks from moving forward with platform arrangements," Neiman said.
LendingClub's shares have fallen more than 60% this year as the fintech firm dealt with CEO Renaud Laplanche's departure and the subsequent regulatory inquiries. OnDeck has dropped 49% in the same period, while the broader S&P 500 Financials Index has dropped just 3.9%.
Susquehanna Financial Group, which has a neutral rating on LendingClub and a price target of $5, says that an increase in "regulatory oversight" and "low-cost borrowing opportunities from competitors" are potential challenges for the company.
Ironically, banks are actually riskier than marketplace lenders, argued Lending Robot CEO Emmanuel Marot, whose firm uses cloud technology and algorithms to automate peer-to-peer investments with LendingClub, Prosper, and Funding Circle.
"Bank-originated lending is structurally less stable because banks create money," Marot said in an e-mailed statement. "They allow multiple claims to assets on deposit. Marketplaces only re-allocate."
And, "because marketplace lenders do not create money," Marot added, "the worst that can happen is investors losing money, which is bad, but insignificant compared to a bank run."
A separate concern of the financial stability panel is whether the firms would be as willing as more traditional lenders to provide credit during an economic downturn. A recession might even test the viability of their business model compared with that of banks.
"Financial institutions have the benefit of an implicit, if not outright explicit, government guarantee on their funding costs," David Giesen, a managing director with Navigant Consulting's transaction services practice, said in a phone interview, referring to the Federal Deposit Insurance Corp.'s guarantee on deposits. "Insured deposits are, comparably speaking, one of the lowest-cost sources of funding there is in the marketplace."